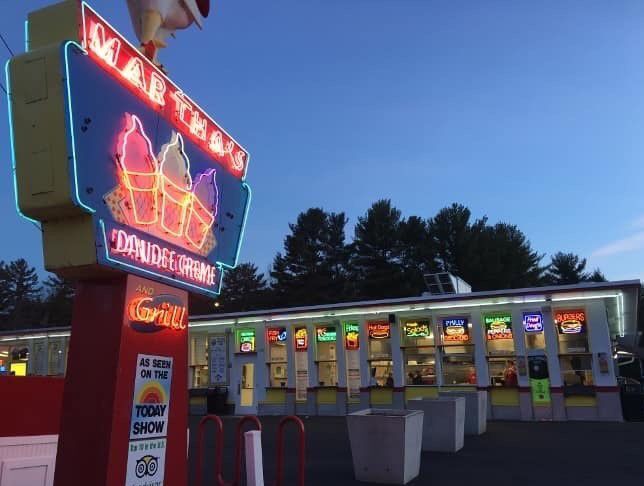 COVID-19 may have closed the popular ice cream stand, Martha's Dandee Creme in Queensbury, a few weeks early this year.
An employee at the Route 9 business tested positive Tuesday, after working at the ice cream side of the eatery on Sept. 18, Sept. 21 and Sept. 22, Martha's owners posted on the business's Facebook page. Martha's is voluntarily closing while employees quarantine.
In unrelated cases, two school districts, Queensbury and Hadley-Luzerne, also dealt with a positive case at their high schools.
Health Services praised Martha's for efforts that kept customers safe.
"The investigation found that the staff members strictly adhered to COVID-19 safety protocols and recommendations that included use of face masks and staff dividers. Public health officials determined the risk to the public who visited the shop on these days to be minimal," said county spokesman Don Lehman. "Co-workers appear to be at the most risk."
He confirmed that the business was not required to close.
Several employees were in close contact with the worker who has coronavirus, however, and they are all quarantining. Martha's could have remained open with other employees, but Martha's chose to close for two weeks "out of an abundance of caution."
"This is a very trying time for our business," Martha's said in a post on Facebook. "Our employees are family to us. Our number one priority is to keep our family as well as our community safe. Thank you all for your support during these challenging times."
Health Services called Martha's management "extremely cooperative" as they helped identify close contacts of the infected employee.
"I am appreciative of the rapid response, action and cooperation from this establishment," Warren County Health Services Director Ginelle Jones said in a statement. "The owner is a good leader and demonstrated his concern for the health of his staff and the community by going above and beyond our recommendations to contain COVID and I thank him for that."
Customers who were at the Martha's should monitor themselves for symptoms. If they develop symptoms, including a fever, headache or a cough, they should call their doctor and county Health Services.
Martha's was scheduled to close for the season on Oct. 12.
"As of this writing we are not sure if we will be reopening after the 14-day quarantine. We will keep you posted," Martha's wrote.
Also on Wednesday, a Queensbury High School teacher tested positive. The two cases are unrelated.
The individual followed all safety rules, including masking and social distancing, so students are not at risk, Superintendent Kyle Gannon said in a statement posted on the school district's website.
The person was not in the school Wednesday, and has not yet shown symptoms. It was not clear why the person got tested without having any symptoms.
"Warren County Public Health and the New York State Department of Health determined that the risk of transmission was low and that only one individual has been quarantined," Gannon said. "At this time, the district remains open for in-person instruction. The individual followed COVID-19 protocols at all times, in accordance with the district's safety plan."
This is the third case in the school district. Two people at Queensbury Elementary School tested positive on Sept. 10. Those cases have not led to any additional cases, suggesting that the school district's efforts have worked so far in keeping the virus from spreading.
Hadley-Luzerne Central School District also had a case at its high school. On Monday, a person who had not been in the high school for several days tested positive.
"This individual was last in the high school building earlier last week. Because this individual has not been in the building for several days, this particular case does not pose an immediate threat of contamination to our other students/staff in the building," Superintendent Beecher Baker Sr. said in a statement on the school district's website.
The state website that tracks school cases has not yet listed that case. It is the third case for Hadley-Luzerne; the previous two were at the elementary school.
Also Wednesday, Hicks Orchard responded to the news that numerous Vermont children had to stay home from school because they crossed the state border to go apple picking at the orchard. Vermont briefly listed Washington County as "yellow" last weekend, requiring Vermonters to quarantine at home for 14 days after visiting the county. This took many people by surprise.
Hicks representative Dan Wilson said that the orchard was sad to hear that children had to quarantine after innocently picking apples, and emphasized that Hicks Orchard is "fully committed to a robust COVID safety program." Employees and visitors must wear masks, hand-sanitizing stations have been set up in many locations, signs were installed urging social distancing and the orchard is offering curbside pickup.
"We're also working to encourage people to visit during the week, when we're less busy. A Senior Discount Day on Tuesdays, and an Essential Worker Discount Day on Wednesdays, as well as extended hours of operation on Thursdays and Fridays (with pizza!) are partly intended to lessen the crowds we traditionally see on weekends," Wilson said in an email. "I think apple picking is correctly perceived to be a low-risk activity, and we want to keep it that way. We're working hard to be a responsible member of our community, and are very thankful for all of our local support."
Wilson plans to check Vermont's county-by-county map every Tuesday, when the map is updated, to see whether Washington County stays green. While a change in status from Vermont does not affect people who live in Washington County, it affects customers who want to come from Vermont.
Warren County reported four people tested positive, not including the Queensbury High School teacher (whose test results came back after the daily public report was compiled). There are now 20 people ill, one of whom is hospitalized with "moderate" illness. The last time that many people in Warren County were ill with coronavirus at the same time was May 29, at the tail end of an outbreak at a nursing home.
Of the new patients, one is an employee at Martha's. Investigators are trying to determine how the person caught the virus. Another new patient works at a business that has an outbreak among staff, one lives in a household with multiple people who previously tested positive, and one is a caregiver for a person who recently tested positive. There have now been 339 confirmed cases since March.
Washington County reported one person tested positive, for a total of 280 confirmed cases since March. Nine people are currently ill, and none are hospitalized.
Saratoga County reported five people tested positive, for a total of 1,023 confirmed cases since March, and one person recovered, for a total of 945 recoveries. There are 61 people currently ill, three of whom are hospitalized.
In the northern Saratoga County towns, two more town of Saratoga residents have tested positive. Still ill are: one Corinth resident, four Hadley residents, four Moreau residents, one town of Saratoga resident, one South Glens Falls resident and one Wilton resident.
Essex County reported two new cases, unrelated to the outbreak at Essex Center nursing home and unrelated to each other.
Glens Falls Hospital reported one coronavirus patient and Saratoga Hospital reported three.
The Capital Region reported 27 news cases and a positive test rate of 0.8% for Tuesday, the most recent day for which data was available. Three of the eight counties in the region were above the 1% benchmark for keeping the virus under control: Warren County, at 1.2%; Saratoga County, at 1.2%, and Columbia County, at 2.3%.
Statewide, 665 people tested positive Tuesday, the most recent day for which data was available. That was a positive test rate of 0.94%.
There were 490 people hospitalized with coronavirus statewide on Tuesday, and five people died.
Concerned about COVID-19?
Sign up now to get the most recent coronavirus headlines and other important local and national news sent to your email inbox daily.