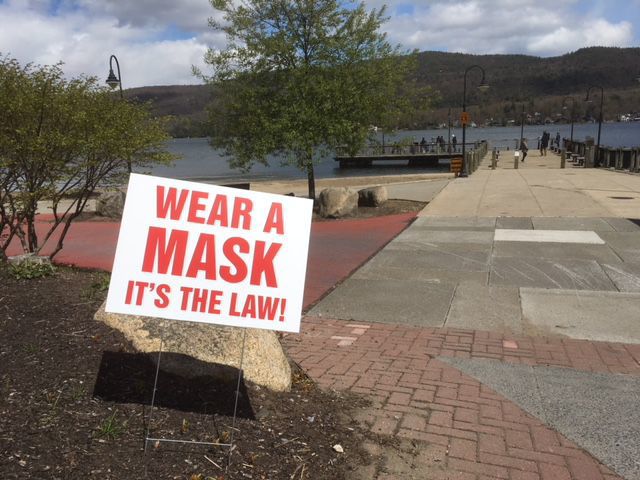 So here I am again on a Saturday afternoon. It's been two weeks since I last traveled Route 4; three weeks since the last journey down Route 9.
It doesn't seem like more than a few days ago, but time moves slowly when you're waiting for the world to move on and the world just keeps standing still. Lake George still has that early spring feel as I sit on Canada Street, chomping on my slice of pepperoni.
Should I keep doing these diaries on a biweekly basis, or spread them out? Some experts are talking about a year or two before things get back to normal. I'm not sure how many brilliant observations I can come up with on the Lake George-to-Glens Falls run when there's not that much different out there, though I'm sure Capri's is happy to have my business.
What strikes me is how beautiful the lake and the village look — placid, peaceful and calm, like the sweet spot in a Sibelius symphony. How strange it is that the world seems so nice and normal from this vantage point when times are so abnormal.
If only there were something happening, something to break up the monotony in our lives. Like sports. I keep editing stories about professional leagues starting back up, but it's just a lot of talk right now (my guess: NHL and NBA have short playoffs at best, the NFL starts late, MLB never gets off the ground).
As I drive south from the village, a snow squall descends upon Route 9. That's perfect, because nothing adds up these days. We have a pandemic so serious we lay off health care workers and snow flurries with green leaves on the trees.
You may have noticed the latest coronavirus innovation if you've gone into a store lately. Many have plastic screens to protect the clerks, which seems like a reasonable protection given the circumstances. I wonder if they will stay in place once the last virus has been stomped into the ground.
They might. Forty years ago, food service workers used their bare hands to prepare food, and nobody gave it a second thought. Somewhere around the 1980s there was a food contamination case somewhere and plastic gloves came into use. They never came off.
Not too much is different along the route. There's a shoe store open near the Outlets I hadn't noticed before, but everything else looks much as it did three weeks ago.
When did $2.09 become the gold standard for unleaded? It's not uniform, but I see it routinely from Lake George to Schuylerville, as if someone had pegged it on a board. Friday night, I saw gas for less than $2.00 in Warrensburg. Pretty weird to see the price drop as you climb in elevation.
There are a couple of closed barber shops on the route. Haircuts are not something I give much thought to, but I sure could use one.
I sat on Glen Street and idled for a while, thinking about the coronavirus. There's been a running debate about whether political leaders should have seen this coming and what should have been done about it. I'd rather think about the next time.
Sooner or later, another infectious disease will arrive on our shores. It might be a coronavirus, a deadly flu or something else. After what we've been through, there ought to be about a billion medical face masks stored across America. Given what we now know, it seems criminal not to have enough in stock to protect health care workers and first responders the next time around.
Well, that's it. I can't find a good way to end this one. I feel neither happy nor sad, neither up nor down. Just kind of strangely stuck in limbo.
Sports Editor Greg Brownell is taking a periodic look at how we're all dealing with the coronavirus in the Glens Falls region. 
Contact Sports Editor Greg Brownell via email at brownell@poststar.com. Follow him on Twitter: @glensfallsse.
Concerned about COVID-19?
Sign up now to get the most recent coronavirus headlines and other important local and national news sent to your email inbox daily.