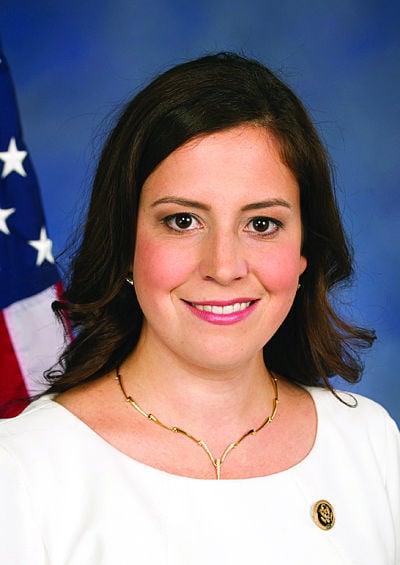 Each of the candidates in the 21st Congressional District believe local voting results in New York's presidential primaries bode well for their campaigns.
Democrat Bernie Sanders carried the 21st District and much of upstate, even though Hillary Clinton won the Democratic primary.
And Donald Trump swept the Republican primary, including in the 21st District.
Democratic congressional candidate Mike Derrick said Trump's and Sanders' common criticism of the proposed Trans-Pacific Partnership trade deal is a good sign for his candidacy.
TPP, as it is commonly called, is a proposed trade agreement between the United States and 12 other nations, including Japan, that would align to provide a global alternative to trade with China.
Derrick opposes the agreement, as does Green Party candidate Matt Funiciello.
Rep. Elise Stefanik, R-Willsboro, has supported the agreement, which is supported by regional paper and rail car manufacturers, among others.
Labor unions and other opponents say the agreement will lead to companies moving more jobs overseas.
"It's interesting because it's on both sides of the aisle to have a distinct change" on issues such as the trade agreement, which the Obama administration and the Bush administration before that negotiated, said Derrick, a retired Army colonel from Peru, in Clinton County.
"Some fallout from that (TPP) may happen. But you can't fault her (Stefanik)," conceded Warren County Republican Chairman Mike Grasso. "She's a smart gal. And if that's the only issue they have, so be it."
Stefanik was busy with the House session on Thursday and Friday and was not available to comment directly, said Lenny Alcivar, Stefanik's campaign spokesman.
Alcivar said Stefanik recognizes the importance of expanding global trade for manufacturers, particularly those in Plattsburgh.
"He (Derrick) believes that parroting Democratic talking points from Washington is going to be helpful to him in a district where trade and commerce and access to trade is vital," Alcivar said.
Warren County Democratic Chairwoman Lynne Boecher said she is not certain how issues such as TPP will affect the congressional race, but the heavy voter turnout in the presidential primary is a good sign for November.
"They voted. ... So I take that as being they are engaged," she said.
Alcivar said the "explosive" support for Sanders, a socialist, among Democrats in the 21st District gives Stefanik an opportunity to make inroads with moderate Democrats.
And there also is "the Funiciello factor," he said, referring to the Green Party candidate who received about 11 percent of the vote in the 2014 local congressional race.
"So Mike Derrick has to peel off Bernie Sanders Democrats in an environment where the Green Party is the first place where those voters look to," he said.
"The pundits have already said it is the year of the outsider," Funiciello said, referring to the major party primary victories in the region for Trump and Sanders.
Funiciello said he, more so than Stefanik or Derrick, is emblematic of the "legitimate outsider" voters want.
"That certainly bodes well for me," he said.
Funiciello said independent polling in the 2014 race showed disenchanted Republicans and Democrats supported his candidacy.
"I think a lot of the Trump voters will be pulling our lever," he said.
Derrick has endorsements from the Greater Glens Falls Democracy for America chapter and the Working Families Party, two of the organizations that supported Sanders in the primary.
Derrick said "outsiders" may not be the best term to describe Trump and Sanders, particularly given Sanders' long career in Congress.
"A phrase that is often used in leadership study and theory is change agent, or agent of change," he said. "These guys each are introducing a very different agenda."
Stefanik is associated with the current government leadership voters want to see changed, Derrick said.
"Elise Stefanik is closely associated with that leadership and I think that will have a negative affect on her outcomes," he said.
Alcivar said the outcome of the primaries reinforced Stefanik's campaign strategy.
"She did what she said she would do in 2014," he said. "She made a series of promises, and on all fronts she kept those promises. ... She has a record on that."
Follow staff writer Maury Thompson at All Politics is Local blog, at PS_Politics on Twitter and at Maury Thompson Post-Star on Facebook.