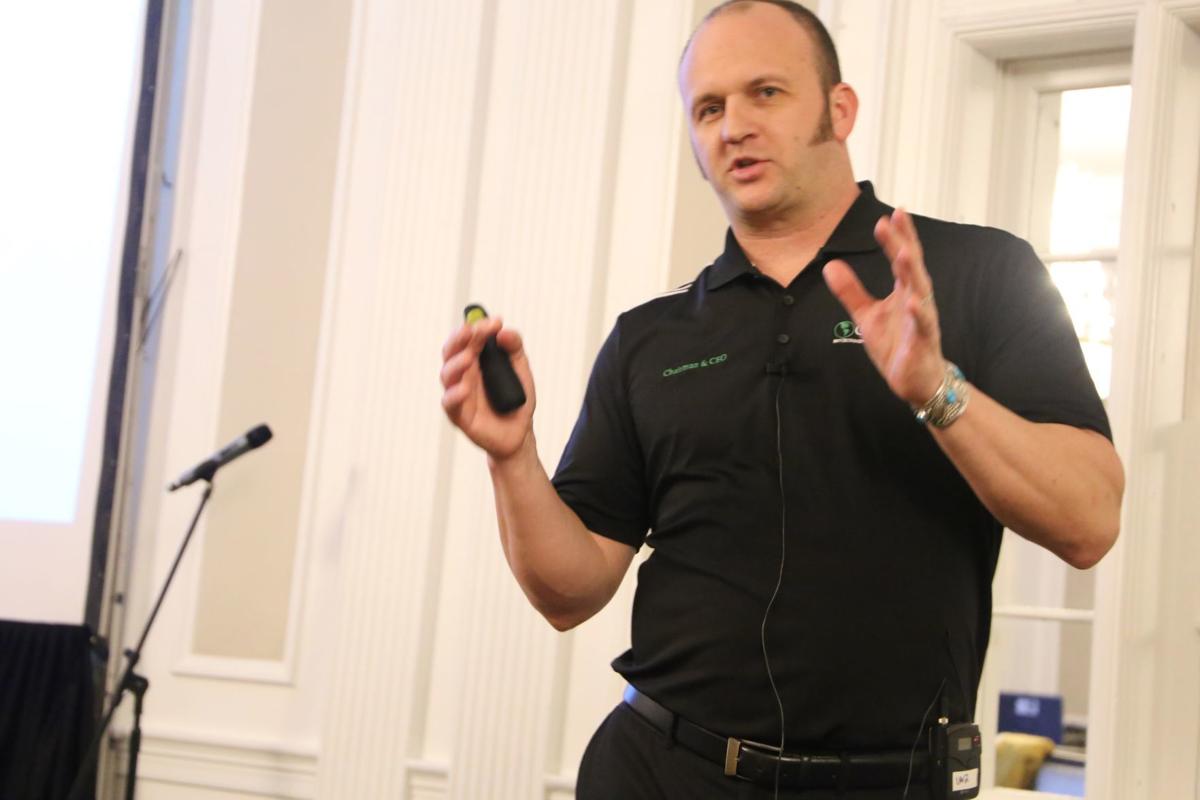 GLENS FALLS — An air quality expert and consultant encouraged concerned local residents to form a coalition Friday at a public meeting held at The Queensbury Hotel.
Timothy McAuely, who runs an environmental consulting firm out of Queensbury, held a free talk about air pollution that took many twists and turns throughout the evening.
While the talk focused on the complexity of assessing a community's air quality, several members of the public came, concerned about the large industries in the Glens Falls area and what they're emitting.
McAuely works with a variety of local, national and international organizations as a consultant to clients ranging from industrial companies with stacks billowing flue gas into the air, to nonprofits, to concerned communities looking for help with an air quality assessment.
His message Friday night had some audience members scratching their heads, however, as he continued to hammer the point that industrial plants are not the only polluters. He pointed to traffic emissions, local businesses, road salt dust and even indoor air pollutants such as cleaning products and personal hygiene products as contributors to an air pollution assessment.
"It's a very dynamic function," McAuely said of assessing an airshed. "It's not static."
Audience comments started to pick up after McAuely talked about standing on a bridge in Glens Falls, looking out at Finch Paper, Lehigh Cement Company and the Hudson Falls Wheelabrator trash plant. He described a feeling of uncertainty over whether the pollution coming from those plants was actually hitting anyone standing on that bridge.
"It doesn't matter," said Tracy Frisch of Argyle.
"It does matter," McAuely said.
"It's hitting someone," Frisch said. "It's hitting the earth. It's hitting animals. It really doesn't matter."
McAuely asked Frisch to tell him where the pollution was hitting. Another audience member asked why she should tell him, and Frisch said the pollution is still being emitted into our environment.
"OK, but so is a lot of other things," McAuley continued. "You can't just blame the industries."
McAuely offered Frisch his card and suggested she hire him to do an air quality assessment.
After more exchanges, an audience member asked, "Why are we doing this tonight?"
McAuely said there had been a lot of discussion about air quality concerns, and he was putting out a free, public service as a company that does air monitoring on a much larger scale.
Claudia Braymer, a Warren County supervisor representing Ward 3 and an environmental attorney, thanked McAuely for the information and asked for more about how to pay for such an assessment.
McAuely recommended applying to community smart grants through the U.S. Environmental Protection Agency, or applying to state funding opportunities. He also recommended writing the Attorney General's Office and filing a formal complaint "that there are concerns over air quality and they can investigate."
He said the companies in the area are not asking to hire him to complete an airshed study of all of Glens Falls, and that the companies are responsible for their own emissions.
Audience members asked who was paying for the talk, and McAuely said he was paying for it himself.
Braymer said she'd like to see better air permit standards.
"No one is saying they're (the companies) doing anything illegal, but shouldn't we know what the cumulative impacts are of all the industry, traffic, indoor air?" Braymer said.
McAuely said a group of about 350 residents from Pennsylvania had hired him after they discovered a large asphalt plant was going to be built nearby. After conducting an air quality study, his analysis showed the plant would cause a negative impact, and it was not approved.
"You guys, as concerned residents and community members, you're right," McAuley said. "Come together. Form a coalition, and do what you need to do and write up a whole plan on what you want to see. Submit it. Meet with the owners of the businesses. Sit down with the companies. Express your concerns, and work with them. ... Ten people in different homes talking isn't going to solve any problems."
Get local news delivered to your inbox!
Subscribe to our Daily Headlines newsletter.