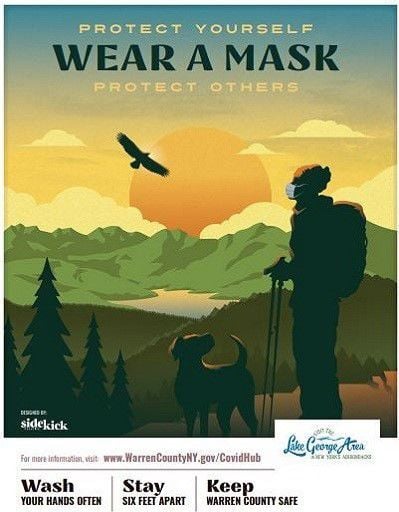 Warren County Health Services has another mystery on its hands.
A person has tested positive after no clear exposure to coronavirus.
That suggests the virus is still being spread through the Warren County community. However, Saratoga County Public Health is also investigating, because the person went to several businesses in that county.
The case "appears to stem from community exposure, though it is unclear where and how. That case remains under investigation," Warren County Health Services said in a news release Friday.
In better news, a person who quarantined immediately after traveling through a hotspot state has now tested positive — but did not expose other people locally.
People must quarantine for 14 days after traveling from 34 states, Washington, D.C., and Puerto Rico.
The states are: Alabama, Alaska, Arkansas, Arizona, California, Delaware, Florida, Georgia, Idaho, Illinois, Indiana, Iowa, Kansas, Kentucky, Louisiana, Maryland, Minnesota, Mississippi, Missouri, Montana, Nebraska. Nevada, New Mexico, North Dakota, North Carolina, Ohio, Oklahoma, South Carolina, Tennessee, Texas, Utah, Virginia, Washington and Wisconsin.
Warren County reported two more people tested positive Friday, for a total of 277 confirmed cases. Nine people are still sick, seven of them mildly. The other two are hospitalized in critical condition.
Washington County reported one person tested positive, for a total of 232 confirmed cases. Two people are still sick.
Saratoga County reported 11 more people tested positive, for a total of 745 confirmed cases. There are 74 people sick, five of whom are hospitalized.
Essex County reported no new cases, and no one is currently sick.
The Capital Region reported a total of 34 cases Thursday, for a positive rate of 1.1% of those tested. The biggest increase was in Albany County, with 10 cases, a positive rate of 1.3% of those tested. Several counties improved Thursday and had a positive test rate under 1%, which is the goal.
Statewide, 644 people tested positive Thursday, a rate of 0.93%.
There were 576 people hospitalized with coronavirus, and five people died.
Glens Falls Hospital reported only one coronavirus patient Friday, but Saratoga Hospital reported five, an increase of one.
Gov. Andrew Cuomo noted in a news release that most hospitalized patients are less severely sick. Throughout the state, 140 patients are in intensive care units with coronavirus and only 70 patients have been intubated. That's a new low, and the lowest since March 15.
Cuomo urged people to stay the course.
"So much of our ability to fight this destructive virus is dependent on what each of us does in day-to-day life, and social distancing, wearing masks and washing hands make a huge difference as we stay New York Smart," he said.
Concerned about COVID-19?
Sign up now to get the most recent coronavirus headlines and other important local and national news sent to your email inbox daily.