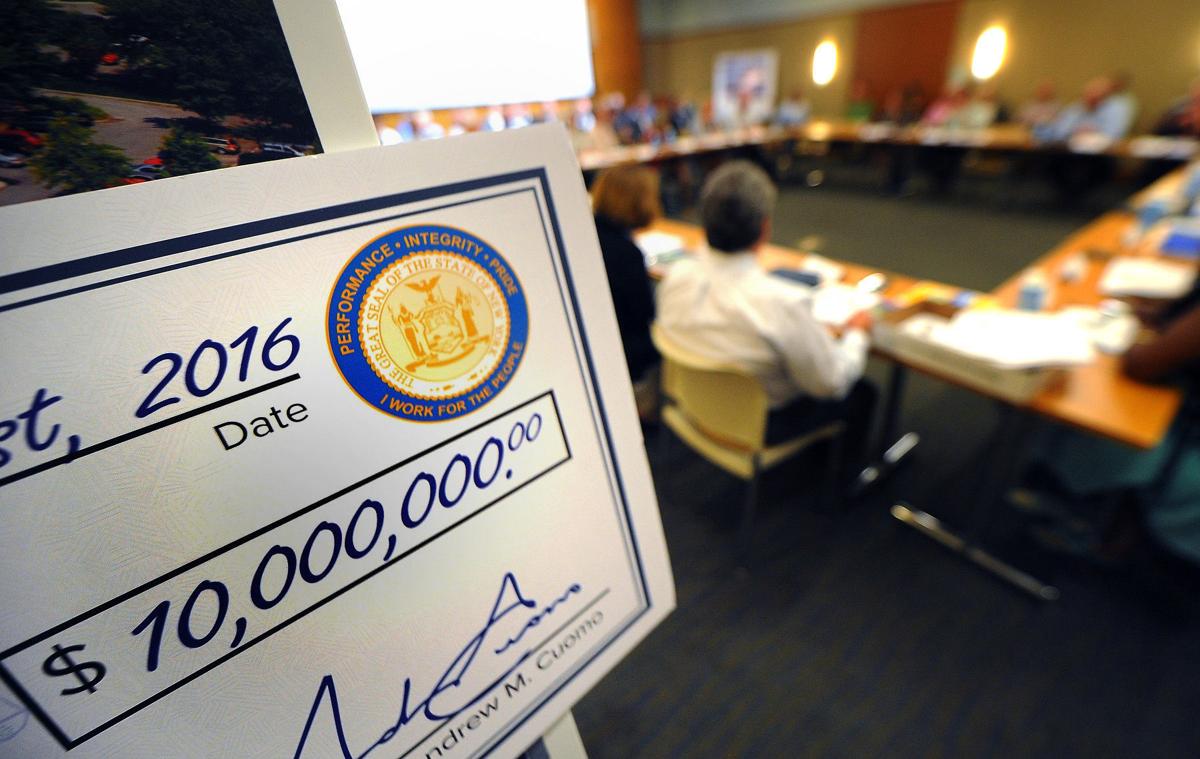 GLENS FALLS — The committee planning how to spend the city's $10 million Downtown Revitalization Initiative grant is closing in on a Feb. 28 deadline to submit the plan to the state.
"We are very close – about six weeks away from a final project," said Sarah Yackel, a consultant with BFJ Planning.
The committee will present its proposed plan at a public forum at 6:30 p.m. Feb. 23 at Heritage Hall at Glens Falls Civic Center.
After that, the city Common Council will review and recommend any minor changes before the plan goes to the state for approval.
"It's been quite a process — a lot of input from the community, a lot of good ideas," said city Councilman at-Large Dan Hall, the committee co-chairman, at a public forum on Wednesday.
About 85 people attended the forum at Heritage Hall, which was designed to give the public a chance to advise the committee on prioritizing the dozens of projects being considered.
People at the forum received six green stickers and six red stickers and went around a sequence of easels to put green stickers on the six projects they considered most viable and red stickers on six projects they wanted the committee to reject.
"We're asking that you put no more than one sticker on each project," Yackel said.
The activity was not a popularity contest, but a method to give the committee general insight, she explained.
Bob Dillon, who owns a marketing agency in downtown, said he likes the proposal to locate the SUNY Adirondack culinary program downtown.
"It seems to me that's a really good idea," he said.
Ben Driscoll, a former city 5th Ward Councilman, said having a SUNY Adirondack presence downtown would give the college more of a regional image.
"People think of the campus of being 50 miles away (from downtown), when it's only three miles away," he said.
Don Daniels, owner of The Gold Shade banquet house on Warren Street, said the proposed arts trail would encourage people to explore the outer streets of downtown, similar to the way people do on The Freedom Trail in Boston.
"I'm on Warren Street. So that's an important thing for me," he said.
Kate Boyle said she likes proposals to increase access to transit service.
"I can't take the bus from my home in Queensbury to downtown Glens Falls, because I live on Peggy Ann Road," which is off the Greater Glens Falls Transit System route, she said.
"I'm interested in the waterfront" along the Feeder Canal and Hudson River, said Deborah Liddle.
She suggested officials evaluate whether the water is deep enough to hold regattas.
"I mean, people go all over the country for regattas," she said.
EDC Warren County President Edward Bartholomew, the grant administrator, said committee members keep repeating the slogan "But for DRI" to remind each other about prioritizing projects.
The slogan means funding should be reserved for projects that otherwise would not go forward, said Bartholomew.
Also, projects need to get underway soon and be completed within three years, Yackel said.
"We're looking one-to-three years for implementation, not a 10-year-out process," she said.
Follow staff writer Maury Thompson at All Politics is Local blog, at PS_Politics on Twitter and at Maury Thompson Post-Star on Facebook.