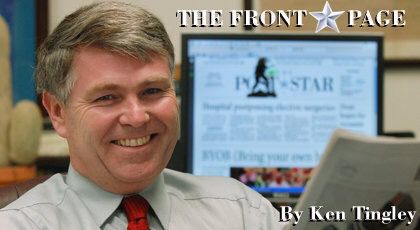 When it comes to upstate New York, there are economic headwinds.
The economy is not roaring like in many places around the country, and there is an argument to be made that it never fully recovered from the Great Recession in 2008.
E.J. McMahon of the Empire Center backs that up with lots of depressing facts in his paper, "One State, Two Stories."
I pay close attention to the Empire Center's work because of its stands for fiscal conservatism and lower taxes. It is an especially good counterpoint to the current administration.
McMahon, whose background includes turns as a journalist, chief fiscal adviser in the Assembly and 30 years as an Albany-based analyst, points out in a recent paper that there are two New Yorks — one upstate and one downstate — with two very different economies.
Most of us already knew that, but McMahon crunched the numbers to show that the upstate economy is closer to rural West Virginia than metropolitan New York City.
If you haven't been to West Virginia recently, I can attest this is not good.
He points out that upstate New York has gained private sector jobs at one-third the national rate and one-quarter the downstate rate.
Upstate business is not booming.
These are not the times of our lives.
McMahon writes that 20 upstate counties are still behind prerecession employment levels, and manufacturing jobs continue to decline even as they rise elsewhere nationally.
He makes the case that, while the unemployment levels upstate have been cut in half, the reason for the decline is because "fewer people are looking for work, not because more are working."
That is part of a continued migration of New Yorkers to other states. While upstate has lost 103,000 residents since 2010, higher birth rates and immigration downstate led to a 267,000 gain.
And there is more bad news.
Federal data shows only five states experienced lower personal-income growth than upstate New York.
McMahon lays most of the blame for the sluggish economy upstate with the policies of a liberal Legislature and governor, but more specifically — higher taxes than other states.
It's important to note McMahon is not talking specifically about school property taxes, but the cost of doing business.
McMahon cites the following:
Exceptionally high public employee compensation and Medicaid in New York.
High workers' compensation insurance rates.
A uniquely expensive liability standard on construction projects.
Higher minimum wage standards.
An environmental quality law that makes it easier to slow down development, mandates union preferences for all public works projects and puts a virtual ban on natural gas pipelines and fracking.
I part ways with him on fracking and more stringent environmental regulations, especially in the open spaces of upstate, but the high price of doing business in the state has long been noted.
When Gov. Cuomo first was elected governor, he enacted a 2 percent tax cap and eliminated state corporate taxes on upstate manufacturing operations to help upstate communities.
He must do more of that in the future.
While splitting New York in two is not feasible — and upstate would be the big loser in revenues there — Gov. Cuomo and the Legislature need to pay closer attention to the struggles of the upstate economy, even if they have to make exceptions to many of their progressive policies.
The economy is not roaring upstate.
State officials have to pay closer attention to the challenges we face.
Ken Tingley is the editor of The Post-Star and may be reached via email at tingley@poststar.com. His blog "The Front Page" discusses issues about newspapers and journalism. You can also follow him on Twitter at www.twitter.com/kentingley.
Get local news delivered to your inbox!
Subscribe to our Daily Headlines newsletter.