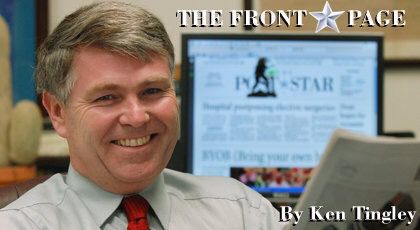 Rep. Elise Stefanik was named to President Donald Trump's impeachment defense team Monday.
She said she was "honored" to be named by the president.
She said she was proud to stand up for the "Constitution" and her constituents in New York's 21st Congressional District.
The appointment — I wonder if it comes with a retainer fee — comes one day after President Trump completed his third complete year in office with 16,241 false or misleading claims.
That means Rep. Stefanik has her work cut out for her.
I'm hopeful, if she starts now and works nights and weekends, she can offer up a defense on each and every one of the president's false or misleading claims for those of us in the 21st Congressional District who still believe lying to be a character flaw.
The list of misstatements is so extensive, The Washington Post fact-checker has established a database that any citizen can check.
And while all politicians stretch the truth, and on occasion outright lie — the newspaper has pointed out Democrats that have done this as well — no one has seen anything as grandiose as what the president has accomplished in three short years. It's why the fact-checker's job at The Washington Post has become full-time.
If you ask me, that's the real crime here — the constant, incessant lying.
I hope that still matters to the citizens here in the 21st Congressional District.
If I made 22 false or misleading statements in this column every day for three years, I suspect I would have been fired by now.
Sadly, it is clear there are those who will believe almost anything.
You have free articles remaining.
I hadn't heard the story about the cable news network, a washing machine and a fact-checker, but maybe you did.
It was about a year and a half ago a story was published online about CNN purchasing an industrial-sized washing machine to help its journalists. It went something like this:
"The custom-made device allows CNN reporters to load just the facts of a given issue, turn a dial to spin cycle and within five minutes, receive a nearly unrecognizable version of the story that's been spun to fit with the news station's agenda."
The story was published on a website called "The Babylon Bee," which advertises itself as "Your trusted source for Christian news satire."
It was a joke, a goof and probably a laugh we all could have used.
Except, nobody laughs anymore. Many just shared the story.
When that happened with the washing machine story, Snopes.com, one of the first and most trusted fact-checkers, felt the need to fact-check the washing machine story because it felt some readers "missed" that it was satire.
This is the world we now live in with some people ready to believe anything — no matter how ridiculous — and others unwilling to believe anything, no matter how much the information is corroborated.
I found the washing machine story on the website "RealClear Politics," which, depending on who you use for a source, is described as conservative-leaning and describes its mission on fact-checking the fact-checkers to see how they are fact-checking and whether that leads to bias as well.
Now we are seeing studies of whether the fact-checkers have bias.
I hope they do it straight.
The country needs to be able to believe in facts again.
It needs to be able to count on elected officials who will tell the truth at least once in a while.
With the end of President Trump's third full year in office on Sunday, the fact-checker found Trump had made 1,999 misleading claims in 2017, 5,689 in 2018 and 7,688 in 2019. He is now averaging 22 a day.
I don't think Rep. Stefanik will ever be able to catch up and explain all of them, but at least she believes in the mission.
n Tingley is the editor of The Post-Star and may be reached via email at tingley@poststar.com. His blog "The Front Page" discusses issues about newspapers and journalism. You can also follow him on Twitter at .</&box_em>