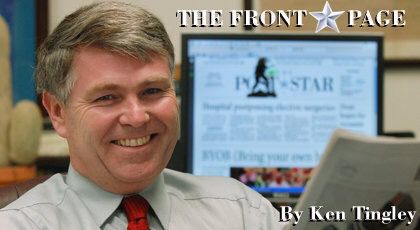 Maybe Denmark can save us.
First, Denmark wasn't my idea.
Al Matrose is a citizen representative on our editorial board. While we were talking about the U.S. Senate's oath of impartiality this week, he suggested that we let Denmark decide the fate of the president.
He was joking of course, but I wasn't quite sure what he was getting at, so I did a little research.
It turns out that, according to a group called "Transparency International," Denmark is the least corrupt country in the world. New Zealand and Finland aren't far behind.
The United States is 22nd of the 180 countries rated.
Not sure how Al knew all this, but the more important question might be how come the rest of us don't know about it.
Especially, when you consider there are 21 other countries that are less corrupt than we are – including Canada. I thought the only thing Canada was better at than us was making beer.
While 22nd is not horrible—way better than Somalia and Yemen—we did slip four slots in the most recent 2018 ratings, and I could only imagine a bit of a frown from Lady Liberty in New York Harbor.
I wondered why I had not heard of this organization before.
But the bigger question might be why we don't have an organization like this here in the States to deal with our own corruption problems.
Transparency International was founded in 1993. Each year since 1995, it has done a Corruption Perceptions Index, where it rates 180 countries around the world on public corruption.
We are a bit spoiled here in the States and don't realize the conditions under which many people live in different parts of the world. In one of its reports, Transparency International found that one in five people who access public services such as health care and education paid a bribe in the previous year.
When was the last time any of us paid a bribe to see a doctor, get some groceries or get our kids into the college of our choice? Oops, I forgot about that one.
Transparency International says its goal is to give "voice to the victims and witnesses of corruption," while working "with governments, businesses and citizens to stop the abuse of power, bribery and secret deals."
Sounds like it would have its work cut out for it with the U.S. Congress.
Its analysis concluded that there is a "disturbing link between corruption and the health of democracies, where countries with higher rates of corruption also have weaker democratic institutions and political rights."
In reviewing the "Americas," it concluded that the rise of certain leadership styles that favor the following tactics was to blame:
- Undermining of free and independent media, especially when coverage challenges leaders' messaging.
- Increasing voter suppression and disenfranchisement.
- Anti-immigration, anti-LGBT and racist language.
- Interference with or blunt use of national institutions to weaken the system of checks and balances and increase executive power.
- An increase in conflicts of interest and private influence.
Remember, Transparency International has been following these trends around the world for 25 years.
When the U.S. Senate was taking its oath of impartiality for the impeachment trial, I looked at a lot of photos to see if any of the senators were crossing their fingers. It was hard to tell.
Which brings me back to top-ranked Denmark. I'm not saying it could beat LSU, but they might be able to be impartial in an impeachment trial.
That's more than can be said about the U.S. Senate.
Ken Tingley is the editor of The Post-Star and may be reached via email at tingley@poststar.com. His blog "The Front Page" discusses issues about newspapers and journalism. You can also follow him on Twitter at www.twitter.com/kentingley
Get local news delivered to your inbox!
Subscribe to our Daily Headlines newsletter.