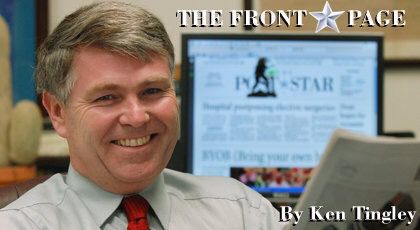 Elise Stefanik, that fresh-faced breath of country air who took our local political scene by storm in 2014, has changed.
She is unrecognizable from that first campaign when she became the youngest woman elected to Congress.
In those more innocent times, she repeated over and over again her intent to be "bipartisan," to reach across the aisle and get things done. She positioned herself as a moderate who would stand up for her district on environmental issues and made the colossal concession – when no Republicans were doing it—that climate change was real.
During the 2016 presidential campaign, she distanced herself from Republican nominee, Donald Trump, and voted against some of his early legislation, including the Republican tax cut because it would be bad for her constituents.
Over the past few months, Rep. Elise Stefanik has become a devotee of President Donald Trump. As a member of the House Intelligence Committee, her televised performance in defense of Trump brought Twitter cheers from the president and appearances on primetime Fox news programs.
Or maybe she just saw an opportunity.
Politico reporter Anna Gronewald traced the Stefanik shift to her appearance with President Trump at Fort Drum in August 2018.
"For people who'd watched Stefanik's political rise, her combativeness came as a surprise, a sharp pivot from her understated demeanor in most public appearances (and, according to reporting, very different from her own behavior in impeachment proceedings without network cameras present)," Gronewald wrote. "To hear pundits tell it, she had transformed overnight from one of the most moderate Republicans in Congress and a young, fresh-faced symbol of a new GOP to President Donald Trump's attack dog and a symbol of the party's most retrograde and divisive tendencies."
But maybe we all just missed it.
Maybe we were all hoping for the Camelot of a new generation to represent us and make a difference.
From the beginning, Rep. Stefanik was not like past representatives of the North Country.
She didn't relish talking to reporters, and by reporters I'm talking about the congenial Maury Thompson, who is now retired from The Post-Star.
She seemed reluctant to press the flesh with locals and rarely made herself accessible. The "mobile district office" she promoted to reach out to constituents often left out one thing – an appearance from the congresswoman herself.
Town hall meetings, where serious people could ask serious questions, became fewer and fewer. These days, her public appearances are rarely even announced to the public.
Her communications people and campaign staff are quick to complain about reporters while trying to intimidate editors with unprofessional rants. There are several news outlets around the North Country that she is boycotting.
You have free articles remaining.
During the most recent campaign, Rep. Stefanik rolled out the "Taxin Tedra" nickname for her opponent while pounding home the message that Cobb raised taxes as a legislator, even though fact checks found that claim to be dubious. She also used a teenaged campaign worker to secretly record Cobb at one of her small campaign meetings and said she saw nothing wrong with that. When our editorial board asked her to pledge not to lie during the last campaign, she never responded.
When the editorial board asked her again this past year not to lie, she did not respond again.
We all should have seen this coming.
We've been suckered by the "fresh-faced" Ivy Leaguer who got her start in the Bush White House, never lived here and is now introducing the ugliness of Washington politics into a congressional campaign that should not matter that much to anyone in Washington.
Rep. Elise Stefanik, the seasoned political operative, will be in Iowa Monday campaigning for President Donald Trump. She is one of six New Yorkers who were named honorary chairs of Trump's re-election campaign. After all, there is nothing she is better at than raising money.
I suspect you will not hear her talk about how bipartisan she has been.
But here is what bugged me the most.
Stefanik's spokesperson, Madison Anderson, wrote in a press release that the North Country was "overwhelmingly excited" about her being named co-chair of Trump's re-election effort. She wrote that while the president was being impeached.
In recent days, Rep. Stefanik has been seen on television accusing Rep. Adam Schiff of lying, even though fact checks show that is not true.
That doesn't seem to matter to her anymore, not when she is on national TV smiling for the cameras.
That young congresswoman, who pitched being bipartisan, will not be able to come back from this, and I suspect she does not care, because none of this was about helping the 21st Congressional District and the people of the North Country.
It was about establishing a young woman as the future face of the Republican Party.
The coming congressional election will be ugly.
Elise Stefanik has brought the blood sport of national politics to the North Country, with out-of-state money pouring in for the Republicans and Democrats.
Our problems, our voice will be a footnote.
The national war will be fought here and it will divide us further.
Elise Stefanik deserves all the credit for that.
Ken Tingley is the editor of The Post-Star and may be reached via email at tingley@poststar.com. His blog "The Front Page" discusses issues about newspapers and journalism. You can also follow him on Twitter at www.twitter.com/kentingley.