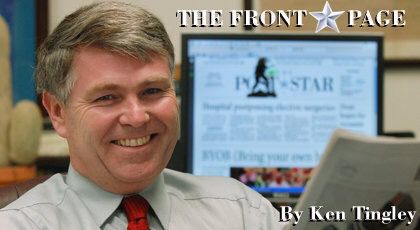 You need to understand how we've all been taken for suckers, because I'm pretty sure you don't know the extent of it.
I know you know about the Russian interference during the 2016 election, the advertising and misinformation on social media, and I'm pretty sure you are adamant that it didn't affect your point of view.
But I'm also pretty sure you are sitting at home wondering what is happening to our country.
Why are we at each other's throats?
And wondering what happened to our political discourse.
So here is the most important thing you need to remember: What the Russians did wasn't about the election. It was never about the election. It was never about electing one candidate or another. It was about dividing us.
Two Clemson University professors, Darren Linvill and Patrick Warren, have been using advanced social media tracking software to catalog the 3 million tweets that the Internet Research Agency put out over a two-year span before and after the presidential election in 2016.
Consider this fact, and it is important: They found that the Russians were more active on social media after the election.
They knew their trickery had worked and we were in disarray.
Their research reveals how the Russians did it and why.
We all need to understand this.
"I want to shout this from the rooftops," Warren told the "Five Thirty-Eight" website. "This is not just an election thing. It's a continuing intervention in the political conversation in America. They are trying to divide our country."
The Internet Research Agency is located in St. Petersburg, Russia, and said to employ 400 people.
Think of this place as a factory with an assembly line that cranks out social media posts around the clock. The people who work there don't favor or dislike Donald Trump. They don't lean one way or the other politically, other than to work against the best interests of the United States. Their genius is finding what inflames our psyche.
They are very good at what they do.
Linville and Warren were able to break down what was posted into five categories: "Right Troll, Left Troll, News Feed, Hashtag Gamer and Fearmonger."
"Right Troll" pumped out right-leaning populist messages. After President Trump was nominated by the Republicans, it regularly supported with posts that regularly employed the #MAGA hashtag in posts.
"Left Troll" sent out socially liberal messages with an overwhelming focus on cultural identity, especially racial identity. They regularly turned out messages associated with the #blacklivesmatter movement. Many of the posts were intentionally divisive. This was being done along with "Right Troll" posts.
"News feed" was a collection of social media posts that presented themselves as U.S. local news sites, but weren't.
"Fearmonger" often spread stories that were simply not true.
The folks at the Internet Research Agency would come to work each day and get their assignments. Some days it was "Right Troll," other days it was "Left Troll" and some days it was "Fearmonger" or something else.
They watched the analytics closely to see which posts were retweeted or shared the most and which ones produced comments. Sometimes the national media would pick up a story that was trending because of Russian influence.
Ultimately, the goal was to inflame the discussion by injecting our long-simmering prejudices and fears.
If you saw someone spouting off about how terrible the police are with a #blacklivesmatter hashtag, it might make you angry at African Americans.
If you saw a post pushing a narrative against illegal immigrants with a #MAGA hashtag, you might be upset at Trump supporters.
And in the end, they got us to believe things that weren't true about the candidates, the political parties and ourselves.
There were millions of these social media posts from thousands of different people.
Twelve of them were indicted by Robert Mueller.
In summing up their conclusions, Linvill and Warren described how one former employee of the IRA described the feeling of working as though "you were in some sort of factory that turned lying, telling untruths, into an industrial assembly line."
Twitter informed 1.4 million people that they'd interacted with Russian trolls.
Our views have been manipulated.
Our perspectives have been warped in ways we didn't realize, by forces we didn't know were at work.
Get local news delivered to your inbox!
Subscribe to our Daily Headlines newsletter.