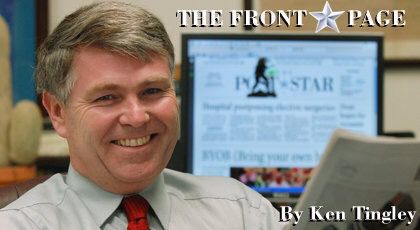 You want fearless, this is what it looks like.
You want hope, this will give it to you.
Things had been bleak, essential supplies were short, so Dr. Smith did something about it.
She brought two reporters from the New York Times — Robin Stein and Caroline Kim — into the emergency room — The HIPAA privacy law be damned—to not only show them what the conditions were like, but let them shoot video as well.
She talked to reporters about things she wasn't supposed to talk about because the public needed to know.
Her colleagues needed to be protected.
Consider the reporters for a second, too.
They take a lot of guff, especially when you work for the New York Times. But how many of us would visit ground zero of a contagion without a cure?
Not many, but the story Dr. Smith had to tell was critical.
She told the world about her daily reality.
"The frustrating thing about all this is that it feels like it is too little, too late, like we knew, we knew it was coming," Smith says in the video. "Leaders in various offices (in the New York City medical community) are saying, 'We're gonna be fine, everything's fine.' And from our perspective, everything is not fine. I don't have the support that I need. Even the materials I need to physically take care of my patients. This is America and we are supposed to be a first-world country."
It was a warning to the rest of us that management isn't always on top of things.
Smith talked about an emergency department that is now seeing 400 patients a day instead of 200.
She talks about the refrigerated tractor trailer that is parked outside, just in case.
She talked about her colleagues who are now becoming ill.
This is important for us to know as well.
I'm hoping the carnage we are seeing in New York City will be a wake-up call for those of us in this community that we need to do more to prepare.
We need to be staying home all the time.
Our contact with outside world needs to be non-existent to slow this virus down.
But this past week, there were plenty of cars on the road. The convenience stores appeared to be doing a brisk business, and I wondered how serious we were taking this.
We've heard from local hospital workers that they are concerned about whether they have enough protection while doing their daily jobs.
They don't understand why some masks are being saved for a later date.
There is justified fear and angst among them Back in Queens, Dr. Smith must make do with one N-95 mask all day.
"The anxiety of this situation is really overwhelming," Dr. Smith said. "We get exposed over and over again and we don't have the protective equipment that we should have.
"What is scary now is that the patients we are getting are much sicker," Dr. Smith said. "Many of the young people who are getting sick don't smoke, they are healthy. They are just young regular people between the ages of 30 and 50 who you would not expect to get this sick."
You need to see the video for yourself.
You need to listen to this young doctor and take this more seriously.
"I don't care if I get in trouble for speaking to the media," Dr. Smith finally says.
There are so few people who stand up for the greater good. Dr. Smith did that here. That may be what is most inspiring.
"I want people to know this is bad. People are dying," Dr. Smith says. "We don't have the tools that we need in the emergency department and in the hospital to take care of them.
"And...," she says, starting to choke up. "It is really hard."
n Tingley is the editor of The Post-Star and may be reached via email at tingley@poststar.com. His blog "The Front Page" discusses issues about newspapers and journalism. You can also follow him on Twitter at .</&box_em>
Get local news delivered to your inbox!
Subscribe to our Daily Headlines newsletter.