Driving home from Vermont last week, a Route 4 car accident led me to turn around and detour through Granville to get back to Queensbury.
On county Route 12, I drove up to the scene of a horse-drawn Amish hay wagon piled high and being driven by a young boy perched atop the pile as an Amish buggy carrying two men passed it.
I've driven through Whitehall to teach at Castleton University for 15 years and have seen countless Amish horse-drawn buggies hauling men and women and children and produce, but this scene was unique.
It was literally an Amish vehicle passing on a county highway and it got me thinking back to the series of stories I wrote in 2016 and how intrigued and inspired I was by this community.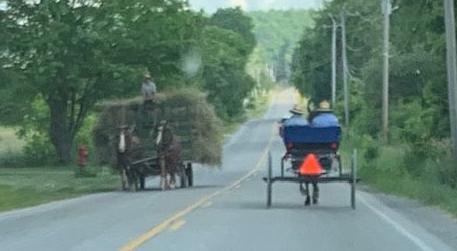 It also made me wonder how COVID-19 has impacted the burgeoning, self-sufficient Amish farming community in the area.
"Not at all," said Stephanie Safka, Whitehall councilwoman and owner of Fort Ann Antiques whose store is down the road from an Amish farm that features baked goods.
Safka said Amish community members were still offering baked goods and have still been coming into her store buying items like wind-up watches and hand tools that we consider antiques but that they use daily.
"When they bought a big cauldron from me, it was for washing clothes," she said. "And they don't buy washboards to hang on the wall."
But former Whitehall Supervisor Vernon Scribner, a longtime farm owner who lives on county Route 12 and knows members of the Amish community, said he's aware of some negative impact the pandemic has had on them.
One Amish farm was sold a couple of months ago to another Amish family, but because of the pandemic, the new owner has been unable to sell milk because the state hasn't been doing inspections, he said. He also wondered how an Amish pallet maker was faring with decreased demand for construction materials like local slate.
"It's impacted them somewhat, but not all that much," said Scribner, who lost a cousin from Burlington, Vermont, to COVID-19.
Nick Deutch, Safka's partner, attended an Amish auction in Hampton last Wednesday that was attended by an estimated 150 people, half who were Amish, he said.
He said the community is aware of the pandemic, but that they aren't really impacted much by it. They have been going about business as usual "in their own little secluded society."
Although Safka raised the issue that she and Deutch haven't been permitted to have auctions yet because of the pandemic and that masks and social distancing might not be being adhered to, she said she's OK with it and that there's a lot to be learned from them.
"To me, it's heartwarming to know it's possible, that people can live and work and school and function peacefully. There's no Amish wars up here. They all help each other and support each other and, to me, I think it's a wonderful role model. Wouldn't it be wonderful if we could all get along like they do?
"And they're very self-sufficient, that's for sure," she said. "If we were to all disappear, they wouldn't know it."
Get local news delivered to your inbox!
Subscribe to our Daily Headlines newsletter.