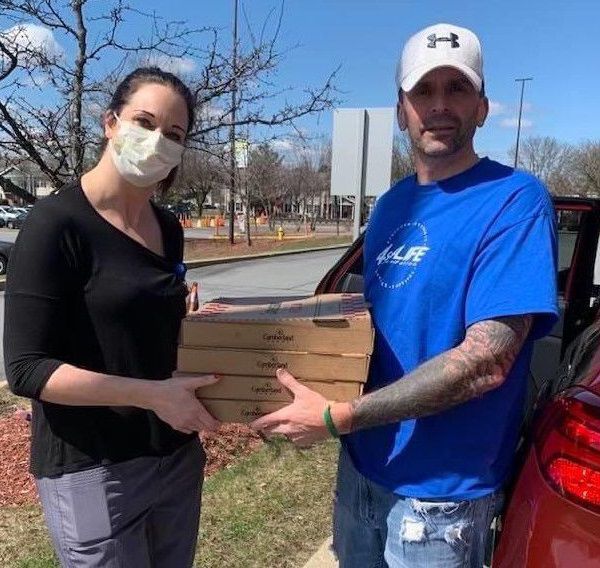 And when the coronavirus pandemic hit the area, he quickly set up a fund at Glens Falls National Bank to help "Feed the Frontlines," the essential employees who are keeping the community safe.
Ecuyer, who lives in Hudson Falls and delivers Freihofer products for a living, is personally feeding the front lines by delivering meals to first responders, police officers, nurses, doctors and other essential personnel in the community.
The program is an offshoot of his nonprofit group, 4S4Life, which helps combat mental health issues with coaching, community outreach, support groups and anti-bullying campaigns.
Ecuyer visits local restaurants, particularly smaller businesses trying to stay afloat, buys food with money donated to the fund, then delivers the food to various first responders and medical staff on a rotating basis.
"The donor feels good about donating; the businesses, we're keeping them afloat, we know they're the backbone of the community, and we're feeding the people on the front lines," Ecuyer said. "So across the board it's just a great concept."
Ecuyer is also running the Community Store set up at Uno Pizzeria & Grill on Route 9 in Queensbury. It is also run on donations.
"So when the donations come in, I go and do all the shopping myself, I stock the store, and then we open for senior citizens and low-income families," he said. "They're allowed in once a week, and everything is free."
The Community Store doesn't have a lot of perishables, but does offer grocery items like toilet paper, diapers, hand sanitizer, canned goods and bread. The volunteers running the store are taking precautions to keep themselves and shoppers safe.
In just two weeks, the store has fed about 400 families and 330 senior citizens, said Ecuyer, who said it takes between $300-$400 a day to stock the store.
Ecuyer said he needs help from people to keep the Community Store open and to help deliver meals for "Feed the Frontlines."
"I have orders lined up this entire week for every different staff, for the prison guards to EMS staffs," Ecuyer said. "You name it, we're taking care of them."
Ecuyer said he is hoping others will join him. He is looking for one big company to step up and donate a large sum of money to the nonprofit organization.
"If one person starts it," he said, "maybe the rest will follow."
Get local news delivered to your inbox!
Subscribe to our Daily Headlines newsletter.