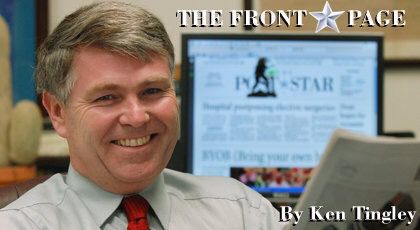 This letter had a story behind it.
Phil Holcomb had sent it to the newspaper at the end of July. He had been with his dad, James Holcomb, in the emergency room a couple of days earlier. The cancer James had been battling for the past five years had made it to his bones.
He knew he didn't have much time left.
There in the emergency room with Phil and his wife, Lorraine, James sought to tie up some loose ends.
It was his idea to write the letter to the editor.
It was his idea to make sure Stanley Bradley knew how much his actions of 48 years earlier meant to him and his family.
Phil agreed to write the letter for his father.
"James Holcomb has desired that Stanley Bradley be recognized and thanked for saving his son, Phillip, when he was a toddler," the letter started.
This is where I come into the story.
It was an unusual letter to the editor, and I wondered if there was a story here.
I passed it off to one of the reporters, who passed it back to me and suggested it might be a good column. Then I got busy with life, work and family, but I'm pretty sure James would understand.
On the morning of Aug. 14, I saw James' obituary in The Post-Star and my heart sank.
James grew up in Granville, was an Air Force veteran and loved to do karaoke at the local nursing home for the residents. Phil said he had a wonderful voice.
"He lived by the rule that a man's job was to take care for his family, no matter what," is what it said in his obituary.
Maybe that's what was weighing on James' mind that day in the emergency room when he got the bad news.
That he had not properly thanked the young hero.
That he had not let him know how it all turned out.
Or maybe he was still stewing over the events from 48 years earlier, when his youngest, Phil, ended up in the bottom of a well at the new house they were building in Hartford.
Stanley Bradley was just 12 years old himself. Stanley ran across a connecting field and pulled Phil from under the water in the well.
"I still don't like water," Phil told me.
Phil, who was 2 at the time, remembered waking up and seeing his mother's face as she performed CPR.
Phil has never met Stanley Bradley. He tried to track him down but couldn't find a phone number or address. He located Stanley's brother, who said he would get word to Stanley about James' last request.
Here's the other part that is important.
He has spent much of his life working with developmentally disabled adults and children.
Along with his wife, Tammy, he has adopted five children.
When I called him, he was retrieving something the 4-year-old had dropped under the porch.
"James Holcomb extends his heartfelt thanks as well," Phil wrote in the letter to Stanley. "Your quick action saved his youngest son's life."
And impacted so many others.
But maybe most of all, James got to see Phil grow up and live his life.
Get local news delivered to your inbox!
Subscribe to our Daily Headlines newsletter.