City & Town
City & Town Column: Collaborative schedules downtown cleanup for Saturday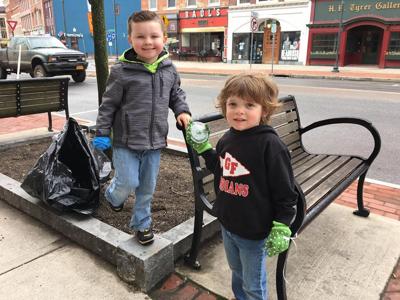 Residents are invited to help clean up downtown Glens Falls on Saturday.
The Glens Falls Collaborative has organized a cleanup from 8 to 10 a.m.
Collaborative Vice President Robin Barkenhagen said the group decided to organize this event at the last minute. The group will meet at the Ridge Street parking lot next to City Hall.
"We'll pick up as much garbage as we can for two hours," he said.
Solar workshop
Also downtown on Saturday, people are invited to learn about the Solarize program at The Queensbury Hotel from 9:30 to 11:30 a.m.
The event is sponsored by the Southern Adirondacks for Solar campaign and supported by the Queensbury Clean Energy Community. The Solarize program provides pre-qualified solar panel installers with incentives from the state Energy Research and Development Authority and free site assessments and quotes for solar panels, according to a news release. There are also state and federal tax credits available.
Representatives from APEX Solar Power and Solar Liberty will be present.
Diane Collins of the Tri-County Transition Initiative, which raises awareness about climate change issues, said there will be testimonials from people who have installed solar panels.
"It's such a good opportunity for people to hear about this solar panel initiative," she said.
If people cannot make Saturday event, there will also be events on Sept. 20 at the Lake George Brew House Pub from 5 to 7 p.m. in Queensbury; on Sept. 25 at the Main Street Ice Cream Parlor in Chester from 5 to 7 p.m.; and on Oct. 6 at Up Yonda Farm from 9:30 to 11:30 a.m.
Hydroelectric power
Speaking of renewable energy, the Common Council on Tuesday approved negotiating an agreement with Gravity Renewables to purchase hydroelectric power.
The city would purchase electricity through Gravity Renewables at a rate of a little less than 1 cent per kilowatt-hour. The company does not produce energy itself, but it obtains power from hydroelectric facilities throughout the area.
Omay Elphick, director of project development for Gravity Renewables, said previously that the city could save about $60,000 per year on its energy costs, using conservative estimates. This is estimated to provide about 40 percent of the city's power. The agreement is for 20 years with a five-year option to renew.
Councilman Bill Collins said he is excited that with the city's agreements with other energy providers, it would be able to obtain 60 percent of its energy needs from renewable sources.
Back on the tax rolls
The Common Council on Tuesday approved selling a house at 74 Cherry St. to John Larocca for $40,000.
The city had seized the property for back taxes.
The city also recently transferred to the Urban Renewal Agency a piece of property at 9 Hovey St., which also has been seized for back taxes.
City Clerk Robert Curtis said someone has expressed interest in that property, but he would not disclose the potential buyer.
Fishing derby
The third annual King George Fishing Derby will be held this weekend on Lake George.
More than $15,000 in prize money is up for grabs.
The event kicks off on Friday with registration at the American Legion post on Route 9L from 4 to 8 p.m. Fishing begins Saturday at 6 a.m. and again Sunday from 6 a.m. to 2 p.m.
Awards, merchandise prizes and cash awards will be given from 3 to 5 p.m. Sunday at the American Legion.
Awards are given for lake trout, smallmouth and largemouth bass and land-locked salmon. Junior fishermen are also welcome to compete.
Lighting up the night
The area is gearing up for the 46th annual Adirondack Balloon Festival, Sept. 20-23.
The village of Lake George has set its annual Moonglow Illumination for Sept. 22 at 7 p.m.
The event will take place at Battlefield Park at dusk. Three balloons are scheduled to tether and offer rides to all spectators, according to a news release.
Afterward, there will be a fireworks show at 8:30 p.m. The Lake George Steamboat Co. also has scheduled special cruises.
The festival kicks off on Sept. 20 at 4 p.m. in Crandall Park with balloon launches, weather permitting, followed by a block party later that evening. Balloon launches continue Friday evening and on Saturday and Sunday at Warren County airport. It concludes Sunday afternoon in Crandall Park.