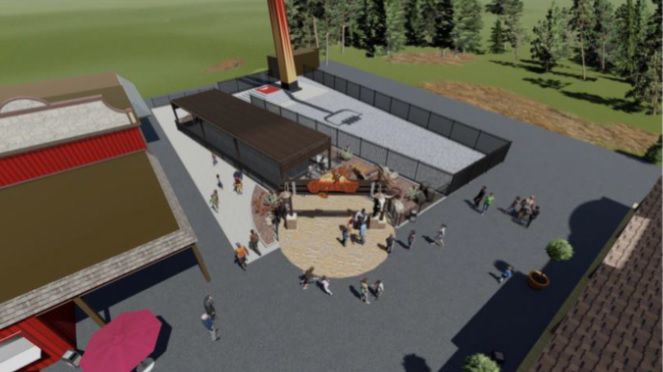 QUEENSBURY — Good news, Ghost Town lovers: The current Charley's Saloon is not being demolished after all.
Great Escape submitted plans to the town of Queensbury that called for the "removal of a 6,190 sq. ft. building area known as 'The Saloon' café area."
And indeed, the plans show that a building labeled Saloon is being demolished in the general area of the current saloon.
But that actually refers to what used to be the saloon, back when Ghost Town featured a much-loved fight between the marshal and a bank robber.
Another portion of that building was renamed Charley's Saloon and is now a sit-down restaurant.
That will not be demolished.
The tree next to the entrance area — near a door that was once the bank entrance from which the robber fled — is the boundary of the demolition.
Charley's Saloon is safe, Resort President Rebecca Wood said in an email.
She called it a "historic" and "meaningful piece" of the park and said she wanted to reassure people of Great Escape's "commitment to our heritage."
"We have no intentions of removing Charley's Saloon," she said. "I am sure our building names and the project are quite confusing in review on paper."
Currently, to get to the bathrooms, visitors walk from Charlie's Saloon along a short piece building frontage, with Old West style windows and doors, but nothing that opens. That area, described in the plans as "non-useful" space, will be demolished.
It will be replaced by a shaded, open patio with tables and chairs. From that area, visitors will get in line for the Adirondack Outlaw or the Steamin' Demon roller coaster.
The bathrooms will remain.
The Queensbury Planning Board will review the plans and hold a public hearing on Jan. 21. The meeting begins at 7 p.m. at the Queensbury Activity Center.
Get local news delivered to your inbox!
Subscribe to our Daily Headlines newsletter.