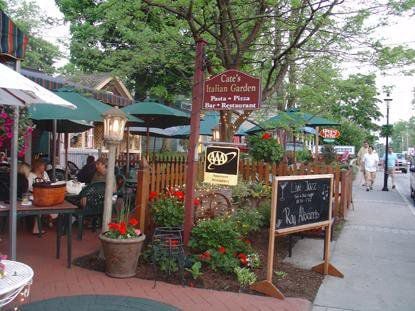 BOLTON — A photograph of a man drinking on the patio of Cate's Italian Garden made its way to the State Liquor Authority last month.
The business has been fined $1,500 for allowing someone to drink on the patio before outdoor dining was allowed.
But the man was the husband of owner Cate Foy. He was chatting with two customers — both of them wearing masks — who had picked up to-go orders.
It's the first liquor license violation Foy has ever gotten.
"I've had my liquor license 25 years, and never have I had a violation," she said. "It was very confusing in the beginning. To not take that into consideration, it makes me angry."
The State Liquor Authority told her that, until outdoor dining was allowed, no one could have even a glass of water on the patio, even if they owned the restaurant.
Outdoor dining began the day after her violation.
She has hired a lawyer and she's frustrated, but she's moving on. Now she can allow up to 50% occupancy indoors, and tourists are flooding in, which is frightening but economically reassuring.
"I spray and pray," she said.
The restaurant was just featured on Food Network's Summer Rush, a reality show about the family pitching in to make it through the summer rush last year at their three properties. That publicity has drawn more tourists, but most people are wearing masks, Foy said.
"Everybody is following the rules, pretty much. We've got a lot of tourists up here right now, but they are wearing masks," she said.
She's glad to be open. But she's not happy the state government is searching Facebook photos to find restaurant violations.
"Can you imagine? This is just beyond beyond," she said. "These last six months have been the most tired, stressful, scary times, and it's because of Cuomo."
The State Liquor Authority has issued violations to 132 bars and restaurants, mostly over the weekend after inspectors found a lack of social distancing. Most of the violations were in New York City.
Concerned about COVID-19?
Sign up now to get the most recent coronavirus headlines and other important local and national news sent to your email inbox daily.