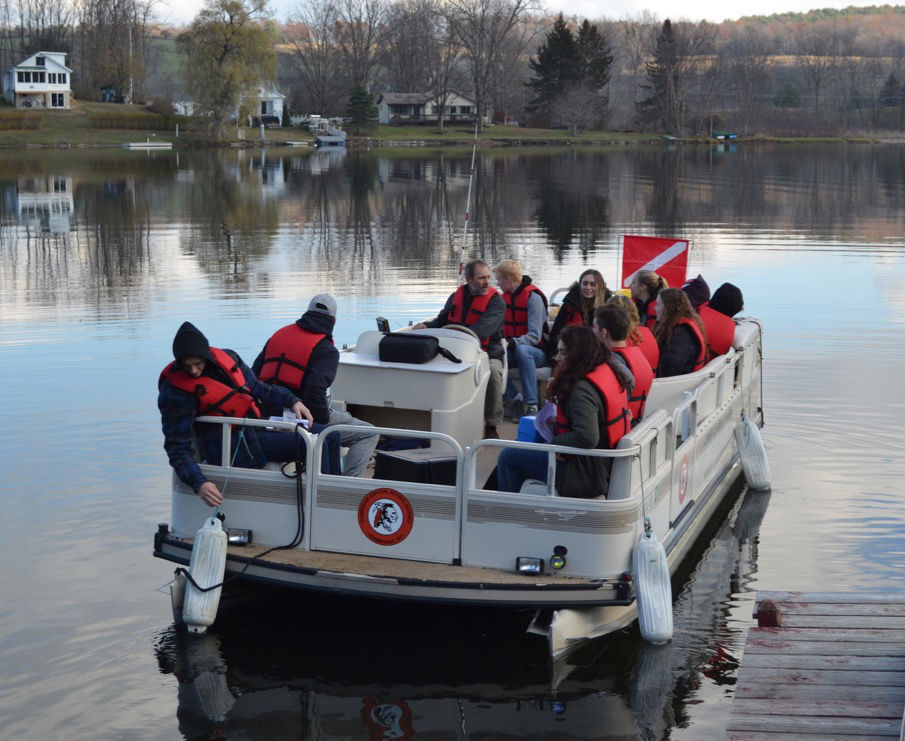 CAMBRIDGE — Southern Washington County is landlocked farmland, but that has not kept Cambridge Central School teacher Steve Butz from adding a floating classroom to the school inventory of teaching methods.
"Mr. Butz is a resourceful person, and for a small school our students have a wealth of opportunities in his classroom," said Principal Caroline Goss.
The floating classroom, a 20-foot long pontoon boat owned, operated and maintained by the school, was obtained through a grant application, something Butz is very good at.
The boat is part of the school's long-term study of local water resources. His environmental science students have been conducting a long-term project at nearby Hedges Lake.
Since 2003, Butz and his students have been monitoring the water quality of the local lake once a month throughout the school year. The goal of the floating classroom project is to create a platform for the monitoring of local water resources by Cambridge students studying the environmental sciences.
The boat will allow students to perform physical, chemical and biological assessments of the water column, both at the surface and at different depths, along with exploration of the benthic (bottom) zone.
This will provide students the opportunity to perform real scientific research and earn college credits while still in high school, as this course is a four-credit college lab science accredited by SUNY Adirondack.
It will also be used during summer enrichment programs.
As part of the program, each student will learn about boating safety and will be required to take the New York State Boating Safety course prior to participating. The boater safety course is free and, once completed, students will be qualified to receive their state boating safety certificate for a $10 fee if they so choose.
In the last 10 years, Butz has secured $121,298 in grant funding from various sources. The water quality monitoring equipment has also been purchased as a result of grant funding.
Goss said Butz has also given other opportunities to students, including teaching an archaeology course and doing research on Shay's settlement.
"He's really done a great job in teaching his environmental science students the knowledge they need to be environmentally friendly," Goss said.
You can read Bill Toscano's blog at poststar.com/blogs or his updates on Twitter, @billtoscano_ps.