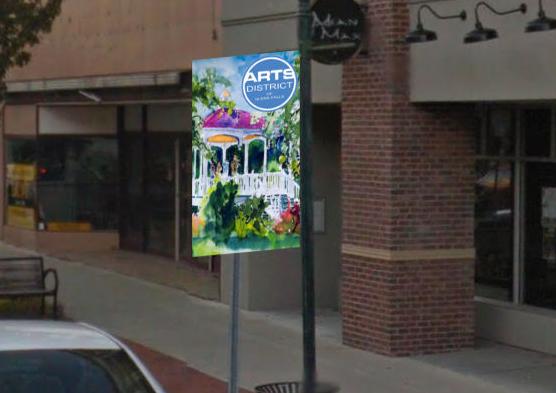 GLENS FALLS — The Arts District of Glens Falls is moving forward with developing an "Arts Trail" to literally and metaphorically connect 12 arts and cultural organizations within a 1-square-mile radius in Glens Falls.
The literal element of the trail will be sidewalk logos and streetlight pole banners marking a route between the organizations, stretching from the Chapman Historical Museum to the Glens Falls Civic Center on Glen Street, and east to The Shirt Factory arts and healing center on Lawrence Street and The Hyde Collection art museum on Warren Street.
"We're hoping to start it in May of 2017," said Erin Coon, referring to installation of sidewalk markings and banners.
The Arts District is accepting proposed banner designs, with a common background, and will select four or five designs to be used.
The metaphorical aspect — coordinated planning, marketing and sharing of ideas — has already been going on for about two years, fulfilling a recommendation in the city's Downtown Development Vision and Strategy in 2012.
The Arts District has been raising private contributions for the Arts Trail.
The initiative has multiple goals, Coon said in a presentation July 26 to the city Common Council.
One is attract tourism through public awareness of the critical mass of arts and cultural organizations in Glens Falls.
Another is to encourage area residents and tourists visiting one attraction to extend their time in downtown by visiting other attractions and stopping at downtown shops and restaurants along the way.
The third is to promote walking as a healthy exercise.
For information, contact Lower Adirondack Regional Arts Council at 518-798-1144.
Follow staff writer Maury Thompson at All Politics is Local blog, at PS_Politics on Twitter and at Maury Thompson Post-Star on Facebook.