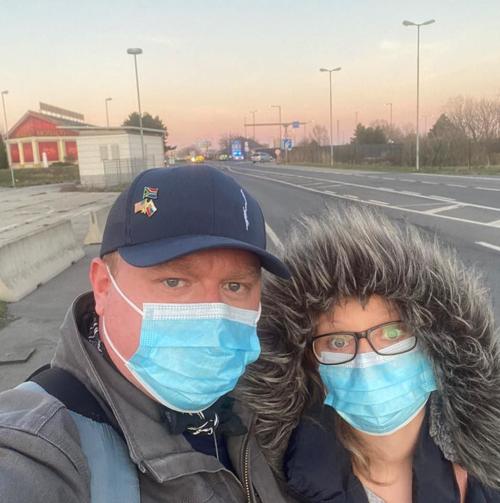 When Bolton residents Ivana and Billy Trudsoe left for their annual trip to see her family in Slovakia on March 1, coronavirus was not on the minds of many in North America and Europe.
But after a week caught up in the burgeoning pandemic in an overwhelmed Europe, they were just able to make it to an airport in Austria hours before the nation's borders were closed, to catch a multi-leg flight that landed in Newark on Tuesday.
"It was insane," said Mr. Trudsoe, executive chef at Blue Water Manor in Bolton. "We were so glad to get back to America."
The Trudsoes spent two weeks with his wife's family and were getting ready to spend time in Greece when the COVID-19 pandemic began to spread in Slovakia late last week.
His wife's father was sent home from work in the city of Bratislava, and masks became mandatory in public as the country quickly went into a shutdown.
On Monday morning, as the Trudsoes awoke, his wife's father broke the news that borders were closing, including the border to Austria, where they had hoped to use Vienna's airport.
"Overnight it got crazy," he said. "The country went on lockdown. You couldn't be outside without a mask."
"You would get fined if they saw you outside without a mask," Mrs. Trudsoe said.
The trip to Athens was off the table, and the plan now was to get back to New York. But trying to get back home turned into a bigger nightmare than they could have imagined.
Cascading travel restrictions and an inability to get onto the few remaining flights to the United States, which were booked and overbooked, led to some harrowing moments and rapidly changing plans.
Monday morning, after hours working with travel agents, plans for a flight from Vienna to Frankfurt, Germany and then to Newark, New Jersey were booked. But getting to Austria was problematic, with public transportation all but shut down.
And with Austria locking its borders, Mr. Trudsoe, 38, wouldn't be allowed to leave the country if the flight fell through.
"If we don't get out, I am stuck in Austria indefinitely," he said. "My blood pressure was going crazy."
So Mrs. Trudsoe's father's boss took them to Austria, where they found a border "that looked like World War II" with armed soldiers, Mr. Trudsoe said.
They made it to Vienna, but learned their flight was canceled. They tried to re-book but were put on a waiting list. Finally, a spot opened on a flight from Vienna to Munich, Germany and then on to Newark.
It was one of only five international flights to Newark on Tuesday as international travel dropped off almost to nothing.
"We were so fortunate and lucky to get out of there," he said.
The Trudsoes were met by CDC personnel on their plane and then given a temperature screening when they arrived in Newark and were advised to quarantine themselves for two weeks and contact the Warren County Public Health Department if they developed symptoms.
As of Wednesday morning, both felt fine.
Don Lehman covers police and court matters, Warren County government and the outdoors. He can be reached at 518-742-3224 or dlehman@poststar.com
Get local news delivered to your inbox!
Subscribe to our Daily Headlines newsletter.