WILTON — Students in the future could complete portfolios of work or participate in hands-on career experiences in order to graduate from high school, instead of passing the traditional Regents exams.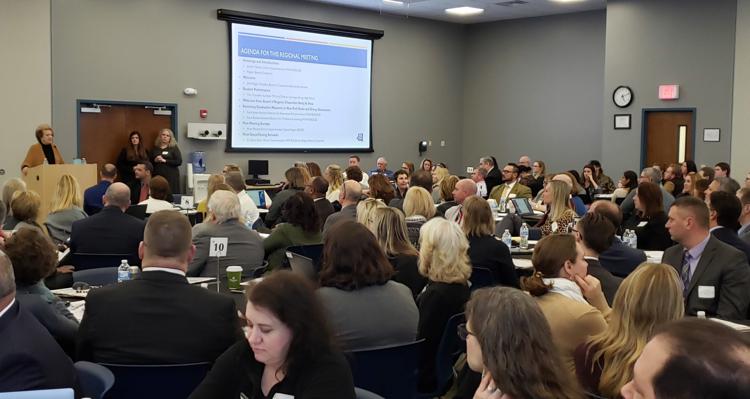 Those are just some of the ideas being tossed around as the state Board of Regents begins a process to see how to change the state's high school graduation requirements.
The state is assembling a commission to study whether there are other ways students can demonstrate they are ready for college and careers besides the traditional exams.
The commission is set to begin this fall and present its final report to the Board of Regents in the winter of 2022.
About 200 educators attended a forum held Thursday at the Washington-Saratoga-Warren-Hamilton-Essex BOCES conference center to discuss the issue.
Katie Jones, assistant director of assessment and improvement at WSWHE BOCES, said one priority is to make sure that there is equity for students, especially minority, low-income and those with disabilities.
The current graduation standards require students to complete 22 credits — four each of English and social studies, three each of science and mathematics, one in languages other than English, one in arts, two in physical education, 0.5 in health and 3.5 in electives.
Students also must pass five Regents exams including one each in English, math, science and social studies. For the fifth exam, students can choose between different options, including Regents or alternative assessment in the humanities, math or science, foreign language, arts or career and technical education.
Jones said other states have been changing their requirements. Some states require students to pass one or more assessments to graduate and others do not. Fewer than 10 offer some type of "capstone" final project, portfolio, service learning or other way to earn a diploma.
More recently, students are including leadership experiences such as participation in skills competition, she added.
After some introductory remarks, the educators broke out into groups to discuss the following questions: What they want students to be able to do before they graduate from high school; How they want students to demonstrate such knowledge and skills; How to measure learning and achievement; How these measures accurately reflect student achievement; and what course requirements or examinations will ensure that students are prepared for college and careers or civic engagement.
Denise Troelstra, director of secondary curriculum at Queensbury, said one of the issues is it is difficult for young people to get a handle on what exactly they want to do after high school.
Troelstra, who is taking over as the Queensbury school district's assistant superintendent for instruction on Monday, said the district offers the International Baccalaureate program, which features a rigorous curriculum that focuses on developing the whole student. These are typically more active classrooms with more critical thinking and collaboration.
Communication skills needed
Richard DeMallie, principal at Gloversville High School, said he wants students to be better versed in soft skills.
"They're able to collaborate. They're able to speak with confidence. They're able to communicate and ask questions and be inquisitive. That's what I'd love them to be able to do," he said.
DeMallie said he believes those skills are lacking now.
"I can barely hear kids speak in classrooms, so I don't think we're doing a very good job currently in establishing communication skills," he said.
Paul Hai, of the SUNY College of Environmental Science and Forestry, said he wants students to demonstrate more leadership skills including taking leadership of their own life to determine their own future.
Sarah Cioffi, K-12 administrator at Shenendehowa Central School District in Saratoga County, said she wants students to be able to function in a global society when they graduate. It is important that students know how to interact with others who are different from them, she said.
"I still believe that students should be able to communicate in a language other than English at some level of proficiency," she said.
Other issues
DeMallie said one issue he sees is teachers are always saying that they do not have the time to fit in the curriculum, especially teachers who are having students pursue alternative projects beyond the traditional tests.
Hai said another issue is how to measure these skills.
"How do you measure cultural competency on a Scantron test," he said, referring to the tests where students fill in answers with a pencil.
Troelstra said she also wants students who know how to manage time, persevere, problem-solve and not give up.
All of this input will be weighed by the Regents. Chancellor Betty Rosa shared a video message with the group about the purpose of the commission.
"This effort is not simply about changing our graduation standards. Rather, it's about providing different avenues, equally rigorous, for students to demonstrate that they are ready to graduate with a meaningful diploma," she said.
Get local news delivered to your inbox!
Subscribe to our Daily Headlines newsletter.