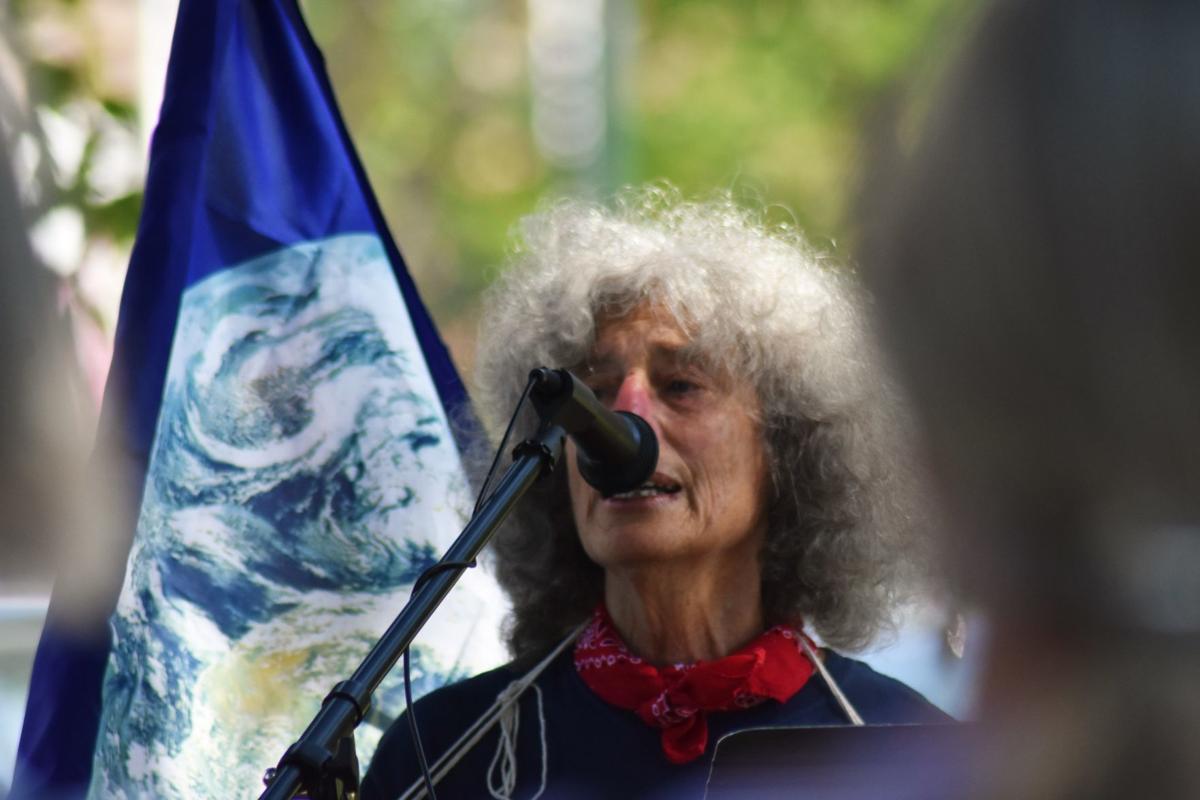 Since the Women's March drew 1,500 to downtown Glens Falls in 2016, the weekend of President Donald Trump's inauguration, I have been covering other protests, gatherings, rallies and marches, often slated for downtown.
And several of these events had Trump supporters along with anti-Trump groups.
But it wasn't until a few months ago things took a turn toward more aggressive name calling and denigrating rhetoric when a new group of Trump supporters began showing up at all the rallies and marches.
Over the course of the summer,  I watched the situation continue to devolve into uncivil profanities screamed throughout downtown through megaphones, threatening name calling and personal verbal attacks.
Then last week, I began to notice a different approach by a group that often expresses their dissatisfaction with NY-21 Congresswoman Elise Stefanik.
As they gathered in Glens Falls City Park, the group talked about approaching the situation without any name calling or profanities and they took the Veteran's for Peace Pledge before walking toward Stefanik's downtown office.
Veterans For Peace is an international organization made up of military veterans, military family members, and allies.
According to their web page, they are dedicated to "building a culture of peace, exposing the true costs of war, and healing the wounds of war."
They have 120 chapters across the United States and they pledge to use non-violent means to achieve their goals.
Additionally, several members of the anti-Stefanik group went to a non-violence training by someone in the Veterans for Peace organization in Saratoga Springs.
I asked a woman about the training and she described the experience, about how they role-played, with one remaining silent while another shouted and screamed in their face. 
There is something palpably disarming about doing that because the screamer has no fuel for reaction. 
According to Ghandi, non violent protest means putting up with assaults from the opponent and never retaliating, never using profanity or insulting someone else. 
On Saturday, I reported on the local "We the People," gathering in Glens Falls City Park which was one of more than 60 taking place around the nation at the same time.
The group agreed that they would not react to any counter protests and one woman said, "You can't shout down silence."
A very small group of Trump supporters attempted to disrupt the gathering by shouting profanities and dancing around inside their circle of linked hands. City police intervened and asked them to leave the gathering.
As one middle-aged man was leaving, he angrily shouted, "I bet you all protested the Vietnam War."
And I momentarily thought of my husband who is a Vietnam veteran. My husband was an Air Force Sgt., flying in what they call the Jolly Green Giants. He would go into enemy territory, getting shot at by the enemy, to rescue downed pilots. My husband would get lowered out from the helicopter, amid gunfire, to rescue a  wounded pilot.
Carrying the pilot in his arms and up to the hoist that brought them both back inside the helicopter, he offered hope in a very bad situation. 
Despite his bravery, he never talks about it. I only know this because as a reporter I've watched lots of videos to learn about what he went through and to try and understand what he endured.
So when I heard this man yelling about Vietnam, I wondered what he knew about Vietnam or his connection to that war. 
And like the Veteran's for Peace, my husband has learned about non-violence about strength in peace, often pointing to heroes like Rosa Parks who peacefully resisted and made massive changes in the world. 
On Saturday, I felt a renewed hope for Glens Falls as police respectfully kept people safe. I was heartened by a group of about 75 people walking silently through downtown while counter-protesters continued to yell profanities and personal attacks. 
One man called over to me, saying my true colors were showing because I was marching with the liberals. Actually, I was walking alone about 50-feet from the marchers (except for a brief time police had us all cross the street together) and back to my car. 
I have always believed in the power of nonviolence and Saturday affirmed my belief. 
"What is magnificent about humans is when they decide to turn and stand. If they respond with non-violence on principle and hold their ground, they are really magnificent." — James Cromwell
Get local news delivered to your inbox!
Subscribe to our Daily Headlines newsletter.