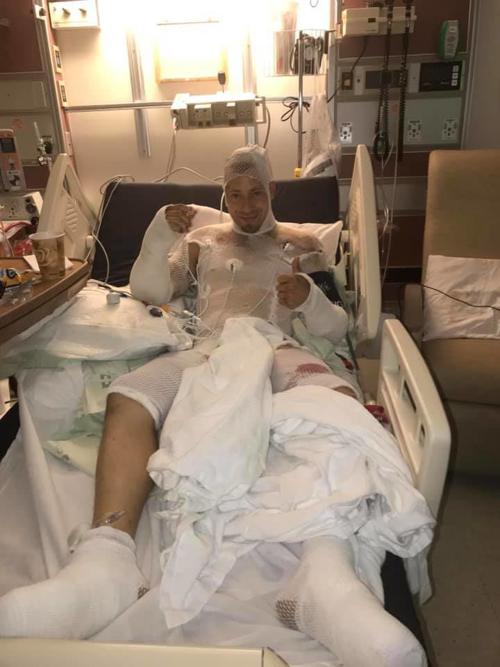 The dad who burned his feet off rescuing himself and his son from a house fire had skin grafts Monday. The surgery took much longer than expected and his nurse said later that skin grafts are more painful than burns. Yikes!
But on Wednesday he started walking. He reported on Facebook that it's painful, but that he was advised to keep moving or he could lose range of motion as the burns heal.
"I did what I believe any dad would have done for his child," he wrote on Facebook. "I thank god for my girl who's always been by my side. I'm alive and recovering. Huge thanks to all the people sending prayers and everyone who was on the scene that day I thank god for you all."
A GoFundMe campaign to help with medical expenses has now raised $6,396. A family friend had originally set the campaign at $2,500 – obviously not enough to cover expenses, but at first it seemed even that would be too high. For three days, the campaign collected just $160.
But after neighbors told the heroic story of how Duval ran across melting linoleum and down burning stairs while sheltering his 3-year-old son with his body, donations have rolled in.
They have increased the campaign to $10,000. And Duval is focusing on getting well.
His son is doing much better than originally reported. He was discharged from the hospital the day after the fire.
Girlfriend Lydia took a photo of Duval and their son, laying side by side on hospital beds, with the caption, "Who needs material possessions when you have these 2. I have everything I need embodied within them!"
Lydia and their son are staying at a hotel near Duval's hospital in Syracuse. Duval is still in the ICU.
Get local news delivered to your inbox!
Subscribe to our Daily Headlines newsletter.