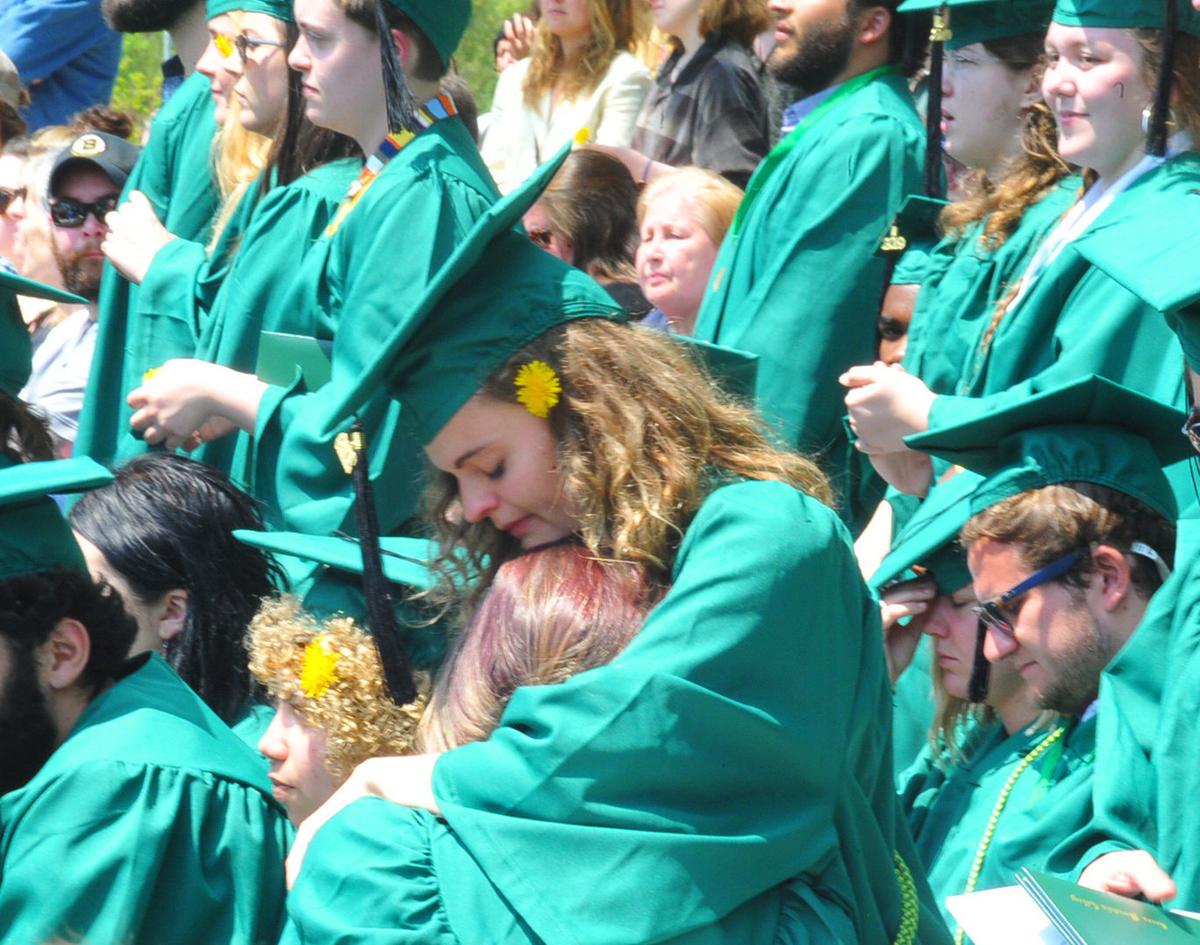 POULTNEY, Vt. — Volcanos are volatile and destructive but, through the chaos, new land is created and new opportunities appear.
This was the message from Green Mountain College Board of Trustees member Dianne Dillon-Ridgley at the college's 182nd and final commencement ceremony Sunday morning.
In January, Green Mountain College officially announced it will cease operations at the end of the spring semester. Southern Vermont College joined them earlier this month, with both citing declining enrollment as the main reason for their financial problems. The loss of the institutions has left alumni and students angry and disappointed, but the effects of their closings go far beyond those who attend.
The college announced in January it would be closing its doors at the end of this semester due to declining enrollment, a fate shared by Southern Vermont College and the College of Saint Joseph.
The last 237 students to graduate from the college received their diplomas and the, at times emotional, ceremony had a common theme running throughout the nearly dozen speakers who took the stage.
"The college is closing," William Throop, a professor at the college, said, "But the community is not."
Many struggled through tears as they gave their speeches, but hope was shared by those who took the stage, including graduating senior Isabella Fearn.
Fearn said it devastating knowing she would not be able to return to the college to visit faculty or other students, but the challenge was one she and others were prepared for.
"We always knew we would someday depart from this place, but to depart with the understanding that we will never return to this college is a heavy weight to carry," Fearn said. "We are resilient. We know the weight of responsibility and we carry it well."
You have free articles remaining.
Despite the somber backdrop, students, parents and friends cheered on the graduates as they received their diplomas, while former faculty and alumni took the opportunity to be on campus one last time.
Former Sustainability Director of the college Aaron Witham said he took the chance to come back because being surrounded by those he used to work with has helped process the news.
POULTNEY, Vt. — Nearly 200 people gathered at Poultney High School on Thursday night to disc…
"Those of us that have moved away have been coping with the closure on our own, so to come back and see our friends and people who we love has been very soothing and helpful," Witham said.
Witham said he and others have already been discussing ways in which the faculty and alumni can stay connected after the closure as well, saying he planned to participate in and possibly help develop forums where people can collaborate on projects connected to the college's mission of sustainability.
He said he'd also like to see an annual reunion of some sort where alumni and faculty can meet to work and spend time with each other, but those plans are still far from concrete.
"We've talked about having a conference each year and no matter where it's held we invite the larger GMC community to discuss ecological design problems and how to carry out the mission we had here of being sustainable," Witham said. "I don't really know what it will look like yet though."
Lindsay Herlihy, a member of the class of 2011, also made the trip back to Poultney to witness the ceremony. Herlihy, now living and working in New Hampshire as a teacher, said the experience was bittersweet but echoed the others saying the legacy of the college is not tied to a location.
"Even though our philosophy and all that we've learned here isn't restricted to these grounds, they have had a large role in shaping our education and our development as young adults," Herlihy said. "Some of the bitterness is that we will no longer have this center in this space, but there is sweetness knowing we are still out there with our philosophy and all that we have learned."