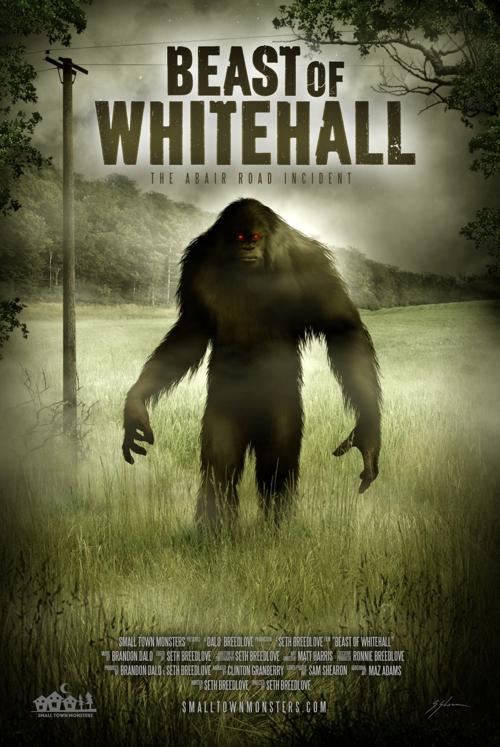 WHITEHALL  A movie filmed locally last year will have its local premiere April 2 at Whitehall Athletic Club.
"We're really excited to come up there and show it," said Seth Breedlove, of the Small Town Monsters production company, which developed "The Beast of Whitehall" and filmed it last summer.
The production company, in association with the Whitehall Arts and Recreation Committee, will put on the free event.
Local Bigfoot expert Paul Bartholomew will speak at 3 p.m., and the movie will be shown at 4 p.m. and again at 5 p.m.
After the second showing, the audience will be able to ask questions of Breedlove, who directed the film, producer/composer Brandon Dalo and members of the cast. Vendors will be present, including Maz Adams, who did illustrations featured in the film.
The film focuses on a series of Bigfoot sightings that took place in 1976, especially along Abair Road.
"The Beast of Whitehall" is part of a series of films that focus on creatures unknown to science that become part of the lore and legend of rural communities. "The Minerva Monster," based in Ohio, was the first. The next will be "The Boggy Creek Monster," which is about a sighting in Arkansas.
"The Beast of Whitehall" has already been shown at various film festivals around the country, including the Hollywood International Independent Documentary Awards, Hollywood International Moving Pictures Festival, New Classic Film Festival and the Colony Short Film Festival, according to Breedlove. It will open the Canton Film Festival in Ohio on April 21.
The movie was one of two investigations into the Bigfoot story last year.
Animal Planet's "Finding Bigfoot" wrapped up its seventh season Sunday with back-to-back episodes, including "Bigfoot State of Mind," which chronicles an April hunt for Bigfoot filmed around Lake George and the New York-Vermont border.