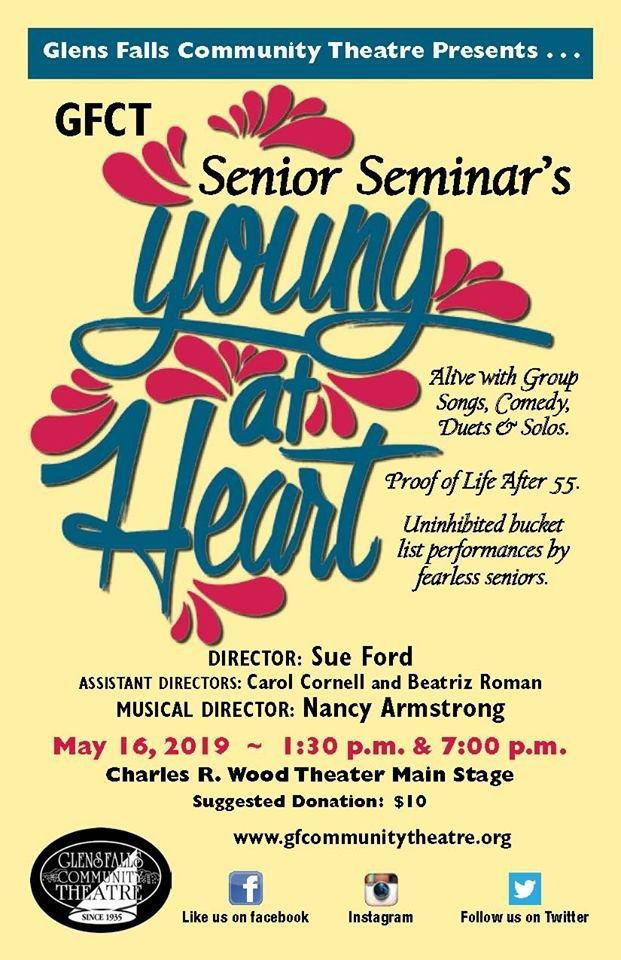 'Young at Heart' at The Wood Theater
GLENS FALLS — The Glens Falls Community Theatre as the Senior Seminar will perform "Young at Heart" at 1:30 and 7 p.m. Thursday at the Charles R. Wood Theater, 207 Glen St. "Young at Heart" is filled with group songs, comedy, solos and duets. This is a non-ticketed event. There is a suggested donation of $10 at the door.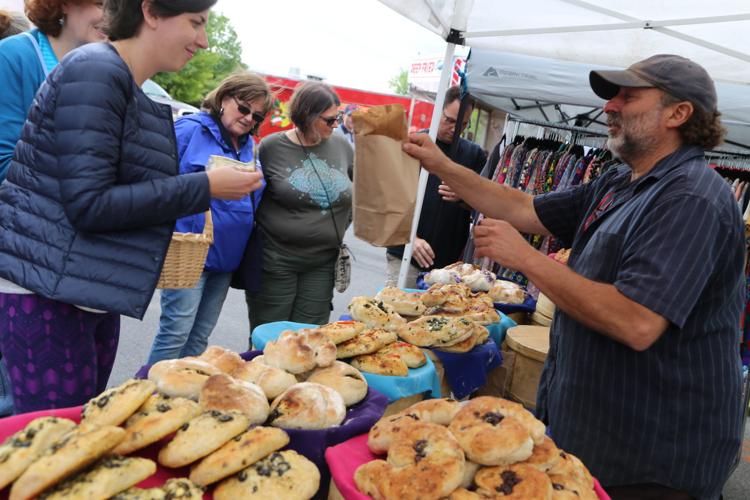 Food Truck Corral at The Shirt Factory
GLENS FALLS — The Thursday Markets and Food Truck Corral will be back at The Shirt Factory from 4:30 to 8 p.m. Thursday at 71 Lawrence St. and 21 Cooper St. The Thursday Markets will be on Thursdays until Sept. 12.
They're expanding the hybrid farmers/flea/craft market with the food truck corral again to make room for even more vendors, food trucks and picnic tables.
There will also be a space for local businesses to hold live demonstrations. Also available are free games, live music, entertainment, craft beverages, free LEGO tables, pony rides, petting zoo, free bounce houses and more.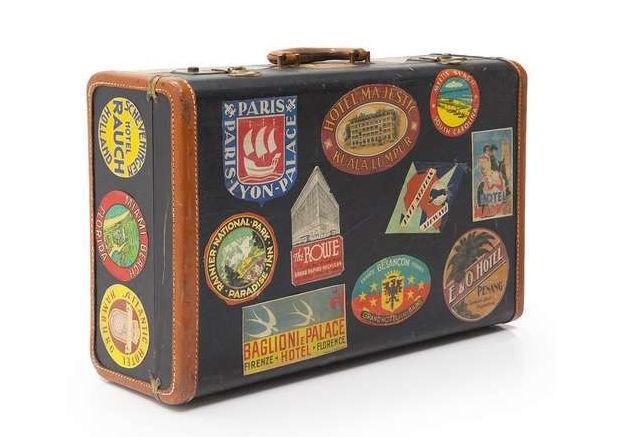 Open Studio at The Hyde Collection
GLENS FALLS — Artist-in-residence Takeyce Walter, a sought-after regional artist and educator, will lead Open Studio, a small-group art exploration, from 10:30 a.m. to 1 p.m. Saturday at The Hyde Collection, 161 Warren St.
Inspired by the museum's upcoming summer exhibition, "From the Rooftops: John Sloan and the Art of the New Urban Space," review and discuss Sloan's artwork, then visit the Art Studio to create your own pastel, watercolor or charcoal artwork with guidance from Walter.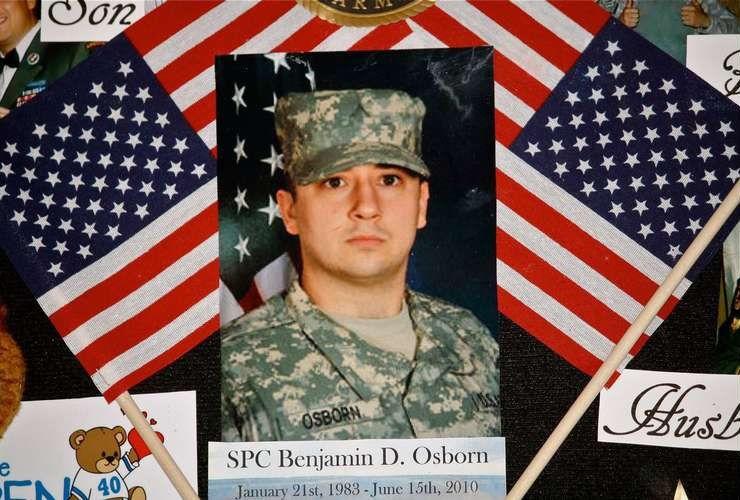 Ninth annual Baskets for Ben
GLENS FALLS — The ninth annual Baskets for Ben will take place at 6:30 p.m. Friday at The Queensbury Hotel, 88 Ridge St. Doors open at 5 p.m.
This year Auctioneer Mike Smith of Cherry Tree Auctions in Greenwich will guide the event, conducting a live auction of themed baskets donated by local residents and businesses.
Baskets for Ben is once again pairing up with Glens Falls radio station WFFG Froggy 100.3 as its radio broadcast sponsor and LOOK TV of Saratoga Springs as their television network sponsor.
Tickets include appetizers, desserts, a cash bar, door prizes, gift baskets, and entertainment by Kyle Lewis and his guitar. Tickets, which cost $20, may be reserved in advance by calling 518-792-4514 or purchased at the door.
The Ben Osborn Memorial Fund was created in loving memory of CPL Benjamin D. Osborn, who was killed during a combat rescue operation in Kunor Province, Afghanistan on June 15, 2010, while serving in the U.S. Army during Operation Enduring Freedom.
Ben's fund supports children with need in conjunction with 50 schools in Warren, Washington, Saratoga, and Essex counties by providing purchased goods and services including electronics, clothing, bedding, food, tutoring, school supplies, eyeglasses, transportation costs, field trip admission expenses and more.
Additionally, the fund awards 20 scholarships to qualifying graduating seniors from 10 local school districts. It also donates household and personal care items to 12 local food pantries.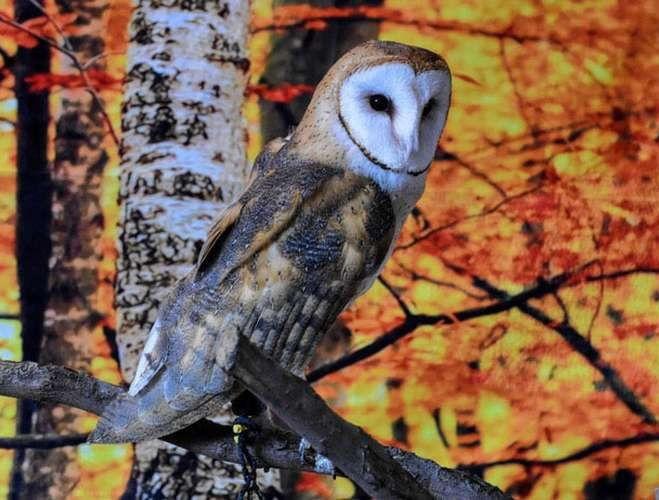 Winter Raptor Fest
EASTON — The Grassland Bird Trust will host the ninth annual Winter Raptor Fest from 10 a.m. to 4 p.m. Saturday and from 11 a.m. to 4 p.m. Sunday at the Washington County Fairgrounds, 392 Old Schuylerville Road.
Learn what makes owls, hawks and falcons such effective hunters in the free-flight demonstration by VINS educators.Meet an endangered short-eared owl, snowy owl and other raptors that winter in the Washington County Grasslands and learn about this vital habitat and the birds and animals that depend on it for their survival.
Admission is $12 for ages 13 and older; $6 for ages 7-12; and free for ages 6 and under. Winter Raptor Fest is a fundraiser for Grassland Bird Trust's work to conserve critical habitat for endangered short-eared owls and other at-risk grassland birds. Visit www.winterraptorfest.com for full schedule and event details.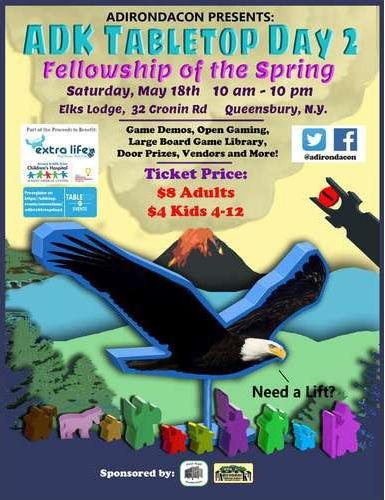 ADK Tabletop Day 2
QUEENSBURY — Adirondacon will present "ADK Tabletop Day 2: Fellowship of the Spring," a tabletop gaming event, from 10 a.m. to 10 p.m. Saturday at the Glens Falls Elks Lodge No. 81, 32 Cronin Road.
Players of all ages and skill levels are welcome to play games and raise money for a good cause. There will be door prizes and a raffle to benefit the chosen charity Extra Life.
On the day of the event, there will be a full schedule of board games, miniatures, RPGs and more; events will have an instructional period before actual play starts for those unfamiliar with the games (unless noted). There will be a special area of local game designers running demos and a large game library of more than 300 titles.
Try new board games, card games, dice games, dexterity games or play some old favorites. Food and beverages will be available for purchase. Outside food and beverages are not allowed inside the Elks Lodge.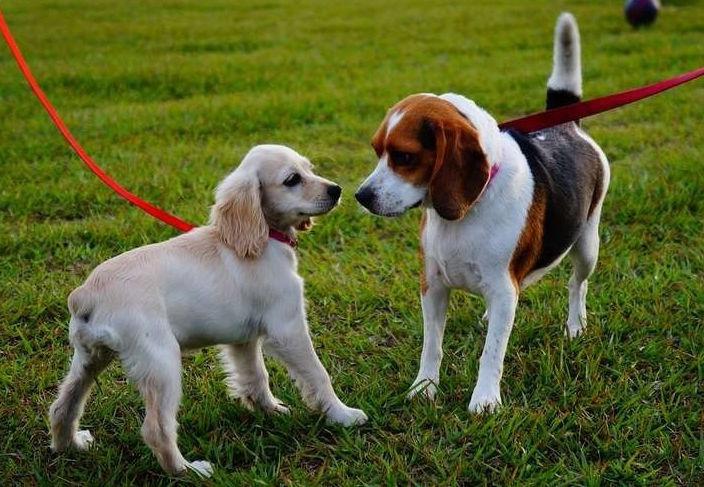 Pet Fest in City Park
GLENS FALLS — Pet Fest will take place in Glens Falls City Park from 10 a.m. to 3 p.m. Saturday on Maple Street. Pet Fest showcases the pets and animals sector of the Glens Falls Collaborative, a group with more than 100 members. See demonstrations from the Glens Falls Police Department's new K-9 unit. Well behaved and properly leashed pets are welcome. Admission is free.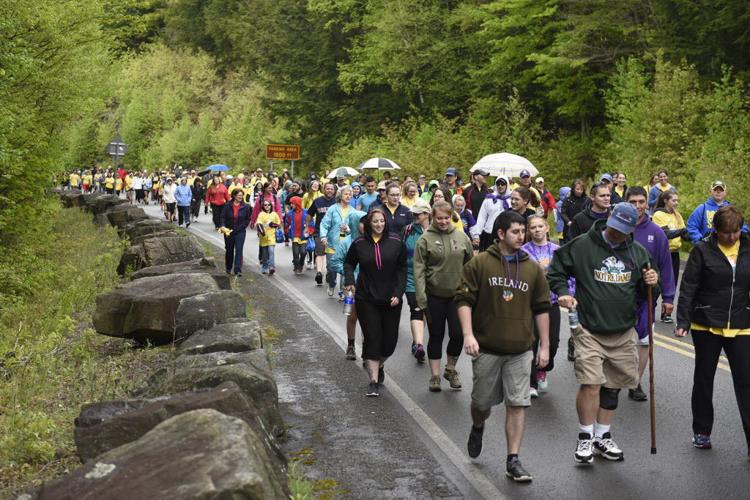 Hike for Hope — Cody's Climb
LAKE GEORGE — The Hike for Hope — Cody's Climb will take place from 10 a.m. to 2 p.m. Sunday on Prospect Mountain to prevent suicide through fundraising and awareness. It is a challenging 3-mile climb using the paved access road to the top of Prospect Mountain.Money raised from the event goes to research and free local suicide prevention programs. School groups, community organizations, families and individuals are all welcome.
Check-in time is from 8:30 to 9:45 a.m. The opening ceremony begins at 10 a.m.; the hike begins at 10:30.
Hikers must arrive prior to 9:45 a.m. Online registration is encouraged. People can register the morning of the hike. The first 500 people to check in will receive an event T-shirt.
Light breakfast foods will be available at the start of the hike. Raffles, music, a barbecue, and a closing ceremony will take place at the top of the mountain after the hike.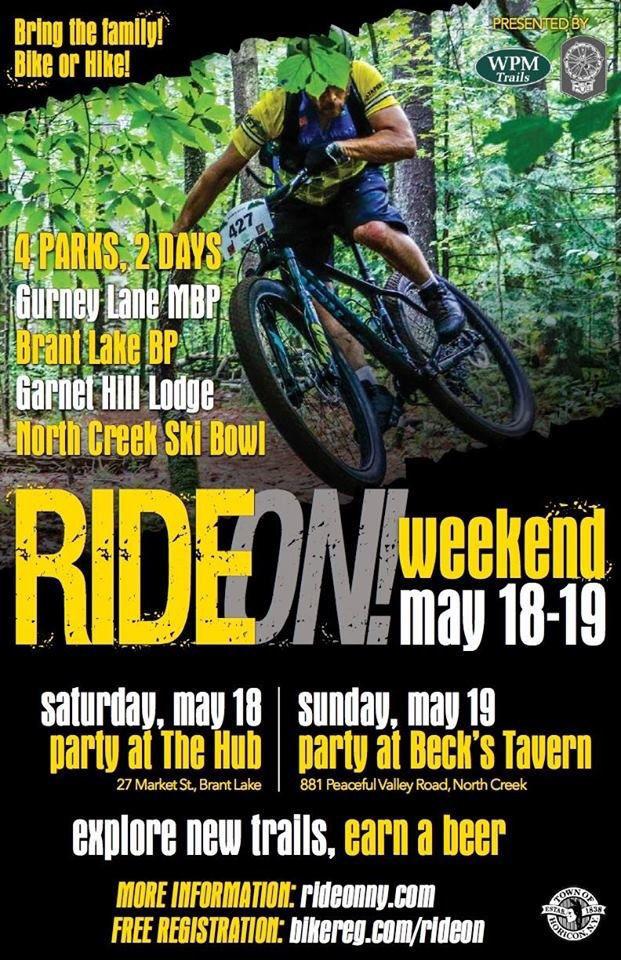 Ride On! Weekend
Ride On! Weekend will showcase four biking destinations in Warren County Saturday and Sunday, including Gurney Lane in Queensbury, Brant Lake Bike Park, Garnet Hill Outdoor Center in North River and Ski Bowl Park in North Creek. Explore new trail systems and collect tokens and earn a local craft beer, soda or ice cream as you enjoy a spring ride. Ride one day or both.
Be one of the first 50 riders to reach the location and retrieve a token. With every two tokens, riders can redeem them at after-parties each day. The after-parties feature live entertainment performed by local musicians.
The Saturday after-party will be at The Hub, 27 Market St., Brant Lake. The Sunday after-party will be at Beck's Tavern, 88 Peaceful Valley Road, North Creek.