GLENS FALLS — Cloudy skies and hints of rain couldn't scare off hundreds of local residents from attending a back-to-school celebration Tuesday evening in Crandall Park.
Schoolapalooza is hosted by Converge, a group of youth ministries from across Warren and Washington counties, who started the event six years ago and has given out thousands of backpacks filled with school supplies to families with children heading back to school.
Event co-organizer and youth minister Nathan Olson said more than 100 people volunteered for this year's event.
"We had this idea that we wanted to give back to the community as a bunch of churches in the area, and this was the first thing that came to mind," Olson said.
Olson said the backpacks were set up for different grade levels, with one for pre-K, one for elementary and one for high school-aged students.
Converge put together 1,500 backpacks for the event and distributed nearly 1,100 on Tuesday. Olson said they haven't run out of backpacks since the first year, when they only came with 150 and had no idea what kind of response they would get from the community.
In addition to backpacks, there was a book exchange, sports equipment exchange, donated clothing and free haircuts from local barbers and hair stylists.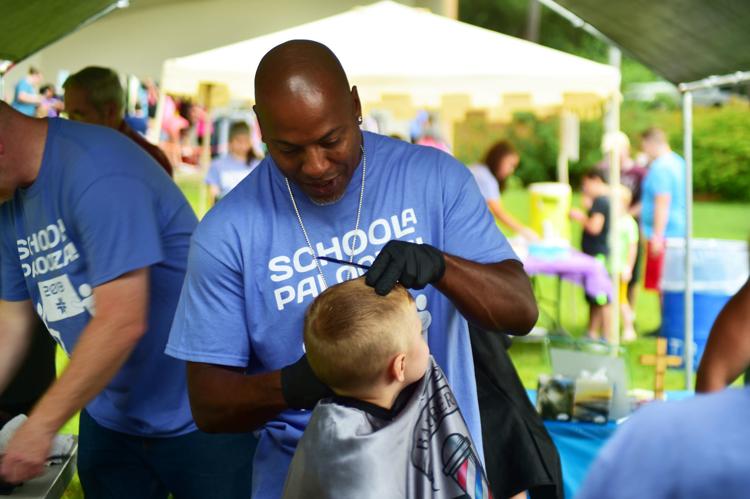 You have free articles remaining.
King Kutz barbershop owner and founder Bruce Majeus volunteered for the second year in a row and brought along two others from his shop for the event.
Majeus said he volunteered because he enjoys giving back to the community and his church was already involved and plans to come back as long as he's in the area.
"The community has been showing us a lot of love, so we have to give back you know?" Majeus said. "When I opened my barber shop I didn't have one customer here. Now I'm in business coming up on two years and there's not King Kutz without them."
One Hudson Falls resident said he was appreciative of the event and planned to take advantage of the backpacks for his four children.
"When you have a big family, every little bit helps," he said. "These aren't the easiest economic times for anybody."
Lindsay Stanislowski, a resident of South Glens Falls, said she thought the event was fabulous, well-organized and also helped with her kids getting back into the school mindset.
Her daughter Camryn, going into third grade, said the event made her ready to get back to school and meet her new teacher for the year.
Olson said the remaining 414 backpacks that were not given out at the event will be distributed until they're gone at various local churches over the next few weeks.
Olson said Converge plans on continuing the event for as long as possible to help the community and spread their message.
"We're here to show that the church cares and that the church is not just a building but people, and we want to help our community," Olson said.