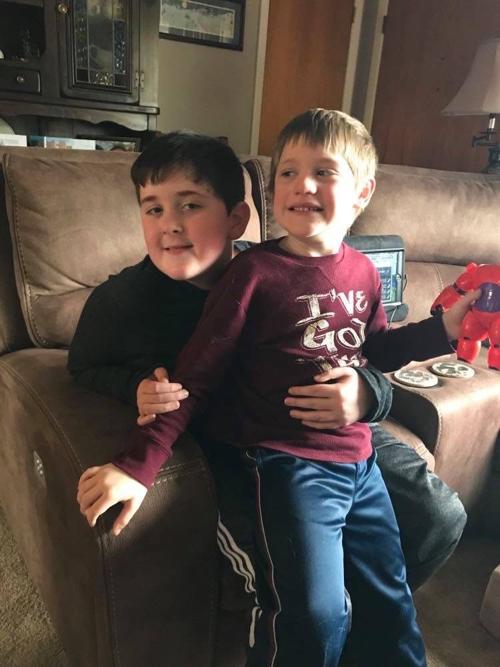 Like many mothers, Natalie Raymond was terrified when schools closed.
"I was terrified because I don't know how to do Common Core math," Raymond said.
But Raymond's struggles are bigger than math. Both her sons are on the autism spectrum.
April is Autism Awareness Month and people wear blue on April 2 to show their support for the condition, which affects one in 54 8-year-old children, according to numbers just released by the Centers for Disease Control on March 26.
Autism is a developmental disability that can cause significant social, communication and behavioral challenges.
Boys are more than four times as likely to be identified with autism as girls, according to the CDC. However, girls identified with autism were more likely to have intellectual disabilities.
"We are used to doing the same routine every morning, five days a week for so long, and now it's abruptly stopped," Raymond said.
Her 10-year-old son Gavin normally has a classroom aid to support the third grader at Abraham Wing School in Glens Falls. Her younger son, Andrew, 5, normally attends a specialized autism kindergarten program through BOCES called B.E.A.R.S.
"It's been horrible," Raymond said. "They both refuse to do their school work."
Now that they are home all day, Raymond has to try to structure their day and keep a routine as if they were in a school setting.
"Every day is just like a new day, but you never know what is going to happen, what type of mood they're going to be in and if we're going to be able to do their work," she said.
Raymond said she is scared to try to fill in the gaps of educating her children at home. She is not comfortable putting on the teacher hat.
"It's not good for our family because they do better in school, they listen better in school than at home," Raymond said. "Brian and I are the comfort, we're the support system. We're not the teacher."
Despite his autism diagnosis, Gavin is a very social child, Raymond said. He has been struggling with not seeing his friends. Andrew prefers to be at school as well.
Kristin Howarth is struggling to educate her 16-year-old twin sons, Gavin and Noah, who have significant language and cognitive deficits due to autism. Both of them use speech-generating devices to communicate. They both have a one-on-one aide at their schools.
"All of a sudden in one day I've had to become a speech therapist, the OT, a PT, a behaviorist and a special ed teacher," said Howarth, who is the director of the Upstate New York Autism Alliance.
This time of year she is usually helping schools light it up blue for autism awareness. The autism alliance has had to postpone the annual Walk for a Difference, which usually takes place in May. It has been rescheduled for Aug. 16.
Through the autism alliance, Howarth has some resources that she is happy to share with other autism families that are also struggling with distance learning.
Her boys cannot work independently when it comes to schooling at home, she said. She can't simply put her kids in front of Google Classroom and go do the dishes.
"You've got to be creative and you've got to be flexible," Howarth said, "and that goes against everything that autism is about."
Get local news delivered to your inbox!
Subscribe to our Daily Headlines newsletter.