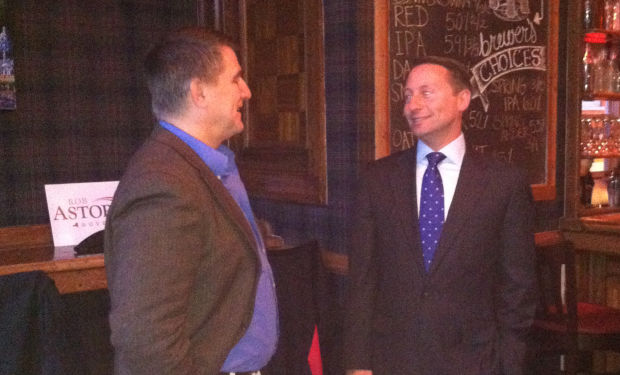 GLENS FALLS -- The audience laughed as he set up the punch line for a joke.
"Nobody is here from Alabama, right?" asked Rob Astorino, the Republican candidate for governor.
"In Alabama they always had a saying, 'Thank God for Mississippi,' because no matter what the rankings were, Mississippi was always one notch below Alabama," he said.
Now, Astorino said, New York's high taxes and stagnant economy have made it the laughingstock of other states.
"And that makes me angry, because we can be great again," he said. "This is the state that carved the Erie Canal, built the Empire State Building in a year and 45 days."
Astorino, the Westchester County executive, said he's running to give voters "a real choice" to Gov. Andrew Cuomo, the incumbent Democrat.
Astorino said that under Cuomo's administration over the past four years, the state has been taking baby steps instead of giant steps.
"If we're going to turn those moving vans around and bring them back here, or give opportunities for people, then we're going to have to do some things really differently," he said, speaking at a Warren County Republican Committee event at Davidson Brothers restaurant and brewery in Glens Falls on Tuesday.
Contacted to respond, Warren County Democratic Chairwoman Lynne Boecher said she disagrees with Astorino's depiction of the state.
Cuomo has negotiated four consecutive on-time budgets, cut taxes for manufacturers, revamped the estate tax, administered storm relief and established the regional economic development council program, she said.
"That's been the forefront of his effort to create jobs," she said, referring to the economic development councils.
Astorino, however, said Cuomo's Start-Up New York program, which provides tax incentives for businesses that locate on college campuses, is a "political gimmick."
Astorino said very few companies will be able to meet the specific and narrow qualifications for the program.
Astorino said allowing natural gas hydrofracking in the state's Southern Tier would directly and indirectly create new jobs.
"It should be regulated, no question about it. But 30 other states are doing it. They're doing it the right way," he said.
Astorino said he has already proven he can cut taxes and spending.
Westchester County has reduced the property tax levy or kept it the same each of the four years he has been county executive, and the county has reduced spending from $1.8 million to $1.7 million, he said.
About 40 people attended the reception, including Republican congressional candidates Matt Doheny and Elise Stefanik, who will face off in a June 24 primary in the 21st Congressional District, where U.S. Rep. Bill Owens, D-Plattsburgh, is not seeking re-election.
Astorino said he is neutral in the primary.
"Two wonderful candidates — whoever wins will be the next congressman for this district," he said.
Statewide, Democrats have a voter enrollment advantage over Republicans.
Astorino said Republicans shouldn't be daunted by that because New York City, a Democratic stronghold, typically has a lower voter turnout in gubernatorial election years than presidential election years.
Republicans can win with a strong vote upstate and one-third of the New York City vote, he said.
"Can we win? Of course we can win," he said.
He said the enrollment in Westchester County, where he has won county executive races twice, is 49 percent Democrat and 24 percent Republican.
"For any candidate who is a Republican, my advice is to go where Republicans politically are uncomfortable going simply because they don't feel it is worth the time. I will tell you it is worth the time," he said.
Astorino said coalition building is important, and then he spoke a few sentences in Spanish.
"Being able to speak Spanish is good," he went on to say. "But that will just break down some of the barriers. You've still got to offer something."
Get local news delivered to your inbox!
Subscribe to our Daily Headlines newsletter.