When Thomas Jefferson arrived in Lake George more than two centuries ago, he could smell the piney scent of spruce, taste a newly budded strawberry and fish for rock bass, yellow perch and what he called "salmon-trout."
He saw loons, wild ducks, seagulls and even a number of rattlesnakes, gnats and biting fleas.
But even the fleas, which he wrote about in his travel journals during a 1791 tour of upstate New York and New England, couldn't suppress his captivation with the landscape.
In a letter to his daughter in 1791, he called it "without comparison, the most beautiful water I ever saw."
Many continue to use those words today.
But looming environmental threats — invasive species, harmful algal blooms, road salt and others — could alter the pristine waters in ways not yet fully understood.
To help prevent water quality from deteriorating, engineers, scientists and advocates have teamed up to create an extensive lake modeling and monitoring system that could not only protect Lake George, but also protect water bodies across the globe.
The system is called The Jefferson Project, named after the Founding Father, and it's a collaborative effort of Rensselaer Polytechnic Institute, IBM and The Fund for Lake George. It's in its fourth year, and the three organizations say the project is unprecedented.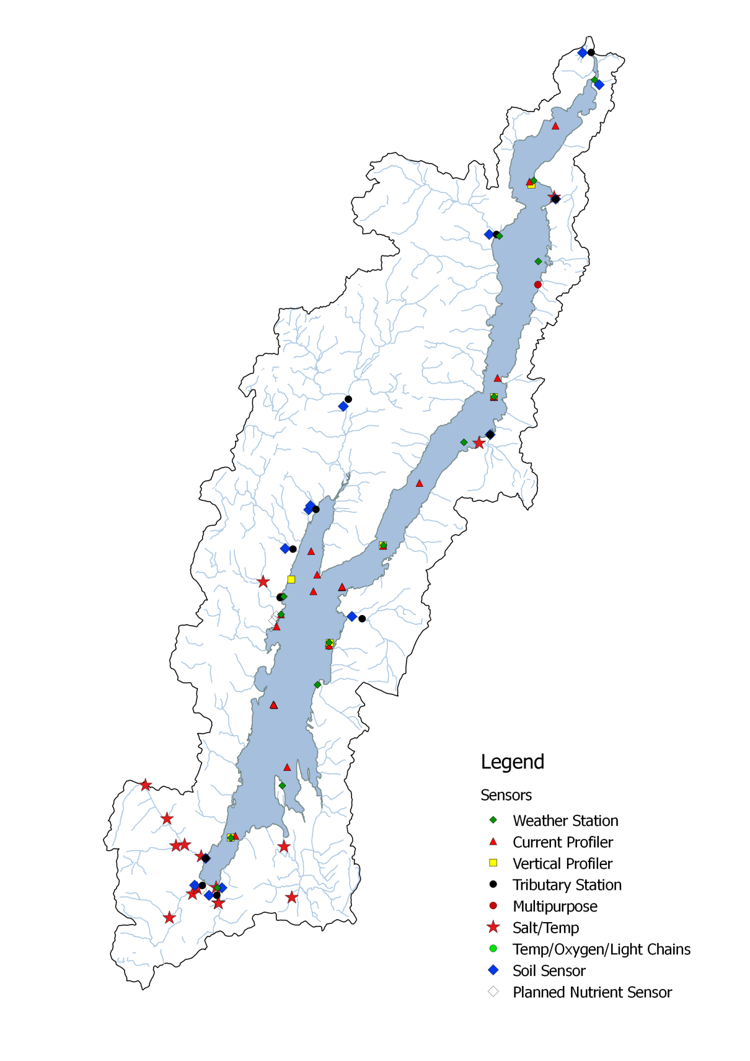 The project uses what is called a Smart Sensor Network, which measures things like water temperature, currents, wind, oxygen and more. Traditional water sampling and testing are done, combined with water quality experiments conducted at Rensselaer Technology Park.
Using this data, IBM officials are creating complex and multilayered models of Lake George.
"We want to understand what we think the water quality is going to be in a year from now, five years from now, decades from now, even out to 100 years out," said IBM Senior Research Engineer Mike Kelly. "So it's a whole different approach in a temporal perspective, a time-scale perspective, and that kind of gets in to the way Lake George could be or will be, and I say could be because we don't know all of the drivers that will affect the lake right now."
Assessing present and future threats
The models will act like a video game, changing different scenarios to see how the lake will respond.
In one model played out in a short project video, a fake oil spill occurs in the village. Using the data that sensors have collected to show the water's movement, the model depicts the spill creeping north, twisting and turning, and ultimately predicts where the slime will end up.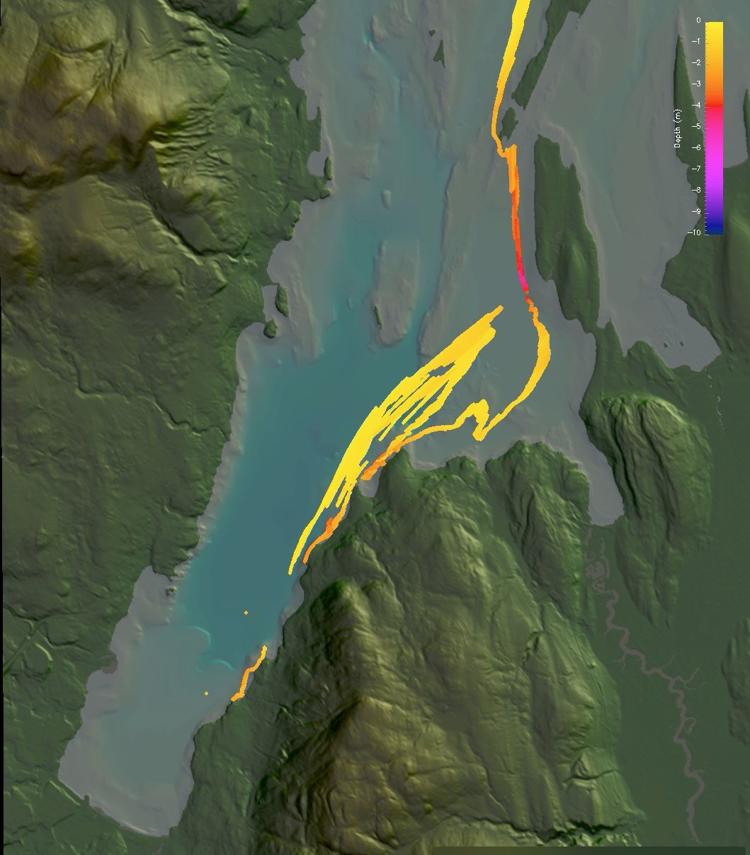 But a new, more imminent threat has surfaced in New York's waters that the project is now working to address.
Toxic algal blooms, also known as cyanobacteria, are cropping up in record numbers across the state and are a growing problem around the world. They're dangerous to human health and have even killed pets and livestock. Cyanobacteria tend to bloom on warm, calm and sunny days. They also like to gobble up nutrients like phosphorous and nitrogen.
While invasive species and road salt are issues Lake George has struggled with, it has not had a toxic algal bloom, as far as anyone knows. As a Class AA drinking water source and a low-nutrient, crystal-clear lake, many never thought that could be a problem.
But last summer, about 200 miles west in Onondaga County, came a warning sign for Lake George.
Skaneateles Lake, a Class AA-Special water body, suffered multiple toxic algal blooms in 2017. It is often referred to as a "sister lake" to Lake George, and state and local officials were astonished by the lime-green ribbons streaking the Finger Lake's waters.
Skaneateles is the source of drinking water for the city of Syracuse, and with no filtration system in place, peoples' tap water almost became undrinkable.
This summer, the lake has already had multiple toxic blooms, and researchers want to know why. Helping answer that question could keep toxic blooms out of Lake George, too.
Gov. Andrew Cuomo has designated $65 million toward a harmful algal bloom initiative, which is studying and funding water quality projects in 12 priority lakes across the state, including Lake George and Skaneateles. The Jefferson Project attended the technical sessions of the Syracuse harmful algal bloom summit in March.
Then, on Aug. 1, the Skaneateles Lake Association announced that a pilot program would install a version of The Jefferson Project in Skaneateles Lake sometime this summer. It's the first time the technology will be brought to a water body other than Lake George.
Eric Siy, executive director of The Fund for Lake George, said Skaneateles Lake will start with one vertical profiler, which looks like a buoy floating on the lake. The profiler can distribute multiple sensors that collect water quality data.
"We're very excited about this really, sharing the approach and the value of the science, particularly on a lake that's been impacted by harmful algal blooms and other things," Siy said.
Beyond that, The Jefferson Project partners are not saying much about the new location, and Paul Torrisi, president of the Skaneateles Lake Association, said Jefferson Project officials have asked him not to speak to reporters yet.
But project leaders, including Siy and Director of Rensselaer Polytechnic Institute Rick Relyea, have said cyanobacteria is now on their radar. They hope the project will become a "game-changer" in predicting and preventing blooms.
"I think harmful algal blooms are a great example of things that appear to be too complex for us to understand yet, but I'm hopeful that we will," Relyea said.
Detection
Besides coming to Skaneateles Lake where the blooms are, The Jefferson Project is working to develop a phosphorous detector.
Phosphorous is one of the key nutrients in the recipe for harmful algal blooms, but typically scientists have to collect water samples and bring them to a lab to determine its levels, Relyea said. The institute is working on a sensor that could detect the nutrient.
"What we'd like is something we can put out in the lake, real time, high frequency, because harmful algal blooms are showing up in a matter of days, and sometimes disappearing in a matter of days," he said. "This is going to be quite a game-changer if we can solve a few technological challenges, which are not trivial."
The project is also looking closely at "chlorophyll a" levels, another indicator of algal blooms. Sensors can monitor the water at different depths from the buoy-like vertical profiler.
Finally, the project has expanded its in-lake monitoring to streams and shorelines. Blooms are often observed near the shore, partially from wind blowing them into bays and toward beaches.
Continued challenges
Mapping an entire water body, studying it and making models that get validated to ensure accuracy produces a tremendous amount of data and costs millions of dollars.
According to The Jefferson Project at Lake George report, the system collects "enough data to fill up 5,250, 16GB mobile phones annually," or about 14 phones' worth of data a day. That is something that IBM's computers can handle, but maybe not the hardware of your local municipality or lake advocacy organization.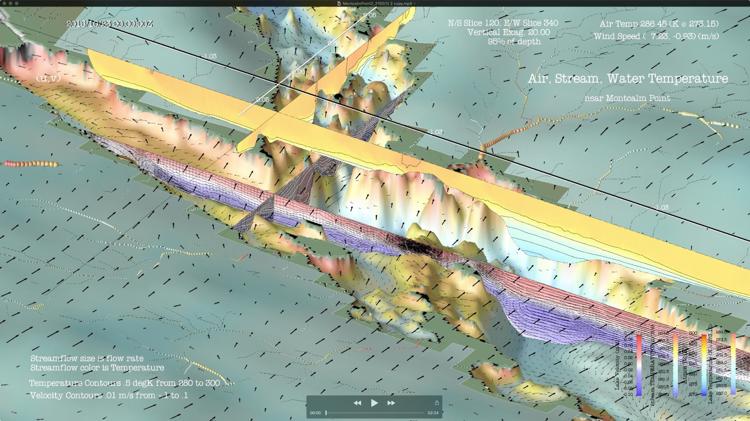 The cost, too, is in the millions. Relyea said the project is not releasing more specific cost numbers. While the project appears financially set for its original 10-year proposal, Relyea said he didn't know whether it would be on Lake George forever.
"We certainly are envisioning this being a very long-term project," he said. "... It's not a small price tag to keep it going. We're certainly examining how we best can do that again, with partners, etc., because it's a huge investment by the three partners thus far, so that is something we need to sort out."
Helping make policy
Chances are, the general public will not be able to sit down at their computers one day and cause fake oil spills in Lake George to see what happens through the "scenario engine." They will also not get to look at the 300 million data points collected by the project.
But the project's leaders plan to release some things, like a wind and weather phone app, to the general public.
Waterkeeper Chris Navitsky said it will likely be researchers, scientists and government agencies using the data and models. Relyea said The Jefferson Project is open to collaborating with other researchers and organizations, and has a standard data-use agreement.
While IBM and Rensselaer Polytechnic Institute do not advocate for policy, The Fund for Lake George does. Siy and Navitsky said they hope to act as conduits to help policymakers who are considering things like rules and regulations in the watershed, or road salt use, for example.
"The tool is absolutely meant to inform decision-makers, policymakers at the park commission, at the governor's office," Siy said. "That's the ultimate end-game here."
Get local news delivered to your inbox!
Subscribe to our Daily Headlines newsletter.