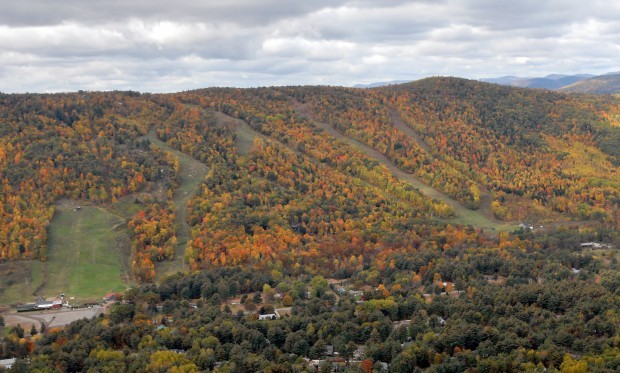 QUEENSBURY - The Queensbury Planning Board on Tuesday unanimously approved plans for West Mountain Ski Center to construct a "zip line" gravity-powered thrill ride and an Alpine slide, said town Zoning Administrator Craig Brown.
The approval is conditional on the town engineer approving "a couple of minor issues," Brown said.
"During the review, the engineer provided some comments and questions about some soil stabilization and erosion control," he said.
"If we can get everything rolling in the next few weeks, I'm thinking maybe we could have it (the zip line) open by July 4th," said Mike Barbone, the ski center's owner.
The Alpine slide will take a little longer because it has to be custom manufactured for the site, said Jonathan Lapper, a lawyer for the ski center.
"The zip line is about 3,300 feet long. It will run down the existing northwest ski trail," Lapper said.
The slide will be built just behind the lodge.
A zip line carries people through the air over treetops at a fast speed. The rider is strapped into a harness, and the harness is hooked to a cable attached at two distant points.
Gravity pulls the rider down the mountain.
"It's going to go from zero to 57 miles an hour." Barbone said.
Warren County Tourism Director Catherine Johnson said the new rides are the type of activity people will want to do more than once.
"You're going to love it and want to do it more and more," she said.
Johnson said it will be another activity in the summer and fall to attract group tours and day trips.
"There will be some people that will make the extra trip just to come and do this, certainly," she said.
The new features will expand the ski center's operation to year-round and increase its financial viability, said Queensbury 1st Ward Councilman Anthony Metivier.
"The ski industry as a whole has found it increasingly impossible to stay in business with being a one-season business," he said. "So the implications of this is much greater than just an economic impact in the summertime.
"It's going to keep West Mountain a viable entity for many years."
Barbone said about 50 previously seasonal jobs will now be year-round jobs.
"I think it's going to change West Mountain and bring West Mountain where it ought to be," he said.
Barbone said prices will be determined once he completes research about pricing and packages available at other ski centers.
"What we want to try to do is sell six-pack tickets and stuff like that," he said.
Be the first to know
Get local news delivered to your inbox!