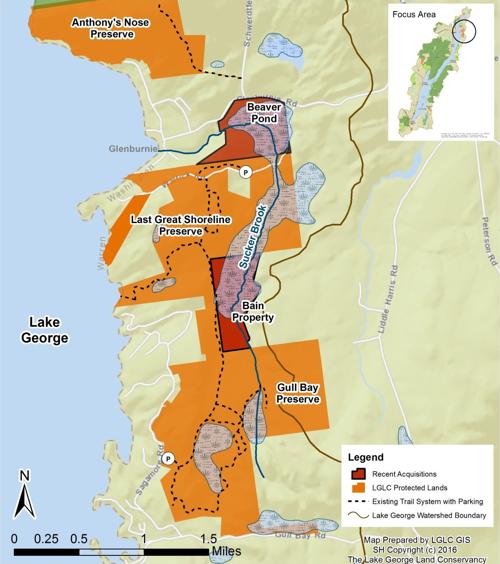 PUTNAM — The Lake George Land Conservancy has acquired 72 more acres of land on the east side of Lake George that will allow the organization to protect an important lake tributary and extend an area that is open for public recreation.
The land conservancy purchase will allow the conservancy to put together a 925-acre preserve on the lake's east shore, including the iconic Anthony's Nose area, that will be open for hiking and walking, with educational signs.
The organization purchased the property, known as Beaver Pond, just west of the hamlet of Glenburnie, from Thomas and Mary Ellen Eliopoulos for an undisclosed price.
The property includes a major stretch of Sucker Brook, a tributary that feeds the lake in Putnam. In September, the land conservancy purchased another 65 acres in the brook's nearby headwaters from the Bain family, which will also be open for recreation.
"We have wanted to protect these properties for a very long time and are grateful for the support of the local community, including the residents of Glenburnie, for helping to make the projects happen," land conservancy Executive Director Jamie Brown said in a news release.
Protecting the wetlands on the properties will allow for filtering of stormwater runoff before it gets to the lake.
And preserving the beaver pond on the Eliopoulos property is important because beaver ponds have been shown to have beneficial effects because they trap nitrogen and keep it from getting into the lake, where nitrogen can cause algae blooms and fish kills.
The lands abut the existing Gull Bay Preserve, Last Great Shoreline Preserve and Record Hill area, adjacent to Anthony's Nose, which are home to 7.5 miles in trails. The conservancy plans to pull the properties together into one area, allowing hiking and walking while protecting the lake. The Beaver Pond area will likely connect to the Anthony's Nose property to the north.
A new trail map for the consolidated preserve was anticipated for 2017.
The land conservancy has amassed an extensive network of properties around the lake to protect them, opening miles of trails for hiking, cross-country skiing and snowshoeing on lake overlooks and other important lakeside areas. Some of the land is open to hunters as well.
More information can be found about the conservancy's recreational offerings and programs at www.lglc.org.