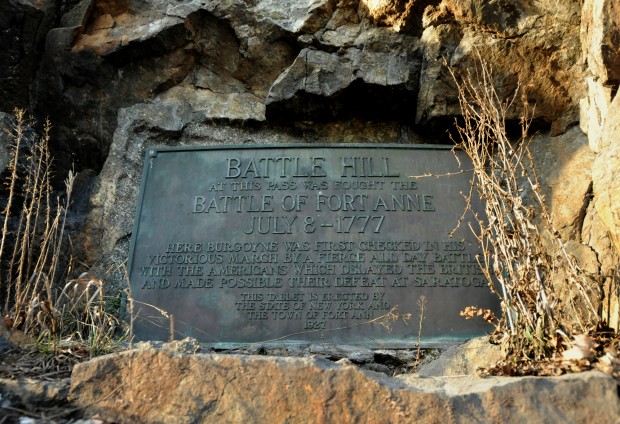 FORT ANN -- The town's rich military history extends back to the early 1700s, but remains unknown to many.
This concerns Hudson Valley Community College Professor Matthew Zembo because Battle Hill, the Revolutionary War battle site near Route 4, doesn't have much protection against people who might damage its historic value.
"The site deserves more respect than this," Zembo said.
Zembo studied British military history, including British Gen. John Burgoyne's Revolutionary War tactics and the engagements at Fort Ann.
Battle Hill has attracted attention lately as Troy Topsoil Co. proposed a rock quarry in its vicinity, worrying residents who fear a mining operation would ruin the historical value and prompting Zembo to delve back into the history of the site.
But according to Zembo, the site has been damaged before. He was involved with an archaeological dig at another historic site more than a decade ago, when a man approached him, saying he had been involved with metal-detecting at the Battle Hill site. The man mentioned that he had come across buttons and eye hooks, and described their formation in the ground, which likely means the man found bodies because of the way soldiers were buried during the Revolutionary War, Zembo said.
"They were buried where they died - he found buttons (in one spot) but not anywhere else," Zembo said. "Either he or someone he knew probably found bodies, kept digging anyway and didn't tell anyone."
There are likely others who have "raped that site," Zembo said.
Zembo calls such people "pot hunters" - people who go through historic sites with metal detectors in hopes of finding an artifact to sell or add to a private collection.
He thinks people have likely been going through the site since metal detectors became accessible, mostly because of the lack of historic protection for the site.
He wants to see Battle Hill turned into a historical site, a place where people could walk around and look at panels that would describe the history of the spot.
"Wouldn't it be nice if it would make people stop in Fort Ann?" Zembo said. "It's another site we could connect to the amazing history of this area."
Battle Hill is considered a Priority II battlefield by the American Battlefield Protection program, but isn't on the National Register of Historic Places.
A review of whether it should be listed on the register and if the mining operation would harm its historic value was ongoing as of last week, said Dan Keefe, a spokesman for the state Office of Parks, Recreation and Historic Preservation.
Battle Hill is located west of Route 4 and marked today by a plaque set in a rock face.
It may not be as well-known as the Revolutionary War battles at Ticonderoga and Saratoga, but it was part of an important campaign during the Revolutionary War. Americans camped in fields around the area before the Battle of Fort Ann took place. They were demoralized after Ticonderoga, the British "smelled blood" and were pursuing them, Zembo
The British arrived and didn't expect the number of Americans who were there - they were outnumbered by a 3-1 margin by Americans. Still, many of the Americans were members of the militia and didn't have combat experience.
The British were given orders to get to the top of the hill, and a "pretty intense firefight" ensued. The British were running out of ammunition and the Americans were pressing, when the Americans heard "war whoops."
The Americans thought it was Americans Indians and they ran. What they actually heard was one British officer pretending to be an entire war party, Zembo said.
"One of the reasons you don't hear about it is because we didn't win, so it doesn't make us look good," Zembo said.
But the fact the Americans ultimately won a war against the British army, which could win a battle when they were outnumbered 3-1, was pretty amazing, Zembo said.
From a military standpoint, a lot happened around Fort Ann, aside from the Revolutionary War battle. Expeditions from Albany to Montreal in 1709 and 1711 saw thousands of Colonial men making a trip through the area to attack Montreal. During the 1709 effort, the men were camped in Fort Ann and heard the attack on Quebec was canceled.
"From that expedition alone, they probably had hundreds of men who died there of smallpox," Zembo said. "The sad thing is, there are no markers."