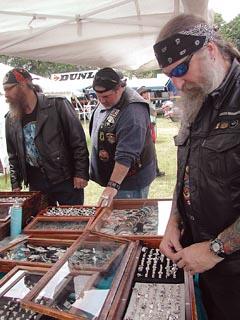 WARRENSBURG - Vendors are eager to set up and let bikers shop during Americade, but before they can make money, they have to spend it - and some vendors have found a cheaper place to reap benefits from the world's largest motorcycle rally.
"It's just an alternative for vendors paying the high prices that they are paying at the Expo," said Ed Zibro, of Lake George.
Zibro said he offers vendor slots for rent on the lot he co-owns at the corner of Raymond Lane and Main Street, just north of the post office in Warrensburg, for less than what Americade's TourExpo charges in Lake George Village - and for a longer period of time.
Zibro said he allows his vendors to set up the Thursday before Americade so they have two full weeks to sell their merchandise, and anyone is welcome to come and shop free of charge.
"I was set up at the TourExpo (in Lake George) for 23 years," said Bette Parsons, 63, owner of Pipewrench Trailer Sales in Vermont.
Parsons said the cost of renting a slot at the TourExpo is the reason she moved north to Warrensburg last year.
"Money made me leave," she said. "The fees kept going up and up."
And Parsons said the profit she was making at the TourExpo was just barely more than the cost of running her booth there.
"It was close to $3,000 for setup; I'm paying a third of that here," Parsons said.
Although Zibro refused to disclose how much he charges vendors, Parsons said she only paid $1,200 for her spot on Main Street. "It's quite a difference," she said.
Zibro, who used to go to different rallies on his yellow Honda Gold Wing cruiser, started renting out spaces six years ago, he said. At other rallies, he saw vendors who couldn't afford to come to Lake George and wanted to, so he decided to give them another option, he said.
Since vendor permits in Warrensburg are considerably cheaper, Zibro said he can afford to knock down the price.
While Warrensburg may look like a continuation of Americade this week, the event's organizers are adamant that it is not.
"In no way are the vendors in Warrensburg related to the Americade event," said Americade coordinator Christian Dutcher.
The vendors in Warrensburg are, as Dutcher said, trying to capitalize on the size and magnitude of the Americade rally.
"Americade is the best among the best," Dutcher said, adding that there is a very long waiting list of vendors who want to get into the TourExpo, proving the expo's fees aren't too high.
Dutcher was unable to provide pricing information to The Post-Star by deadline, but prices for equipment rental alone range from $380 to $2,100 and up, based on the type and amount of equipment and electrical service required by the vendor, according to information on the event's Web site at www.tourexpo.com.
Those not registered for Americade are charged $10 a head to get into the TourExpo.
But with or without the Americade name, the Warrensburg community is happy to be benefitting from the event.
"Mr. Dutcher usually calls each year to issue his displeasure, but again I tell him we have to do what's best for the town, and if it helps our businesses, then so be it," said Warrensburg Town Supervisor Kevin Geraghty.
Geraghty said he's disappointed the Americade coordinators are upset that some vendors have moved to Warrensburg. "Mr. Dutcher thinks the people here are taking revenue from him. I think it's just spill over," he said.
To set up a booth in Warrensburg, Geraghty said each vendor needs a permit, which costs $100 and is valid for two weeks.
Geraghty said the town has issued 37 such permits for the current week, and he thought the numbers for Americade week last year were about the same.
Other area property owners along Main Street have, like Zibro, offered space to vendors for a fee, but when they were approached by a reporter, those business owners refused to comment for this story.
"I don't have any idea what private homeowners and land owners are charging vendors," Geraghty said.
The vendor overflow is appreciated, as local restaurants say they are catering to the bikers.
"We're staying open longer than our regular hours," said Rita Lang, 39, owner of Carmella's Deli on Main Street. "A couple of them pulled in last night right after we put the sign up, and we ran right out and turned it around."
Carmella's Deli has even put out a roadside hot-dog stand.
Some motorcyclists said they go to Warrensburg specifically for vendors that the TourExpo doesn't have.
"There are a few things here that you can't get down there," said Robert Desforges, 62, of Swanzey, Mass. "Like the display of trailers and trikes is different here than at the expo. They have little radio displays that go on the handle bars.
"It's worth stopping by."