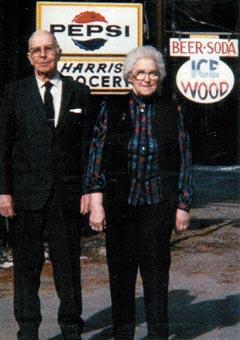 LAKE LUZERNE - If a local student needed a job, Alice Harris was there to help.
If a local student had trouble affording college, Harris loaned that person money.
Harris, who died on her birthday, May 23, at age 97, was a lifelong resident of Lake Luzerne.
And now, the 1933 Hadley-Luzerne High School graduate who went on to operate the Harris Grocery store on Lake Avenue for 40 years will continue helping college-bound students from her alma mater for years to come.
She has left the bulk of her estate - at least $1 million - for the creation of a scholarship fund for Hadley-Luzerne High School graduates.
Bob Bosman, an Albany attorney who is the trustee for the Alice Harris Trust, said the only directive Harris left is for the scholarships to be given to students who show scholastic ability and have a financial need.
The final figures were unavailable Tuesday, but the scholarship fund is expected to consist of at least $1 million in principal, and, depending on market conditions, provide annual scholarships in excess of $50,000 to students.
The program will be known as the Loren and Alice Harris Scholarship Foundation.
Bosman, who is working with the district to create the foundation, said the plan is for the scholarships to become available for students who graduate in 2008.
Bosman will work with the school board in selecting students for the scholarships, he said.
"She was very happy to do this for her community," said Bosman, of the law firm Bosman, Jeffers & Associates, PLLC.
Superintendent of Schools Irwin Sussman said the scholarship fund should help motivate students who otherwise would be unable to afford higher education.
"It is a tremendous boost for our school and community in that it will provide an increased opportunity to attend college," Sussman said.
The district already has a Hadley-Luzerne Scholarship Fund, which consists of approximately $240,000.
This year, 53 scholarships were given out. Individual awards ranged from $300 to $750.
That fund was created in the late 1970s, Sussman said.
Harris and her husband, Loren Harris, opened the grocery store in 1961. She hired local teens, giving many of them their first jobs.
If students needed money for college, she loaned it to them, so they could avoid borrowing from a bank and paying
interest, said Becky Mosher, who purchased the store in 2001 with her husband, Jim Mosher.
"Her biggest thing for this scholarship was for it to (help) a student who was financially needy and making good enough grades that they really wanted to go (to college)," Becky Mosher said.
Be the first to know
Get local news delivered to your inbox!