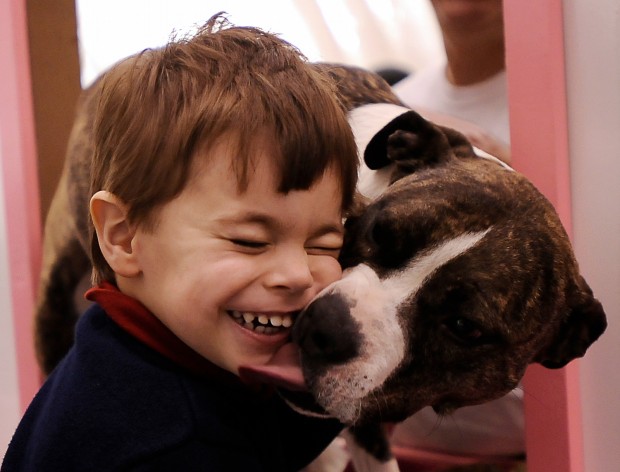 QUEENSBURY -- They didn't flinch.
Judges lifted jowls, looked at teeth and felt for bones, but pugs, papillons and Pekingese remained perfectly poised at the 26th annual Northeast Winter Classic Dog Show at the Adirondack Sports Complex dome.
In the end, it was a bulldog that took the ultimate prize.
"It's very exciting," handler Phoebe Booth said as she walked off with the winning pooch.
Champion Kepley's Showbiz Razzle Dazzle, or Uli, won her 25th best-in-show prize on Sunday. Even before the latest honor, Booth said Uli is the No. 1-ranked bulldog in the U.S., as determined by the amount of dog shows she has won.
"It takes a really good dog that's well-trained," Booth said of the feat.
Three-year-old Uli, of Manhattan, will go on to compete at the Westminster Kennel Club show in mid-February, Booth said.
According to handler Meagan Ulfers of Sherman, Conn., out of the ring, show dogs are like any other pet.
Ulfers stood before a group of excited English springer spaniels as she got them ready to leave on Sunday. She has been a professional handler for 15 years, she said, and while the dogs are trimmed, trained and otherwise prepared for competition from the time they are born, show dogs aren't all prim and proper.
"They're dogs first," Ulfers said. "They run in fields, they get dirty."
Show Chairwoman Darlene Dow, who owns and shows Brittanies, agreed.
"They play with their toys, they play in the yard," she said. "The dog has to enjoy it."
While preparing a dog for a show takes time and dedication, any owner could give it a try, Dow said.
Purebred dogs older than 6 months that are registered with the American Kennel Club can be entered into the show. Dogs first compete against those in their breed, when judges look for the dog that most closely resembles the written breed standard.
"They're looking to see if the confirmation structure is such that they can do the job The winners of each breed compete against each other to win best of group, and those dogs go on to compete for best in show.
Handlers, who prepare dogs and lead them throughout the show ring, get training, too, Dow said.
The American Kennel Club's Glens Falls chapter offers show-handling classes for $5 a session every Wednesday at 7 p.m. at the Corinth Road training center, Dow said. Anyone is welcome to attend.