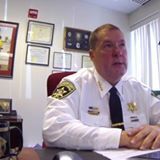 In dueling advice this weekend, Warren County Health Services urged the public to assume everyone around them is potentially contagious, while Washington County Sheriff Jeff Murphy posted that he won't stop people who choose to have a large gathering on Thanksgiving.
Murphy wrote that he wouldn't start a "Thanksgiving Crackdown" to enforce Gov. Andrew Cuomo's limit of 10 people at any private house gathering.
"Who and how many people you have at your house for Thanksgiving is your business," Murphy wrote. "I think we've all had quite a 2020 and can use our own best judgment without government oversight of a sacred and special holiday."
He added that people who have the virus, have symptoms or are high risk, "obviously should not attend a family gathering."
Washington County Attorney Roger Wickes, the spokesman for the county Health Department, said that the county simply cannot enforce the many rules of coronavirus, from visitors quarantining to people wearing masks in public.
"Let's be realistic," Wickes said. "You can't pull over every out-of-state license plate you see. So we're relying on people to follow the advice we're giving."
He argued that the governor's limit on 10 people was not particularly valuable, noting that people could invite just one person, who happens to have the virus.
"Inviting your neighbor over who goes out every weekend, travels a lot, is more of a risk than 10 people who are doing it right," he said. "So you have to be careful and know the people you're inviting. The bigger the crowd, the bigger the risk."
He did not say whether he agreed with the sheriff's post, but said Murphy had a right to his own opinion on his own Facebook page.
Meanwhile, in Warren County, Health Services has urged people to consider the risks, stay home, wear masks indoors if travelers arrive, and to get tested and quarantine if they choose to be part of a Thanksgiving with people outside their household.
Warren County officials have also enforced the rules at times, albeit without fines or court appearances. Generally, the Sheriff's Office has been able to simply tell a business owner or resident that they have broken the rules, and the person has agreed to stop.
Recently, Warren County Health Services worked with taxi companies to ensure drivers started wearing masks consistently. Officials have focused attention on chain stores that were not enforcing mask rules, and that led to many stores posting employees at the front doors to ask customers to put on a mask.
Earlier in the year, a dance studio in Warren County was told to close when it opened before the state allowed dance studios to open. A dance studio in Washington County opened early and remained open. Likewise, some gyms in Washington County opened early — or never closed — while Warren County enforced the shutdown on gyms. Both situations led to complaints from business owners who said it was not fair to let some of their competitors break the rules.
Updated daily screening
At North Warren Elementary School, where an entire third-grade class had to be quarantined after their teacher came to school for three days with symptoms that turned out to be coronavirus, district officials have now updated the district's screening tool. It is a set of questions designed to stop students and staff from entering the buildings if they might have the virus.
"We continue to update our daily screening tool as we learn from each unique case of COVID. In addition, I will continue to remind all faculty, staff, and families to take time and care when answering all of the screening questions and to stay home and reach out to our nurses if there is any question related to symptoms," Superintendent Michele French wrote in a message to the community.
She emphasized that the teacher did not come to work out of any "malicious intent."
She also said some information about the case — which was provided by the North Warren school district and Warren County Health Services — was incorrect, but she offered no specifics.
She also described the school's system of preventing coronavirus spread. On buses, each student has an assigned seat. In school, she said students and staff do not wear masks when they are seated for instruction or meals, but that seats are spaced at least 6 feet apart. Classrooms are "deep cleaned and sanitized" at the end of each school day, she said.
Great Meadow cases
One inmate at Great Meadow Correctional Facility, the maximum-security prison in Fort Ann, has recovered, for a total of 44 recoveries. Two inmates are still ill, and 88 inmates are awaiting test results.
At the nearby Washington Correctional Facility, a state medium-security prison, all 16 inmates who tested positive a week ago are still ill. Everyone else has tested negative.
Sunday's statistics
Warren County reported one new case, for a total of 446 confirmed cases since March, and two recoveries, for a total of 381 recoveries among confirmed cases. Contact tracers have not determined where the latest person caught the virus, which is spreading widely in the community, according to Health Services. There are 30 people currently ill, none of whom are hospitalized.
Washington County reported two new cases, for 372 confirmed cases since March. One person was in quarantine; the other caught the virus in the community, according to Public Health. There are 25 people currently ill, one of whom is hospitalized.
For Saturday, the most recent day for which the following data was available:
Saratoga County does not report publicly on weekends, but told the state that 14 people tested positive Saturday.
Essex County does not report publicly on weekends, but told the state that one person tested positive Saturday.
The Capital Region reported 66 new cases, a positive test rate of 2%. The goal to controlling the virus is to test widely enough to catch most of the cases quickly. Testing widely enough has been defined as having a positive test rate under 1%. Every county in the region is now generally above 1%, but numbers from the state do not always line up precisely with the 24-hour period reported by each county; for Saturday, the state listed Warren County as having zero cases, when it reported five.
Currently, Washington County is the only county in the region with a seven-day positivity average under 1%. It is at 0.8%. Warren County's seven day average is 1%.
For Saturday's cases, Rensselaer County was at 3.4% with 17 new cases; Schenectady County was at 2.5% with 11 new cases; Saratoga County was at 1.9% with 14 new cases; Greene County was at 2.2% with two new cases; Columbia County was at 1.9% with four new cases; Washington County was at 1.8%; Albany County was at 1.5% with 15 new cases; and Warren County was at zero.
Statewide, 3,649 people tested positive, an overall positivity rate of 2.7%. The hot spots had a positive test rate of 4% and the state without the hot spots had a positive test rate of 2.4%.
There were 1,845 people hospitalized Saturday with coronavirus and 30 people died.