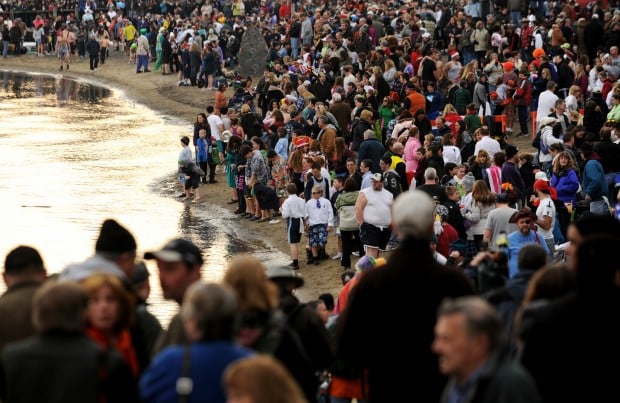 LAKE GEORGE -- The most obvious lesson learned from Saturday's annual Lake George Polar Plunge is that eliminating the word "polar" results in huge crowds.
On an almost balmy afternoon, with the temperatures pushing 50 degrees, more than 1,500 plungers - and an audience that was even bigger - packed Shepherd Park Beach on Saturday and necessitated a total of three separate plunges.
The 2 p.m. plunge went off as scheduled, even though the registration line was still hundreds deep.
A 2:30 p.m. plunge, scheduled for only the second time in the event's history, resulted in another crowd on the beach.
Since registration lines were still so long, a third formal plunge was held at 3 p.m.
"If it was like last week, and we had zero-degree weather, we would not have had a crowd like this," said plunge chairman Linda Duffy. "This is the biggest we have ever had. We got to a thousand last year."
Duffy said the committee ordered 1,400 T-shirts and with the line still going, all that was left was a few extra large, some XXLs, and a small number of kids' shirts. People registering at that time could pay an extra $2 and have a shirt in their size mailed to them. In addition, there were a number of people who dove without registering.
Ed Kokalas is one of the co-chairmen of the Lake George Winter Carnival, and Saturday's event was the carnival's kickoff.
"The weather helped a lot," he said. "There's nothing going on in Albany, and people say, 'It's a decent day' and come here."
Indeed, a number of members of the Shaker Road Fire Department were there, some with their helmets on, taking part as members of the Fraternal Organization of Leatherheads Society - FOOLS - which does charity work.
The plunge always benefits a charity, and this year, organizers stayed close to home and will give the proceeds to the Ben Osborn Fund, which provides for needy children in memory of a Lake George graduate who was killed in Iraq in 2010.
Brian Killips came up from Troy after hearing his father talk about the plunge.
Tom Killips never took the plunge himself, choosing instead to cover it as a longtime photographer for the Troy Record newspaper. Even though he is retired, he was there with his camera to take pictures of his son and others.
"I always stayed on dry land," the elder Killips said.
The younger Killips, who works for a utility company, said he wasn't worried about the water.
"It's going to get a little chilly, but I'm a little twisted. I like the cold. I work outside, and I wear a T-shirt during the winter," he said. "My father told me I'm lucky, He's been up here in ice and snow."
As the crowd lined up for the 2 p.m. plunge, filling the beach at least 25 or 30 deep, kayakers paddled at the edge of the cove, one of them hoisting a pirate flag. As announcer Greg Mason, who has been involved in the plunge for 22 years, counted down the seconds, a huge roar ensued and the plungers moved forward in the water. Some were out in seconds, others made it maybe half a minute.
One trio, trying to prove a point, stayed in for about 20 minutes.
As the last plungers came out, the Lac du Saint Sacrement cruised by, blowing its horn as it returned after a cruise.
The other sights of the day included many bikinis, two women in Santa outfits with knee-high boots, a number of men in their bathrobes, at least one kilt-clad plunger and young people wearing T-shirts from every high school and college imaginable.
Kaitlyn Burch, a freshman at Glens Falls High School was wearing her Glens Falls Swimming jacket and had plunged for the first time, joining classmate Hannah Pike, who had plunged several times in the past.
When asked how the water was, the girls replied in unison: "Cold."
Mason, the announcer, watched it all while standing on a chair in front of the bath house. He shook his head as he surveyed all the people on the beach.
"It gets bigger every year," he said. "Ten years ago, we were lucky to get 100."