More than 70 percent of school board members are not in favor of arming teachers or lowering certification standards for people with firearms training, according to a poll done by the New York State School Board Association.
Many area schools have introduced school resource officers, active police officers contracted through the district, to their campuses this year, but the survey shows the majority of school board members across the state would not like to see any more of an armed presence in schools.
Arming teachers was a recommendation made by a panel appointed last year by President Trump that was formed in response to the Parkland, Florida school shooting.
There was more support from upstate board members for a measure that would allow for arming of school staff — 23 percent supported the idea upstate vs. 11 percent downstate — but the vast majority of board members were against it.
The downstate area includes boards from Putnam, Rockland, Westchester, Nassau and Suffolk counties as well as those making up New York City.
Got milk?
School leaders and administrators from across the capital area have participated in the 10-gallon challenge over the past few weeks, a viral campaign for administrators to buy 10 gallons of milk to donate to after-school programs or food pantries.
Corinth Superintendent Mark Stratton donated milk to the Corinth Community Cupboard where the district already has a strong connection through teachers and students that volunteer there.
"The school district does quite a bit for the community cupboard," Stratton said, "and I heard from them that milk is one of the higher demand items there."
Superintendents from Washington, Warren and Saratoga counties as well as SUNY Adirondack President Kristine Duffy have all participated in the challenge.
Washington-Saratoga-Warren-Hamilton-Essex BOCES Superintendent James Dexter said if all 31 of the member districts participate, he will donate 31 gallons as well.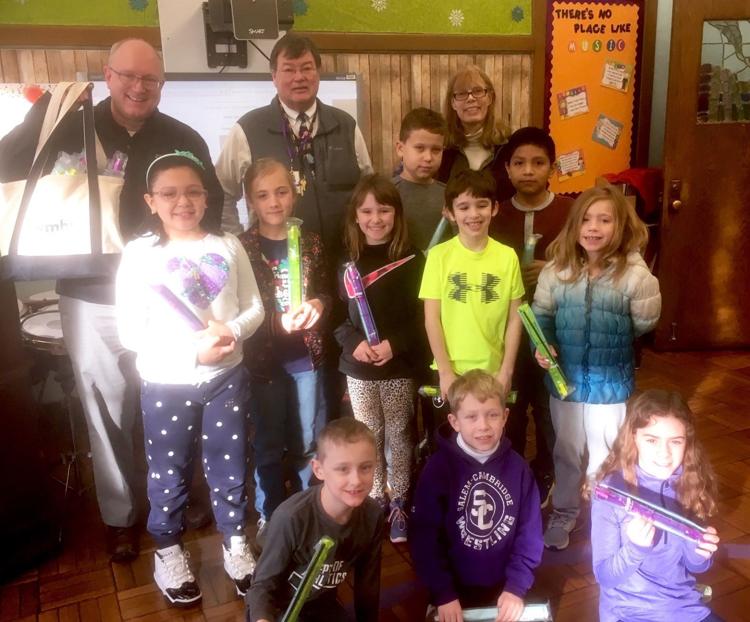 Elementary students receive recorders
Salem Elementary School music teacher Kathy Payne worked with classical public radio station WMHT-FM to provide third-grade students with free recorders.
The Salem Central music department received 46 recorders, which allowed every third-grade student to have their own at no cost.
The donation was part of a larger effort by the radio station, which has donated more than 400 recorders to other area schools.
Pension costs to fall
The employer pension rate for the New York State Teachers' Retirement System will drop 2 percent next school year, reducing state costs by nearly $300 million, according to the conservative think tank Empire Center.
Teacher pensions took a large hit in the 2008 financial crisis, and taxpayer funds were used to fill the gap, but recent gains in the stock market and overall economy have enabled the retirement system to reduce what is needed to keep pace.
The analysis said, although gains have been made recently, a prolonged bear market, making returns fall, could drive rates up again.