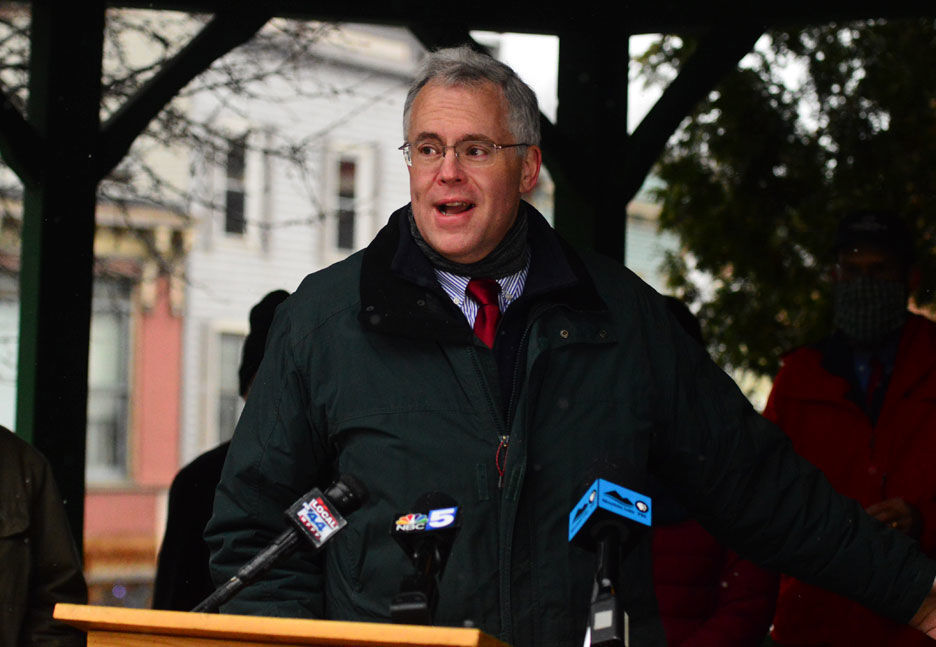 SARANAC LAKE — State legislators gathered amid light snowfall in Berkeley Green on Friday to take a victory lap on a road salt reduction bill they sponsored, which the governor signed Wednesday night.
Assemblyman Billy Jones, retiring state Sen. Betty Little and outgoing Assemblyman Dan Stec — elected a month ago to take Little's Senate seat — sponsored the Randy Preston Road Salt Reduction Act that Gov. Andrew Cuomo signed into law this week.
It will create an Adirondack Road Salt Reduction Task Force that Jones said will begin meeting in early 2021 to research and recommend alternatives to the road salt currently corrupting wells and natural waters.
"We've known for years and years and decades now the corrosive effects that salt has on our environment," said Jones, D-Chateaugay Lake. "We of course want to keep our roadways safe, and we will, but we need to do something to reduce salt and the effects that it has on our waterways and our residents."
Little, R-Queensbury, said this change will require compromise. She said some people want roads clean of ice and others want water clean of salt. Every solution brings its own problems.
"Everybody's got to jump on board with this," she said. "You might be impacted, it might take you a little longer to get someplace, but if we're keeping our lakes and rivers and streams clean, that is key for our economy and for our environment as well."
Stec, R-Queensbury, said because there are competing interests in road safety and water safety, he is encouraged to see a diverse group of experts from several fields working to find a solution now.
"Everything in life, I think, eventually boils down to finding a balance," Stec said. "Government … it's a big ship. It takes a long time to turn sometimes. This may be an item that's time is a little past due, but better late than never."
William Janeway, executive director of the Adirondack Council environmental advocacy group, said the bill made its way through the Legislature fast once it was there, and with bipartisan support. It was proposed around a year ago.
Jones said the 14-member task force will be made up of people from environmental groups, the state Department of Transportation, local government, health departments, highway department and scientists. It will submit recommendations by Sept. 1, 2021, which will be carried out in a three-year road salt application reduction pilot program.
Jones said while some Legislature task forces do not get much done, this will be a "working task force."
"This is very important, and it really is a momentous day," Jones said. "This will make change in the Adirondacks."
The bill is named after the late Wilmington town Supervisor Randy Preston, a political independent who died after a battle with cancer in July 2019. Preston was known for years as a strong advocate for limiting excess road salt use. He was the co-chair of the Adirondack Road Salt Working Group.
"None of this would have happened without a friend of all of us here. … I know he's probably looking down on us right now, making fun of my hair," said Jones, who still had pink highlights visible in the sunlight from the dye used in his hair for breast cancer awareness in November. "Randy, we got the job done."
Michelle Preston, Randy's widow, said he would be "so honored and so humbled" to see the group celebrating the bill he fought for. She said he never stopped working hard at it, even while battling a brain tumor.
"Thank you very much for not letting this die with him," Michelle said.