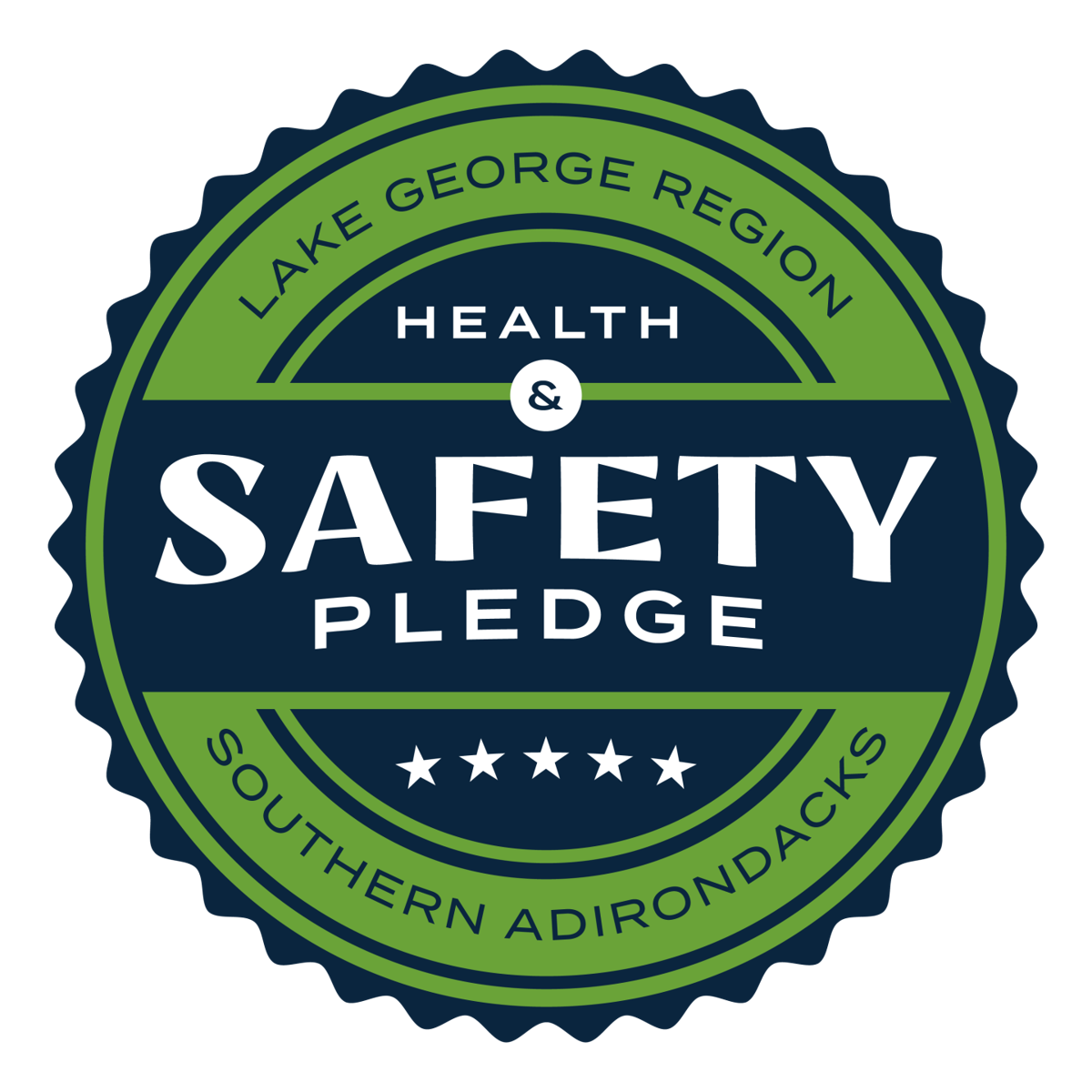 Hospitality businesses throughout the Lake George and Adirondack regions will soon begin displaying a safety badge to ensure visitors they are complying with health guidelines recommended by the Warren County Tourism Task Force and local chambers of commerce during the COVID-19 pandemic.
Businesses that agree to follow the standards will be given a Health & Safety Pledge badge to display on windows, marketing materials and websites, including social media platforms.
The idea behind the campaign is to ensure visitors the region is committed to public health, said Gina Mintzer, executive director of the Lake George Regional Chamber of Commerce.
"The goal of this cooperative initiative is to provide a way for businesses in the Lake George region and southern Adirondacks to show a cohesive, destination-wide commitment — as well as display their own dedication — to keeping this area a safe place to live, work and vacation," Mintzer said in a statement.
The badges were designed by Sidekick Creative in Glens Falls at no cost to the county, according to a news release.
Guidelines adopted by the public-private partnership last month require businesses to adhere to recommendations by the U.S. Centers for Disease Control and Prevention and the state's Department of Health.
Employers are also required to train staff on how to maintain social distancing and properly sanitize their work area, among other things.
The badges will create a more welcoming atmosphere as tourism in the region slowly starts to rebound from the pandemic, said Frank Dittrich, the general manager of the Inn at Erlowest and a member of the Warren County Reopening Committee.
"When our guests come back to the hotel or restaurant in the evening, we want them to rest assured we are taking every step we know to protect their health and well-being,'' Dittrich said in a statement.
Maintaining a strong tourism economy will be key for the region in the months ahead.
The season typically runs from Memorial Day through Labor Day and accounts for more than 9,100 jobs in the region and has an annual economic impact of $629 million, according to the Lake George chamber.
Visitor spending helps offset the region's property taxes and provides crucial funding for public services throughout the region.
But the tourism season has been cut short because of the pandemic. Most businesses were unable to open for Memorial Day because of state restrictions, and it's unclear when the region will be allowed to resume normal activity.
Retail stores opened their doors to customers for the first time in over two months on Wednesday, when the Capital Region began Phase 2 reopening's under state guidelines.
And restaurants began in-person dining for the first time since March on a limited outdoor basis Thursday. Indoor dining can resume under Phase 3 of the state's reopening plan, which is expected to begin in about two weeks.
But even as businesses start welcoming customers back, events like Americade, which help bring thousands to the region annually, have either been delayed or canceled, and there's no firm date as to when attractions like Great Escape will reopen for the season, if at all.
But until normal tourism activity can resume in the region, businesses must continue to focus on the safety of their guests and employees alike, said Mike Bittel, president of the Adirondack Regional Chamber of Commerce.
"Many local kids earn their first paychecks in Lake George in the summer. We want them to know and we want their parents and families to know we are looking out for their well-being by applying the highest standards of hygiene," Bittel said in a statement.
Get local news delivered to your inbox!
Subscribe to our Daily Headlines newsletter.