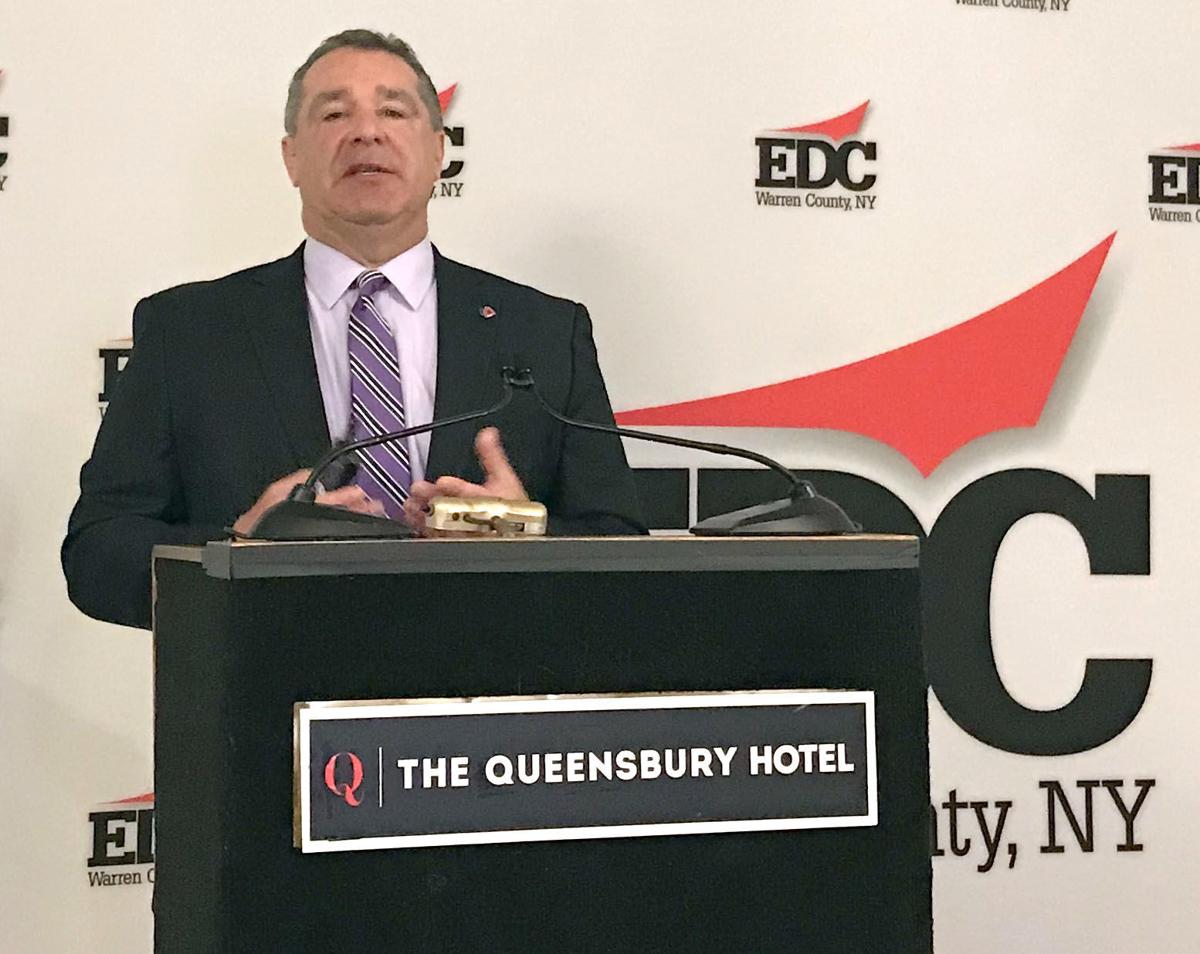 GLENS FALLS — AngioDynamics is hoping to elevate Catheter Valley to the valley of hope of all pancreatic cancer patients.
The company has developed a treatment for stage 3 pancreatic cancer. Usually patients diagnosed with that cancer have a one-year life expectancy. With the NanoKnife, patients have lived for twice as long and some were cured, though that is rare.
"We want to be the hope" for those patients, President and CEO Jim Clemmer said Tuesday at EDC Warren County's annual Economic Outlook breakfast in Glens Falls.
He cited one person who fully recovered from the cancer after his wife found a doctor in Florida who used the NanoKnife to kill the cancer cells.

"He lived. That's why we're here," Clemmer said. "One day we hope people will look at this region as the place that meets this need."
The company makes the NanoKnife at its Queensbury facility.
In November, the company turned its Albany building purple with lights for pancreatic cancer awareness.
"Maybe our building will always be purple if we get (FDA) approval to be the source of this unmet need," Clemmer said.
AngioDynamics has been selling the NanoKnife for 10 years, but without FDA approval to use it to fight cancer. The FDA wanted a randomized trial to judge the effectiveness, if any, of the device.
But AngioDynamics officials argued that it would be unethical to tell people they had a few months to live and then ask them to join a study in which they had a 50% chance of getting the only treatment that might prolong their lives.
Last year, Clemmer decided that FDA approval was crucial.
"We went back to the FDA, worked with the FDA in a collaborative way," he said.
The FDA agreed to allow a study in which anyone who wanted to be treated with the NanoKnife could be treated, and their long-term health results would be compared to the life expectancy of those who do not get that treatment.
"They don't usually bend on these things. To their credit, they did," Clemmer said.
It will take about 2 1/2 years to get results, he added.
Those results will determine whether the treatment gets FDA approval.
But just having the study has helped.
"We could sell it (before) but not tell people how to use it. Kind of crazy, but that's how government works," Clemmer said. "So we've been selling it for 10 years and doctors can use it off-brand. But it's a complex thing. We want to be able to train them."
Early results, from before the study began, were encouraging.
Most pancreatic cancer patients have a tumor that can't be surgically removed without destroying the pancreas. For those, life expectancy is 10 to 12 months with chemotherapy, according to Roswell Park Comprehensive Cancer Center. Patients who had the NanoKnife treatment at Roswell Park instead lived an average of 20 months, according to the center. The center also found that in eight cases, the cancer was completely eliminated by the NanoKnife, though that does not normally happen.
While awaiting the formal results, AngioDynamics is investing $2.6 million this year to add more production space and buy equipment to make more medical parts here.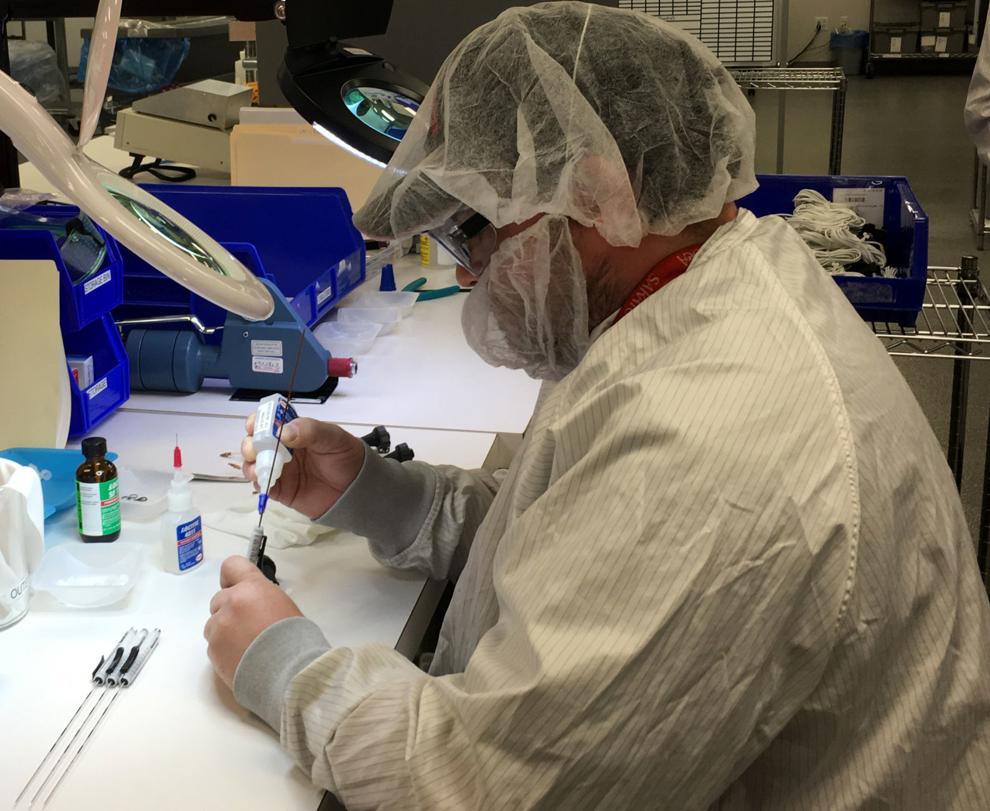 That means more jobs — although Clemmer did not have a number yet. The jobs will pay more because they involve more complex tasks.
AngioDynamics has also invested in training its employees for the newer products it is making.
"A couple years ago, we were making basic plastic catheters. So people have to grow with the company," Clemmer said.
In addition to the NanoKnife, the company is now making Auryon, a laser system that breaks up calcified lesions in arteries, and Angio Vac, which pulls out blockages in veins.
As they have developed the Angio Vac, they listened to doctors and kept upgrading the device. This year it comes in two shapes with improved flexibility and navigation; next year's device will also be smaller.
"We can pull out blockages that can't be done with any other device," Clemmer said.
He noted that the company is now competing in much larger markets than a few years ago, against much larger businesses.
"We're going to use science, not size, to deliver care and compete," he said.