This is a story about blame and profound loss.
A police story, an addict's story, a family story.
But this is not just an anonymous tale of back-alley deals and junkies shooting up on the steps of rusty fire escapes. It's about high school kids, pregnant moms and the man next door, each caught in the spiraling wake of the opiate crisis.
This is a local story: an accounting of distribution tributaries running just under the epidermis of Washington County's pastoral villages and towns.
"There is a continued stream of supply," said Washington County District Attorney Tony Jordan. "Right now, our biggest challenge is the influx of cheap heroin and fentanyl … New York City drug-dealing impacts us directly."
As these drugs infiltrate a neighbor's home, a child's bedroom, a lover's life, they are robbing communities of the ties of family and friendship sometimes taken for granted.
"My little brother didn't make it in recovery," said Brittany Townsend, explaining that her brother, Nico, relapsed over a 36-hour period after being clean for three months.
Only just out of rehab and using for less than two days, Nico returned to the Florida rehab the family had previously trusted for his care. "He was barely 20. He died in detox."
For Cambridge Mayor Carmen Bogel, the bottom of the addiction crisis came when she discovered someone had overdosed in the village, in the middle of the day, earlier this month.
"When a drug dealer is driving through Cambridge, just keep on going," Bogel said. "Is this the reality we want in our community? I want people to get angry about the reality and say, 'No, I'm not going to accept people getting Narcan on West Main Street.' We can't be complacent.
"When someone drives to a motel across from the school and spends two days dealing out of the motel, we need to have a creative plan."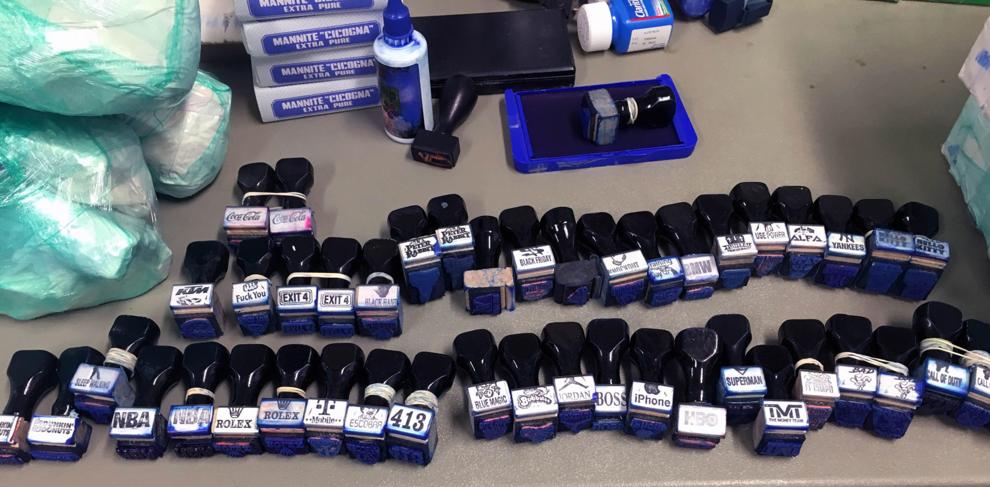 A story of blame
The crisis took root more than two decades ago with the FDA's 1995 approval of the prescription pain pill Oxycontin.
Touted as a wonder pain reliever for routine setbacks such as a broken ankle, chronic back pain and post-surgical discomfort, the pills took hold. Unsuspecting kids, parents, grandparents and siblings used them and became addicted, craving the drug long past an ankle's healing.
"In my six years of being district attorney, I've met and worked with hundreds struggling with opiate addiction and I only met one who never used pills first," said Jordan, the district attorney.
The Centers for Disease Control reports that 80 percent of those addicted to illegal opiates began with prescription pain killers. After three days of taking prescription pain pills, the chance of addiction dramatically increases, according to current CDC prescribing guidelines.
But it wasn't until 2016 that the CDC came out with such warnings.
For nearly 20 years, pharmaceutical companies operated unchecked.
"Massive shipments of opioids to specific pharmacies in New York showed numerous 'red flags,' such as a high percentage of prescriptions paid for in cash or written by a relatively small number of providers who have been charged with, or convicted of, illegal prescribing," according to a New York attorney general's complaint recently filed against the pharmaceutical industry.
Drug manufacturers used a common "playbook" to mislead the public about the safety, efficacy and risks of prescription opioids, according to the complaint. They pushed claims that opioids improved quality of life and cognitive functioning, and they promoted false statements about the non-addictive nature of the drugs, suggesting that alternative pain relief methods were riskier.
Between 2006 and 2012, Washington County pharmacies dispensed more than 12.6 million doctor-prescribed opiates, according to a DEA consolidated database. That database, automation of reports and consolidated orders system, monitors the flow of opioids.
The number comes to about 28 pills per county resident per year.
Rite Aid in Hudson Falls distributed more than 2.3 million pills during those six years, and several other drug stores in the county were over 1 million (see info box). More than 4.7 million prescription opioid pills were supplied to Hudson Falls during that period, according to the data.
Once the dangers of the pills became evident, the number of prescriptions declined, Jordan said. But a diminished supply raised the price of the pills and many addicts chose a cheaper street alternative: heroin.
Blame has been placed on the pharmaceutical manufacturers and those prescribing and distributing the pills, but a September report from the Office of the Inspector General said the DEA also played a role, because the agency was slow to respond to the increase in use and diversion of opioids since 2000.
"We also found that DEA did not use its available resources, including its data systems and strongest administrative enforcement tools, to detect and regulate diversion effectively," the report said. "Further, we found that DEA policies and regulations did not adequately hold registrants accountable or prevent the diversion of pharmaceutical opioids."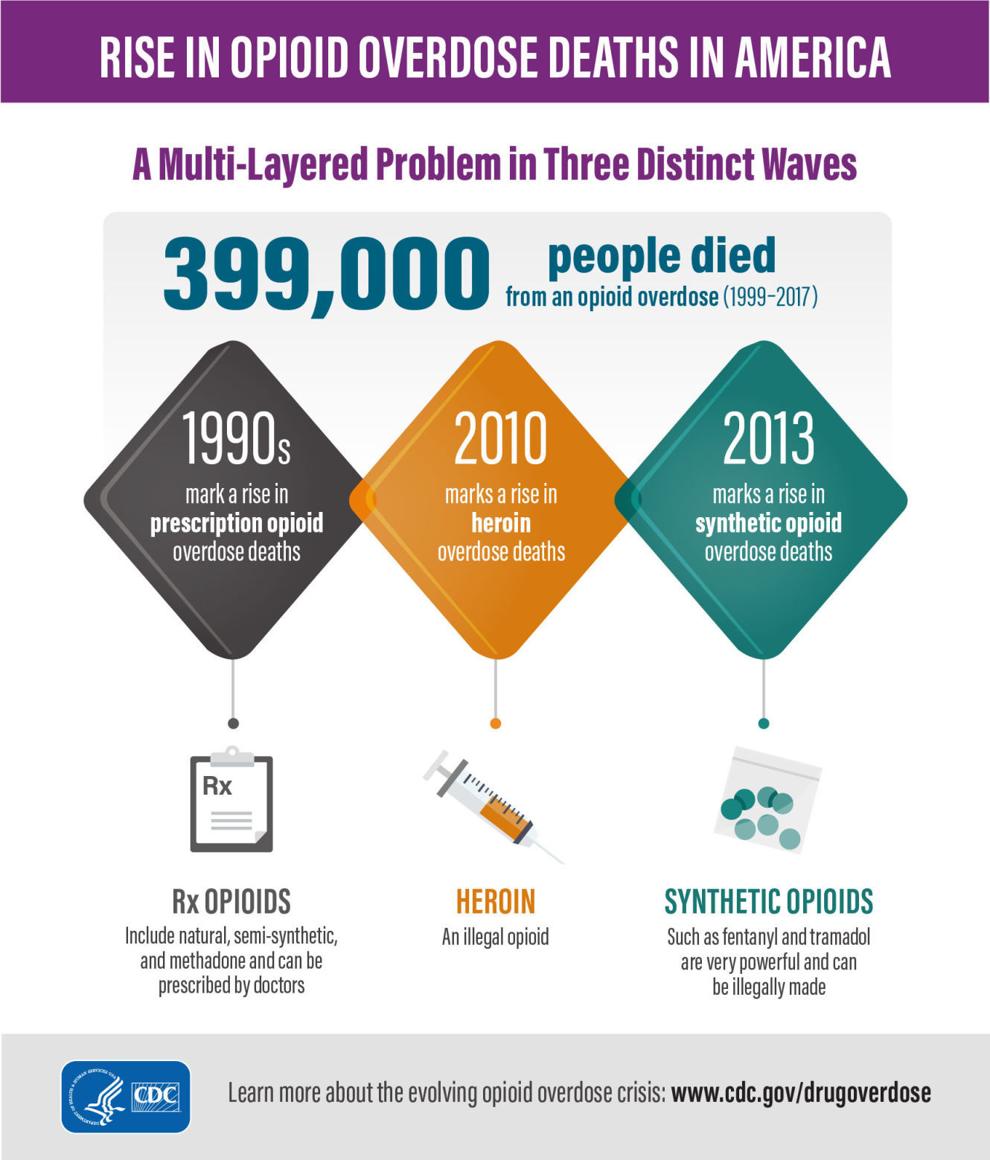 A story of addiction
Ten years ago Wednesday, Brittany Townsend overdosed on heroin. Even after that, it took her three years to begin a long-term recovery.
Now, Townsend has a child, a good job in Ballston Spa, a commitment to helping others and a no-nonsense approach to her continuing recovery from heroin addiction.
"I have to be responsible for my own recovery," she said. "You go through so much when you are in active addiction and you have to learn how to deal with the triggers."
She relapsed several times at first.
"I kept hanging out with the wrong people," she said.
When she was attending Lake George High School, she said, using heroin "wasn't a big deal."
"It didn't matter if I moved to Hudson Falls … I was too close. I went into a full-blown relapse and I had to leave the area to get clean."
That's why Cambridge's Mayor Bogel wants to stop the supply coming into the village.
"I support persons going through recovery who are addicted. They need us to be there for them," she said. "Part of us being there for them is making sure it (drug) stays away from them and new people who haven't even tried it yet. While focus on recovery is important, we need to be putting the same amount into getting it off the streets."
For Townsend, recovery was possible only after she moved to Colorado with a group of friends who were not heroin users.
She has had to struggle with lots of sadness and pain, learning how to work with her family toward healing and grieving over the loss of her brother to addiction.
"There is no manual for families," she said, talking about how her brother's death. "We have to heal from this trauma ... We thought he was safe and he died."
To honor Nico, Townsend and her sister started Nico's House, a support network for addicts. Her mother runs a support group, GRASP, for people who have lost someone to opiate addiction.
"That's the only hope," said Townsend, about reaching out to help others.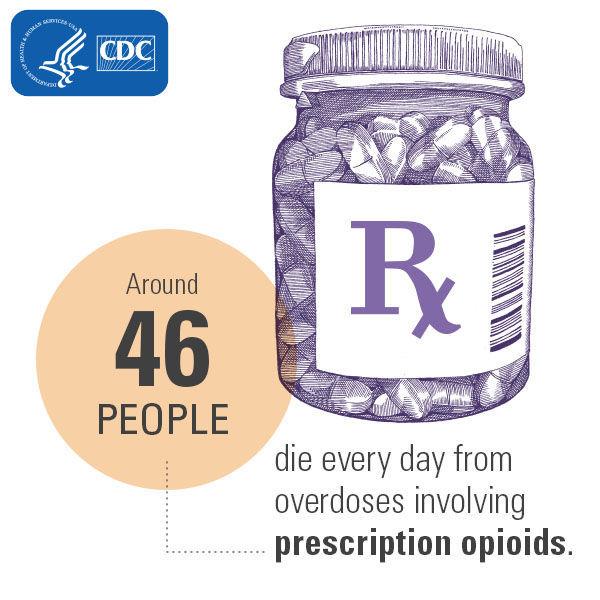 A story of law enforcement
The black and white video clip recorded on the body camera is jumpy and scattered as the Cambridge-Greenwich police officer tries to rouse a man in his car. The officer rubs the man's sternum.
The officer repeats the action.
The man has overdosed. His head is back, his breathing raspy and gurgling, his skin a blue gray pallor.
"He was one of the lucky ones that woke up," said Police Chief Bob Danko earlier this month, during a Cambridge community forum where he showed the footage to an audience of about 20. "This young man was Nar-canned by us and six more times by EMS to come out of it. This is a serious thing."
But the mixing of fentanyl into heroin has made revival of overdose victims especially difficult, he said.
"In our last two big arrests, we sent it to the state lab, and it came back positive for fentanyl," Danko said
Naloxone, also known by the brand name Narcan, is a medication that can reverse an opioid overdose if administered in time.
According to the state Department of Health, naloxone use increased 50 percent in the state between 2016 and 2017. In Washington County, 6,401 single doses of naloxone were administered by emergency workers in 2017. That number does not include doses given by law enforcement or health care workers or other people with access to the drug.
The antidote doesn't always save a life, and New York ranks among the 22 states with "statistically significant increases in drug overdose death rates from 2016 to 2017."
"It's here, it's in the village," said Danko. "It's everywhere in the county. It's an epidemic."
According to Cambridge-Greenwich Police Cpl. Mike Moses, some of the local heroin is stamped with the "Dunkin Donuts" label.
"I checked with counterparts at the Bennington PD and they recently had a death on the 'Dunkin Donuts' one," he said. "That tells us we've got some very potent stuff coming through the village.
"Earlier in March, Officer Buell called me and he had a person with a brick of heroin that was not cut yet," Moses continued. "That individual was being watched by Vermont State Police two days before he was in our village. They missed him from his pickup in Hokyoke, Massachusetts. He's out of Arlington, and that tells you how close this is."
A brick of heroin is equal to 50 bags, but if the dealer was going to cut the heroin with something else, like corn starch, it would yield even more doses.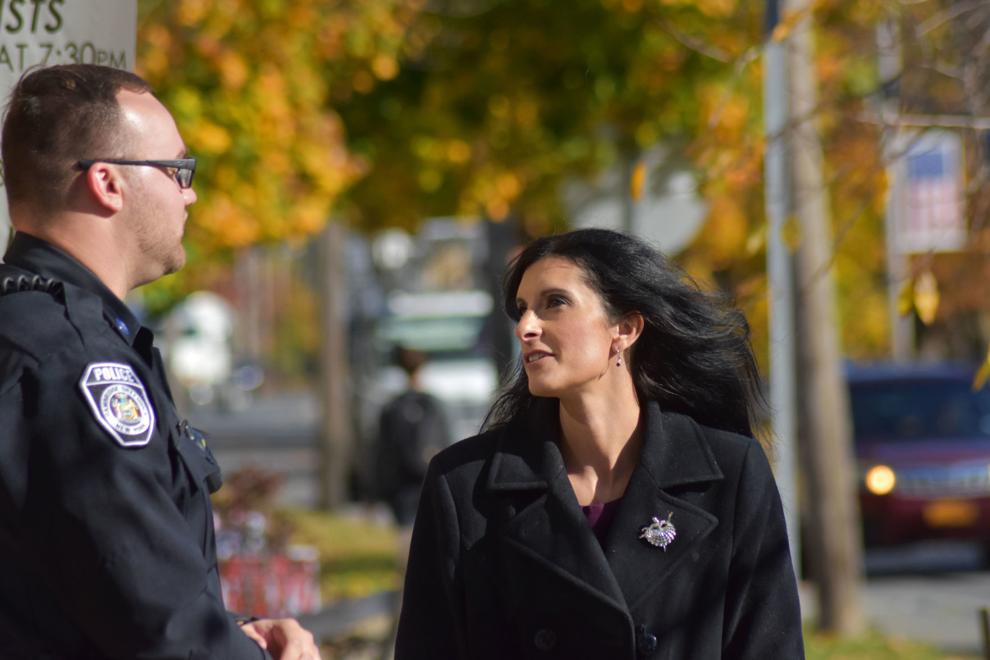 Story of a community
The clinking of wind chimes fills the fall air Thursday afternoon in downtown Cambridge, a Victorian-style village along Route 372 in Washington County.
There's a bookstore and bakery and historic Hubbard Hall.
And on a fall afternoon, with the sun shining and the wind blowing the many flags businesses have put out, it is the picture of perfection.
Earlier this month, in front of the popular Silvano's Italian Restaurant, near the IGA, a man overdosed.
"A husband and wife who drove past noticed the guy out there, and then when they came back through, they noticed he was still in the same position as when they drove past before," Mayor Bogel said. "They pulled into a parking space at Silvano's and went over and tried to touch him and realized he was not conscious at all. They called 911. But if they hadn't paid attention, he would have died."
What she wants to do is raise awareness and get people to report unusual behavior, Bogel said.
During the community forum, a woman expressed her concerns.
"OK, can I say something, I'm frustrated because drug dealers are not just passing through our village. They live here, they live among us, they work among us, they deal among us and everybody knows who they are," she said. "How do we become more proactive? How do we put them on notice that they are not wanted here. ... How do we get them out?"
Jordan stressed the importance of reporting suspicious activity.
The village is so small and close-knit, people can be afraid of repercussions if they report on someone they know, Bogel said.
"I tell people, 'If you're scared to call the cops, text me.' Let's not be afraid to say, 'Hey, look, we know what businesses are dealing.' They should feel bad they are dealing," she said.
She and Police Chief Danko are looking at a program, Schenectady Cares, that helps get people into treatment. With the program in place, addicts could walk into the police station and say they need help without fear of arrest.
"The problem, they walk in and say, 'Get me help.' What are we going to do with them? There's hardly anyplace in Washington County," Bogel said.
Just this week, she was directed to a similar program in Chatham.
"This group finds them a bed, and they've driven people as far as Syracuse to rehab," she said. "We're definitely going to explore that to implement it here … I support persons going through recovery who are addicted. They need us to be there for them."