QUEENSBURY — Everything must go.
Red and yellow signs hanging from the ceiling and outside the Sears entrances beckoned customers to come in one last time Sunday for the final day of sales at the Aviation Mall location.
It marked the end of a store serving a community for more than four decades.
Very little was left, clustered around the jewelry counter at the center of the store. There was some children's clothing, a few pieces of costume jewelry, a few women's summer dresses and some sheets.
A few employees wearing holiday sweaters, headbands that looked like reindeer antlers and other festive clothing attended to the small area of the vast and empty space.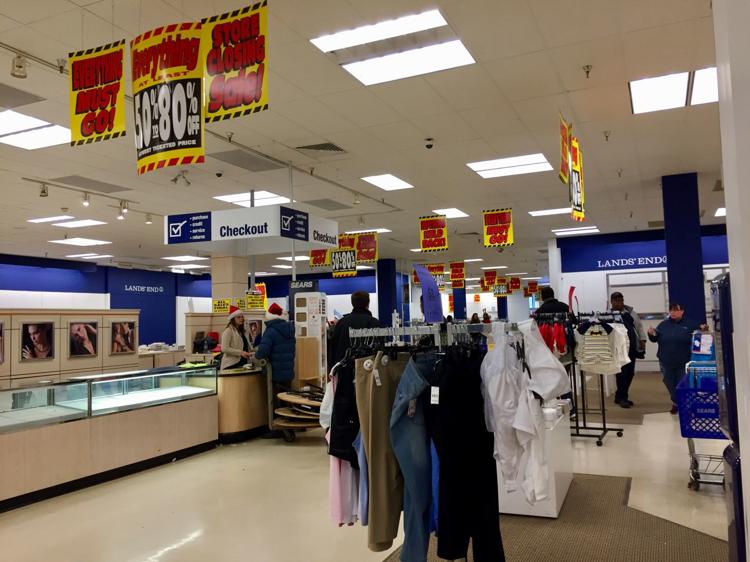 "Are they selling the carpet?" a customer remarked as he walked inside.
A table had random items on it that looked forgotten from decades past, like a yellowing but once white hardcover book called "Introduction to Analysis, 4th Edition" by Edward Gaughan, a cylinder vase and a box of clothing tags.
Some customers walked into the store, only to turn right back around.
"This is so sad," said Chris Mansman. "... Sears was the store to go to before everything. To walk in and to see the emptiness, it's just sad."
Mansman, who retired from the U.S. Army and is a mechanic from Fort Edward, used to always buy Craftsman brand tools at the Sears in the Aviation Mall. A couple of weeks ago he had come to the store, knowing it was closing, to get some deals.
He was struck Sunday by how empty it was now. For $1, he was buying one of the empty clothes racks for a Vietnam War veteran living in Hudson Falls, who needed a better method of hanging up items inside his closet.
A lady walked out of the store pushing a cart full of children's shirts — about 70, that she had bought for $18.
A man walked out with some new bed sheets.
John Cary and Ben Wilbur, of Salem, drove up together to see what was left. The neighbors were both sad to see the store close.
Wilbur said he remembered going to Sears as a child.
Cary said the store would be missed, but he expected the same thing to happen to others, like Walmart and Target.
"It cycles," he said, mentioning the closure of Montgomery Ward, another retail chain that closed all its stores by 2001.
Online retail is changing the way people shop, and there's no risk of getting shot in a parking lot, Cary added.
An assistant store manager, who declined to give his name, said about 25 employees are affected by the store closure. Everything, including the fixtures, was up for sale. He referred all other questions to Sears' media relations department.
The Queensbury location isn't the only one affected by Sears Holdings Corp. and its filing of Chapter 11 bankruptcy. The Sears at Wilton Mall will also be closing sometime in February, according to the company. The Kmarts in Queensbury and Greenwich remain open.
Meanwhile, Aviation Mall General Manager James Griffith said in a press release that stores had a successful Black Friday.
"Having anchor and major tenants like Target, J.C. Penney and Dick's Sporting Goods allows our shopping center to capitalize on the promotions that these national brands offer," he said, in the news release. "Our stores at Aviation Mall have seized the opportunity to add unique and memorable in-store experiences which have resulted in a more consistent consumer business volume throughout Thanksgiving evening and Black Friday."
Griffith did not immediately respond for comment Sunday about what might go into the Sears location.
Get local news delivered to your inbox!
Subscribe to our Daily Headlines newsletter.