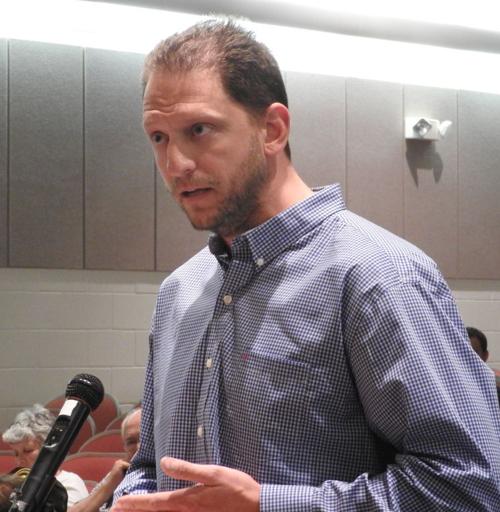 FORT ANN — Even as neighbors continue to complain about the Planning Board decision that allowed him to open the ADK MX motocross track, owner Jeremy Treadway is planning for next season.
"All I really wanted to do was have a three-race series, and that's what we are going to be able to do," said Treadway, who has agreed with the Metropolitan Sports Committee to run two of the 19 races in its series. "We will also run one race of our own, and those three will count toward our track championship."
The other days will be devoted to practice sessions, teaching and other events.
The MSC races are also run at Orange County Fair MX in Middletown, Clavarack (New York) MX Diamond Back in East Durham, and Ace Motocross in Southwick, Massachusetts.
The season starts April 2 at Orange County and ends Oct. 15. The two Fort Ann races will be June 11, the eighth race session of the MSC season, and Aug. 27, which will be race No. 13.
The ADK MX's own race will be July 14 and 15, between the two MSC races.
"We are excited to have them coming in," Treadway said recently. "It will help people to get to know us."
Treadway had hopes to get the American Motorcycle Association to race at the track, but restrictions put on by the Planning Board did not allow him to run a practice session so AMA officials could evaluate the track.
Treadway built a 4,300-foot-long track at the 106-acre former golf course site on Route 149, and he was open for two weekends in October. The track is closed now until the last week in April.
The restaurant at the site is open, and Treadway said he has had the Washington County snowmobile trail extended into his property.
"We want to be a stop for snowmobilers, and we will be hosting a special event for the Purple Ribbon Ride on Feb. 11," Treadway said. The ride benefits cancer research and ends at the Boar's Nest Inn.
"We could use some more snow," said Treadway, who spent a couple days with his snowmobile on the Tug Hill plateau last week. "We'd like to get some more snow here, so the snowmobilers can come in to the restaurant.
You can read Bill Toscano's blog at poststar.com/blogs or his updates on Twitter, @billtoscano_ps.