Keith Fish's pack holds the weight of nearly everything one might need for a search and rescue mission, but it is tucked in a side closet of his childhood home.
Judi Harris, Fish's wife, pulled it out of the shadows Wednesday, feeling the heft her husband used to carry on his shoulders.
"I mean, this is empty compared to what's normally in it," she said, touching a patch sewn to the front that said, "Lower Adirondack Search and Rescue." "He'll hike miles and miles and miles like that."
But 62-year-old Fish won't hike anymore, and that's what breaks Harris' heart.
Sitting in a living room chair, Fish cradled an iPad in his lap. He typed with one finger of his left, non-dominant hand. The automated voice on the device said, "6, 9, 17," referring to the date June 9, 2017, the day Fish was diagnosed with ALS, or Lou Gehrig's disease. It's a fatal diagnosis, a disease that attacks the body's motor system.
Thin and weak, barely able to walk and no longer able to speak, Fish is a far cry from the 6-foot, 165-pound ranger and mountain man Harris married later in life.
Fish was one of the founding members of Lower Adirondack Search and Rescue, a volunteer organization that is called to assist with searches by the state Federation of Search and Rescue and typically works alongside the state Department of Environmental Conservation's forest rangers. The organization was founded in November 1990.
Fish was also the longest-serving employee of the Lake George Park Commission, working as a ranger for nearly 30 years.
He stepped down from both posts in 2017.
His dedication and service continues to inspire the next generation of search and rescue volunteers, and many came to Harris and Fish's North Creek home the weekend of Aug. 24. They came to honor one of the Adirondack region's search and rescue icons, who helped save many lives, or, other times, helped with the healing for families by tracking down the bodies of loved ones.
With around 90 members, the organization is still going strong, largely due to Fish and a core group of dedicated people willing to trek through the wilderness day or night, in sun or snow, to help someone get home.
The start
When 38-year-old Albany postal worker David Boomhower went missing in August 1990 near Indian Lake, Warrensburg brothers Jim and Bill Cranker helped DEC forest rangers with the search.
Boomhower's body was found in October of that year.
There was no organized volunteer group in the area to help under these circumstances, so the Cranker brothers called on their friends, Gary Freidrich, Jennifer Horaz, Simone Lorraine, Pat McGinn, Dave Wright and Fish to form the Lower Adirondack Search and Rescue.
It became a nonprofit in 1991.
New charter members were added, including Queensbury resident Peter Benoit. One of the group's first searches was for one of Benoit's friends, David Clark, an ophthalmologist from Glens Falls. He had disappeared when hiking Buck Mountain.
Benoit went out searching for him. Clark was later found dead of hypothermia.
Between 1990 and 2016, Lower Adirondack Search and Rescue has assisted with more than 100 searches. While some have sad outcomes, there are plenty of success stories.
Benoit pointed to a couple of those cases, including one a few years ago in Petersburg where two young children went missing. Benoit's crew found a small footprint in the mud, and after radioing forest rangers, they followed its direction. The children were found in a meadow, tired, hungry, bug-bitten, but alive.
Another rescue Benoit and Fish both recalled was an older woman with Alzheimer's disease who had gone missing.
"The next day, she was found lying in a field on her back in a rainstorm," Benoit said. "She looked up and said, 'Hi, boys, what took you so long?' She was totally fine. She was tired, wet and hungry, dehydrated, but she had a sense of humor. Those are great outcomes. It's not every one."
The team logistics
Lower Adirondack Search and Rescue is a diverse group.
"From loggers, to lawyers, to physicians, to CEOs of companies, it continues today to have a whole structure of the American work force on the team," Benoit said.
Matthew Sirni, current president of the organization, said what connects members is that "everyone is there simply to help others, (and) to enjoy the outdoors."
Rescues aren't restricted to the lower Adirondacks, Sirni said. Some searches have taken place as far north as the Canadian border, as far west as Buffalo.
That's because, Sirni said, "all volunteer organizations sometimes struggle with their numbers. Volunteer fire departments do. Really, every volunteer organization, to turn out enough search and rescue personnel at a search, the (New York State Federation of Search and Rescue) is essentially dispatching all teams."
Sirni said his organization will supply boots on the ground to help with a search and can even provide "crew bosses," or people qualified to direct a group of volunteers.
Fish said the number of calls to the organization has declined over the years, which he credits to cell phones. It's easier to track a person with a cell phone, he said.
If there's service, Benoit added, those who are lost can usually call 911 and be routed to a ranger dispatch office. Rangers can talk them through where to go.
But cell phones can die, or not find a signal, which makes them a blessing and a curse.
"Every feature you would be able to use on your cell phone, you need to duplicate," Sirni said.
That means being proficient with a map and compass and having a flashlight, he said. Sirni has also found some people lack basic First Aid knowledge, fail to wear proper clothing and shoes, and bring too little water.
He hopes people will have "an understanding that the mountain and the woods are always going to be there. You don't have to conquer your hike today. Turn around. We seem to have lost that somehow. People just push on, and push on, until they get into trouble."
A big Fish
Fish had a reputation for finding people.
He knew his way around with a map and compass, but he also knew the woods of the Adirondack Park.
"Several times, the forest rangers would rely on him," Benoit said. "They'd give him a singular assignment to go out and search an area, where the rest of us were on a crew of 8 or 10 people. Keith's outdoor skills were known and noted by the rangers, and he was deployed on smaller assignments, just because of his excellent skill sets."
Fish said he enjoyed going on missions alone with forest rangers or State Police.
Fish often trained new volunteers, too.
Harris, who was attending an ALS support group meeting one day, said a man immediately recognized her husband's name and said Fish had trained him.
Fish inspired some of his coworkers from the Park Commission to join Lower Adirondack Search and Rescue.
Molly Gallagher, an environmental analyst for the Lake George Park Commission, said Fish got her and her husband to join. They helped out for about five years on some missions.
Fish said his crew found four people in a row in 2002.
"After that, everyone wanted to be on my crew," he added.
Fish grinned. Then he resumed typing.
HORICON — Three years ago this week, Thomas Messick Sr. walked into the woods south of Brant Lake to hunt with a group of friends and family, …
One search still haunts Fish and Sirni, and that is for Thomas Messick, the 82-year-old Troy man who went into the woods south of Brant Lake in 2015 and was never seen again.
That case is still unsolved, and Sirni said some volunteers continue to go back to the area to look for clues.
"You want to bring an outcome and you want to bring closure to all the families involved," Sirni said. "It's always disappointing when we have not accomplished that. We don't give up."
Helping a friend
On Wednesday, looking at a photo of her husband skiing down Gore Mountain in a Hawaiian shirt, Harris called Fish "my crazy guy."
"Hiking for turns," his automated voice said.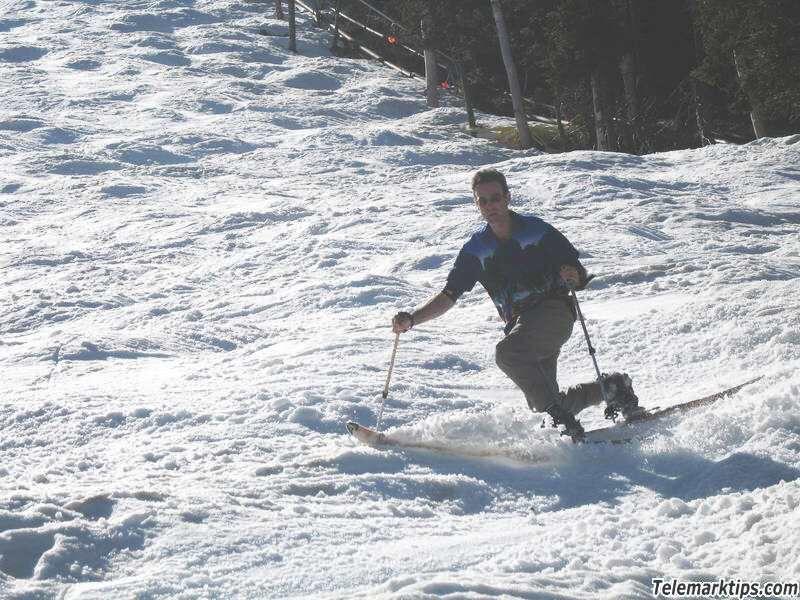 "In that skiing picture?" Harris said. "So you hike just to ski down? You weirdo! Who does that?"
Fish's shoulders shake, and a chuckle emerges.
It was in December 2014 that Fish noticed something wasn't right with his body. Harris said he had just finished skiing an area mountain, but his muscles wouldn't stop twitching.
In 2016, he had trouble using his hands to turn and grip things. He had dropped a glass.
"That wasn't Keith, so talented and gifted physically," Harris said. "And mentally, my love."
Doctors would throw around the idea that it could be ALS, but it wasn't until 2017 that the diagnosis came.
"It had been a couple of years of feeling scared and depressed maybe, frustrated that we weren't able to do quite the same things," Harris said.
There was a minute or so of silence while Fish typed.
"My speech was going, but I still went to the (search and rescue) meetings," Fish said.
But it became more difficult to walk, and Fish was more confined to his home.
Surrounded by forest, Harris got to work on some of their skiing and walking trails, trying to widen them so an all-terrain vehicle could get through.
She wanted a way for her husband to see the woods again.
It was a lot of work for one or two people to do. So Harris called Lower Adirondack Search and Rescue.
About 20 members showed up the weekend of Aug. 24, clearing brush and cutting down a few trees. Sirni said by the end of the day, the group was able to put Fish in an off-road utility vehicle and take him around the property.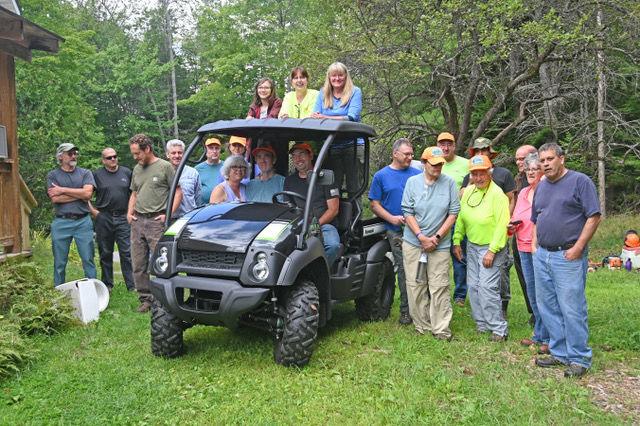 "It was one of the best experiences I have ever had, being involved with LASAR," Sirni said. "It was an honor to be there."
"It was so nice, and it was great to see some of my friends," Fish said.
Harris left the house to walk the trail her husband's friends had finished. She pointed out where a tree had been cut down, where the ferns were left so the snow would fall on top and make cross-country skiing easier. She plucked a few wild raspberries and blackberries along the way.
Through tears, she mourned what "her guy" has lost. But she also laughed. The sparkle in Fish's eyes show his humor and personality are still there.
After surveying the new trails, Harris recalled, Fish told his search and rescue colleagues there were 90 more acres across the road.