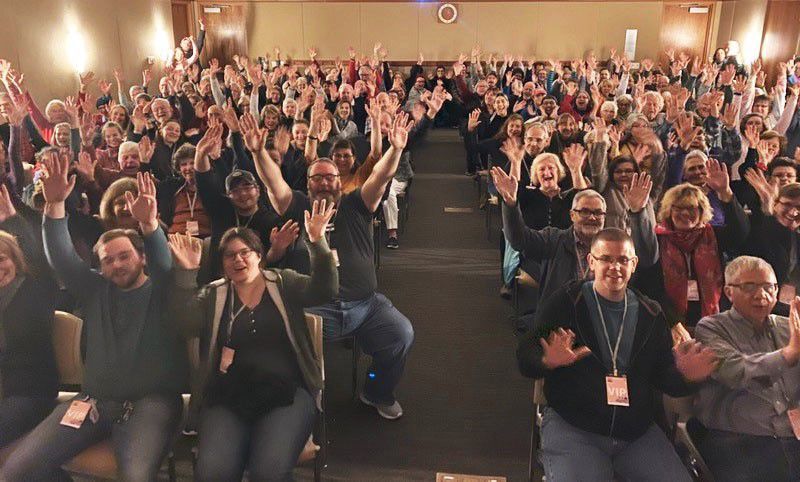 GLENS FALLS — The Adirondack Film Festival wrapped up a record weekend on Sunday with the screening of the Best of the Fest films and the much talked about "Jo Jo Rabbit," starring Scarlett Johannson.
With the final numbers in, festival organizers said Tuesday night that the three-day event, for the fourth time, broke all records.
"We are on our way to being one of the best festivals in the country," said Jess Levandoski, director of programming, adding that she thinks the Glens Falls festival is a Telluride Film Festival or Vail in the making. "I feel the past four years have been about educating both audiences and filmmakers about us, that our team exists and that Glens Falls exists.
"Now the patrons know that whatever we put in front of them, they will probably like," she continued. "And filmmakers are blown away by Chad's (Rabinovitz) ability to pack venues. I cannot stress enough how unique that is in the film fest world."
When the Adirondack Theatre Festival board gave producing artistic director Chad Rabinovitz the thumbs up to start a film festival in 2016, he wondered if people would turn out on a Friday morning to watch movies and if a hockey home opener would overshadow the festival on Saturday?
But after the last credits rolled on the inaugural festival, Rabinovitz knew they were on to something after selling more than 350 passes.
Now, three festivals later, attendance by filmakers and film buffs increased dramatically, with more than 1,000 passes sold this year.
"Nearly 6,700 people attended the events," Rabinovitz said after tabulating event and screening totals. "We had more than 1,000 pass holders, so each person went to an average of six or seven screenings or events. Nearly every theater was packed all the time. It's just so exciting to see something we built grow so quickly. I already can't wait for next year. It's only getting bigger from here."
The festival opened on Thursday at the Charles R. Wood Theater in downtown Glens Falls with the Albany-filmed James Franco film, "Pretenders."
By Friday, more than 200 filmmakers and guest artists — a 100 percent increase over 2018 — were on tap for screenings, parties and long, shared discussions with patrons about the films.
"I've been to 15 festivals in the last year and a half and AFF was the highest in passion and lowest in snobby attitude (nonexistent,) which is so refreshing. It can only come from an organization that truly cares about films and filmmakers and fun," said Saratoga Springs filmmaker Charlie Samuels, who won Best Feature Documentary with his film, "Virgin Blacktop."
Five pages' worth of filmmakers echoed Samuels' sentiment in reviews posted on the Filmfreeway site (the submission venue for film festivals.)
Some talked about how unusual such high attendance is for festivals they've been to in bigger cities, and almost all said they loved the personal attention and complementary hotel rooms and raved about Glens Falls and the audiences.
"This is now my favorite festival. This was my first time going, but I felt like a welcome part of the Adirondack family," said filmmaker Darryl Dillard, who screened his film, "Who's With Me?" "They truly treat the filmmakers with respect and warmth. The programming was great. The communication outstanding. They provide an atmosphere that is conducive to friendships being made. And I don't think I have ever seen such great turnouts for each and every film block. This community loves films and filmmakers. I will definitely be back. And everyone should go while they still can. This will be the top-rated festival very soon."
Already looking toward year five, Levandoski said they are thinking about how they will accelerate things next year.
"We put so much emphasis on making filmmakers feel seen and that patrons feel like there's something here for them," she said. "I feel like we have a formula for that now, and now we can step it up and move the fest toward the national platform."
Get local news delivered to your inbox!
Subscribe to our Daily Headlines newsletter.