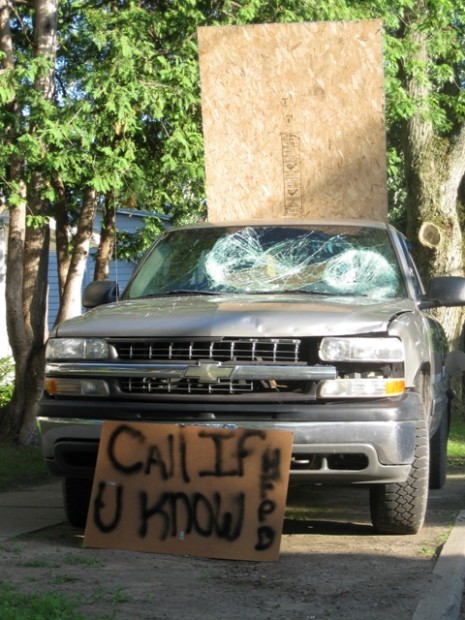 HUDSON FALLS -- A rash of vandalism early Saturday left a half-dozen cars with dented doors and smashed windshields, prompting the vehicles' owners to post signs seeking information about who is responsible for the damage.
Hudson Falls police are searching for suspects after six cars were vandalized along Oak and Chestnut streets in the early-morning hours.
Sgt. Jeff Gaulin said five cars along Oak Street had windows smashed out and body damage caused by items such as planters and rocks weighing as much as 60 to 70 pounds. The vandalism happened around 3:30 a.m. on Saturday, he said. By 8 a.m., damage to a sixth car on Chestnut Street was reported.
Gaulin said police believe both incidents are related. The damage to all the vehicles was major, as hoods were scraped and cars were kicked.
"We're looking for anybody who saw anything, heard anything, because at this point we do not have a suspect" he said.
On Oak Street on Sunday evening, two pick-up trucks with their windows smashed and hoods dented displayed homemade signs on plywood encouraging passersby to help police in catching the vandals.
"Help us find these scumbags," one sign read.
Scott Dudley, the owner of a Ford F150 involved in the incident, said he went outside to get his newspaper at 5 a.m. on Saturday morning when he saw a planter in the middle of the road and noticed his truck's windshield was cracked.
"I thought it was just me, but then I saw the neighbors," he said.
Two doors down, Jack Kennedy's gold Chevrolet Silverado has a smashed-in front windshield. His truck's side windows are both gone, and his gas tank cap won't close.
"It's awful," he said. "I can't believe it. I don't have any money to get it fixed. I might have to drive without a windshield."
Oak Street resident Stan Young said vandals threw a garbage pail through the windshield of his son's Firebird.
Young was upset that there had been no arrests or leads about the incidents as of Sunday. He said two men near his home tried to pick a fight with him when he arrived home at 12:30 a.m. Saturday. The car had not sustained any damage at that point.
One witness described a young blond man wearing white shorts in a dark car, Gaulin said.
"We have no idea what reason or why this damage happened," Gaulin said.