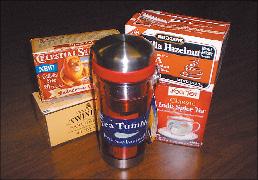 When I went to buy loose tea last week, my mother said my grandfather would be proud.
His heart was broken when, after my mother moved to the United States from her small English village to be with my father, she offered him tea bags when he visited. Her entire family drank tea several times each day, using only loose leaves.
I've been a moderate to heavy tea drinker since my early teenage years, but I usually appreciated the convenience of prepackaged bags sold in supermarkets.
When I saw the Teazer Tea Tumbler just before Christmas, I was intrigued. The company advertises that it's "the only loose tea brewer that travels."
Two of my loves in one phrase - tea and traveling. I had to buy it.
But I wondered whether the mug would really work, or if it'd be just another cool compulsive buy.
The idea seems simple enough. A double-walled plastic mug holds the tea. A basket with holes fits into the top of the tumbler, and a small handle allows for easy tea leaf removal. A cover snaps on top of the entire mug, and a spill-resistant aluminum cover screws on for travel.
You have free articles remaining.
I chose English Breakfast loose tea, mostly out of habit. Flavored teas and flavored chocolate are in the same category; Why change something people have loved for so long?
I heated the water in a separate mug in the microwave. Be careful - the Teazer Tea Tumbler is not microwavable, with its plastic container and metal ring and lid.
I spooned a small amount of tea into the basket and dropped it into place. Next, the instructions say to pour the hot water over the basket until the basket is half-submerged in water.
You can see the water level through the translucent inner and outer walls, which is helpful.
Then came the steeping process, which was really trial and error. My hope was to use the contraption to brew tea as I ran around town, running errands. But, depending on your preference, if you leave the leaves in the water too long, you'll have quite a potent drink.
Luckily, I don't live far from work, and the several block drive is just long enough to produce an ideal end result. But I soon realized I had to dispose of the soggy tea leaves. The only drawback to the Teazer Tea Tumber is the awkward dumping of wet, used tea leaves (which really, is why tea bags are so popular). Pulling the basket out of the water doesn't completely drain the leaves, and they tend to drip - on my desk - before dumping.
The slight inconvenience wasn't enough to make me want to return the mug. Nor is it enough to prevent me from enjoying a fresh brewed cup of tea whenever the mood strikes.
And it makes me smile, knowing every time I have a cup of tea, my grandfather would be proud.